24 LGBTQ+ Couples Share the Story of How They Built Their Families
Hear from LGBTQ+ parents about what it's like to grow your family through IUI, IVF or surrogacy - plus their advice to other parents-to-be.
June 29th, 2023 | 7 min. read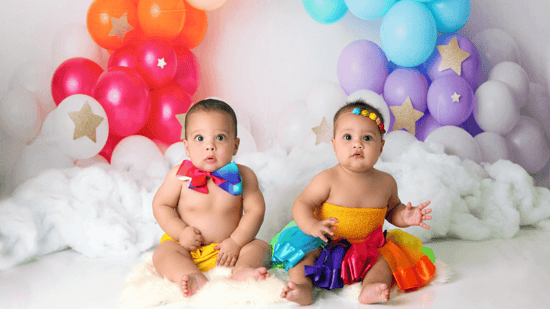 When embarking on your own family-building journey, it can be both inspiring and helpful to hear from other LGBTQ+ families who have gone before you. Here at Gay Parents To Be, we're proud to feature new family stories each month, introducing you to parents who have grown their families through IUI, IVF, surrogacy and other pathways. Meet a few of them below!
In this article:
The LGBTQ+ Family-Building Community
Whether you're simply exploring your future family-building options or you're already in the middle of the process, the following stories can help serve as guideposts for your own journey. These LGBTQ+ parents know all the ins and outs of growing a family, including the complex challenges and questions that often arise throughout the experience.
In addition, they offer their best advice for other LGBTQ+ parents-to-be on everything from their favorite inclusive children's books to the truth about surrogacy timelines and dealing with intrusive comments and questions about your family-building journey.
You can find their stories grouped by different pathways to parenthood below.
Surrogacy Stories
Hear from LGBTQ+ parents who have grown their families via surrogacy! The following stories include their experiences researching fertility clinics and surrogacy agencies, choosing an egg donor, matching with a surrogate, the surrogacy pregnancy journey, legal considerations for surrogacy and more.
International Surrogacy
Twin Surrogacy Journeys
Unique Surrogacy Perspectives
More Surrogacy Experiences
"I can't begin to describe how incredible our surrogate was - and it was amazing to have a GC who was already a friend, someone we trusted so dearly even before the surrogacy process," says Adeel. "It could not have been any more perfect."

- Adeel, dad to twins Adam & Anya
In Vitro Fertilization (IVF) Stories
As one of the most common family-building pathways involving assisted reproductive technology, those who utilize IVF to become parents have a wide variety of experiences and backgrounds. Meet some of the amazing LGBTQ+ families who have grown with the help of IVF.
Reciprocal IVF (RIVF)
IVF Twin Pregnancy
Traditional IVF
"It's okay to not know everything before you begin the process, says Katie. "A lot of people feel like they don't know where to start and the wonderful thing is that Illume Fertility and Gay Parents To Be is that starting point!"

- Katie, mom to Gemma & Rory
Intrauterine Insemination (IUI) Stories
As a less-invasive, more affordable fertility treatment option, IUI helps many cis female couples or individuals achieve pregnancy using donor sperm. One couple shares their journey through IUI treatment, choosing a sperm donor, navigating pregnancy with multiples and more.
IUI Twin Pregnancy
"When we got my bloodwork results and they told us our beta HCG number, Nicole immediately had the gut feeling that we were having more than one baby. Two weeks later when we had our first ultrasound, we found out that we were, in fact, having TWINS!"

-Megan, mom to twins Spencer & Charlotte
There Are Many Paths to Parenthood
As you explore all of your different options, know that there is no one "right" way to grow your family. For some hopeful parents, that's through fostering or adoption. For others, it may be through biological family-building pathways like IUI, IVF or surrogacy.
No matter what you choose, know that there are many wonderful resources available to help educate and empower you all along the way. If you're unsure of where to start, that's okay too!
Reach out to our team of LGBTQ+ family-building experts to learn more about your options and get your questions answered. We're happy to help!
Navigating IUI, IVF & PCOS to Become a Mother: Diana's S
Sierra Dehmler is the Content Marketing Manager for Gay Parents To Be and its partner clinic, Illume Fertility. She is also a fertility patient herself. Combining empathy gained on her personal journey with her professional experience in marketing and content creation, she aims to empower and support other hopeful parents by providing family-building resources that educate, inspire and encourage.