Stef & Denise : An LGBTQ Family Building Story
February 13th, 2020 | 4 min. read
By Emma Lott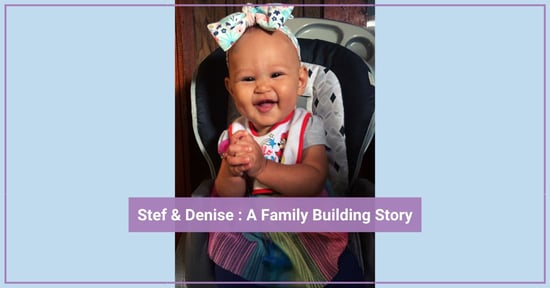 The schoolyard saying goes, "first comes love, then comes marriage, then comes the baby carriage" - but we live in a society where that progression is largely outdated. Some singles and couples choose to start their families without considering marriage, while others wonder if children are even part of their future plan. But for Stef, she knew a year or so before she and her wife, Denise, got married.
In her words, she knew in her head (and heart), "this is someone I will have a baby with."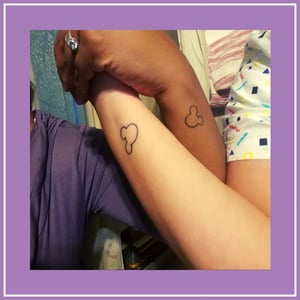 Stef had her first child, Jayvin, from a previous relationship, but she and Denise had been building a life together for years. In Denise's words, "we're a good team" - and we agree. Spoiler alert - they have a beautiful daughter, Dessanie, who just celebrated her first birthday. We feel lucky to say that they chose to build their family with us here at Gay Parents To Be and RMA of Connecticut, and were willing to share their story. We sat down with them at home to chat about their family building journey, choosing a sperm donor, and...WWE (we're not kidding).
What Was Your First Impression of Your Fertility Doctor?
Their physician here at RMA of Connecticut was Dr. Shaun Williams, and his calm and compassionate demeanor put both Stef and Denise at ease. The couple admitted that they were both a little nervous going into their first appointment, and worried about any judgment that they might encounter. Stef said as they walked in and were greeted at the front desk, Denise looked at her and said, "Oh, it's nice here!" We were so glad to hear that everything from the attitude of the front desk staff to Dr. Williams himself made them feel welcome.
How Did You Choose Your Sperm Donor?
After their consultation, when they moved onto treatment, Stef and Denise had to consider their sperm donor options. At first, they were really hoping to have someone that they knew (a known donor), so that if their child had questions when he or she got older, they would be able to contact them openly. The two moms didn't want their child to have to connect with a complete stranger in order to ask medical, or any other, questions.
They ended up moving away from a known donor and used sperm from a donor bank, but in the end, they were open to any race or height. Physical characteristics mattered less to them than feeling comfortable with the donor's profile, and being able to make a choice that they were proud of.
Did Family Building As A Same-Sex Couple Make You Feel Differently?
We asked Stef and Denise if there was anything that set their family building journey apart, that they would want other intended parents or moms-to-be to know about, and they gave us an amazing answer. Stef said that knowing that there was a common thread running through each patient story made her feel comforted and connected, because whether you're straight or not, everyone in the waiting room at a fertility clinic is united by a common goal - the desire to grow their family.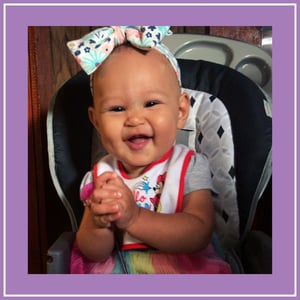 What Were You Worried About Going Into Family Building?
Here at Gay Parents To Be, we do work with a multi-provider practice - which can be worrisome to patients who worry that they'll get lost in the shuffle, or become "just a number." Stef and Denise actually felt the opposite, and said that it made them feel like part of the team - even when they were being seen by a different doctor for a monitoring appointment, the spirit of collaboration was strong.
Where Did You Find Support During Fertility Treatment?
The two moms also appreciated the support that they were offered outside of the physician staff. Two of the programs offered through RMA of Connecticut, fertile yoga and the Ladies Night In support group, were a huge help for Stef. In her words, "just being able to talk to people and know that even though we're in different walks of life, we're still going through the same things." Trying to conceive can be an isolating feeling, and knowing that you're not alone can be hugely helpful. We all laughed when Denise told us that while Stef was out there doing yoga, her love of WWE that she shares with Jayvin is really what kept her grounded.
Watching the two moms interact with Dessanie and their older son, Jayvin, we asked how their family dynamic has grown with the addition of a little one. They said that she brought them all closer together, and that Jayvin's excitement only helped them adjust to their new normal.
So when did they know it was all worth it? For Denise, it was getting a text from Stef of the seven pregnancy tests that she had taken - all positive. And for Stef, it was opening her eyes in the hospital to see her baby and hear her cries. "Finally," she said, as both moms smiled. While their road to parenthood took longer than they initially expected, their happy family makes each moment seem worthwhile.
---
When you're ready to start your own family building journey, we're here to help!
---
As the Brand Specialist, Emma is the marketing lead for Gay Parents To Be, helping to build awareness of the brand not only as a direct path to parenthood, but also as a general resource for fertility information in the LGBTQ community. She loves the chance to attend conferences on LGBTQ health and family building, and meet prospective patients.