What Can I Expect from a Semen Analysis? Your FAQs Answered
Whether you're a dad-to-be considering surrogacy or a mom-to-be looking for the right sperm donor, a semen analysis is essential to your family-building success.
June 14th, 2023 | 8 min. read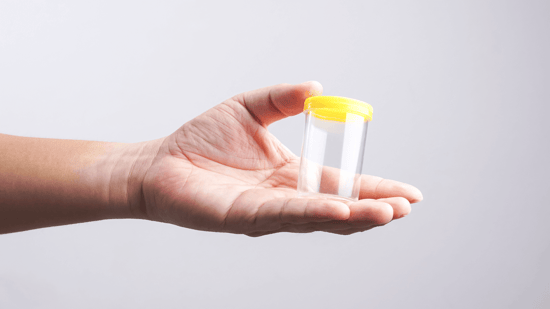 The andrology wing of a fertility clinic is usually shrouded in mystery…what exactly goes on behind those closed doors? What exactly are they evaluating? And how does a semen analysis fit into your family building puzzle? Let's answer some commonly asked questions!
In this article:
A Brief Introduction to Andrology
Andrology focuses on the reproductive system of anyone assigned male at birth.
To quote a favorite metaphor of our founder, Dr. Mark Leondires, "The sperm is the car key that gets everything started." And while sperm is just one piece of the puzzle, it's a crucial one, so it is important to make sure everything in the male reproductive system is working properly and efficiently before attempting to conceive a child.
Fortunately, we have a great team and resources at our fingertips, working in collaboration with Illume Fertility's Andrology Laboratory. We reached out to the team to get the scoop on some of the most frequently asked questions about male fertility and what a semen analysis entails.
Fertility Testing for LGBTQ+ Parents-to-Be
If you're a single man or in a same-sex male relationship, the topic of fertility (or infertility) is probably low on your list of concerns as you consider the many pieces of your egg donation, IVF, and surrogacy journey.
If you're a mom-to-be (either single or in a same-sex female relationship), this area of the fertility clinic can be equally confusing. Whether you're using a known sperm donor or an anonymous donor from a sperm bank, understanding this part of the family-building process is essential to your success.
Knowledge is power, and we want you to feel confident as you move forward on your journey - as well as know where to turn if you have follow-up questions!
Here at Gay Parents To Be, we speak with many prospective LGBTQ+ parents who have already begun a family-building journey. Once everyone begins to understand the process, the semen analysis and subsequent report is one thing that almost everyone has questions about.
Semen Analysis FAQs
What exactly are they testing? And why are they testing it? Let's demystify the process.
The Semen Analysis Appointment
Keep reading to learn what to expect from a semen analysis appointment, whether you're a dad-to-be, a sperm donor OR a mom-to-be who is curious understand more about this test.
What can I expect at a semen analysis appointment?
At Gay Parents To Be, we work in partnership with an award-winning fertility clinic (Illume Fertility), which offers you have complete access to our fully-accredited lab and experienced andrology team. It is important to us that each patient has a professional, comfortable, and smooth experience - especially given the sensitive nature of this journey.
When arriving to your appointment, our front desk team will check you in and guide you through any necessary paperwork. One of our andrologists will then bring you back to our andrology area, which is private and isolated from the rest of clinic.
The laboratory wing of our practice has individual patient rooms where we will provide you with all the necessary materials to collect a sperm sample. This provides each patient with the privacy they need, while also making it convenient to pass samples directly to an Andrology Lab team member upon completion.
Can my partner come in the production room with me?
Absolutely! Partners are welcome to accompany you in the production room if you'd like. We just ask that you abstain from oral sex because saliva does affect the viability of the sperm. If you wish to have intercourse, please ask for a collection condom from one of our lab technicians.
Can I produce a sample at home instead of at the office?
Yes! At-home sample collection is another option for those who prefer to produce a sperm sample in the privacy of their own home. If you would like to produce a sample at home, please be sure to pick up a collection kit from any of Illume's five locations. It will provide everything you need to properly collect your sample.
Note: Please make sure to bring the sample in to an Illume Fertility location within 45 minutes of the time of collection to ensure the most accurate test results.
Is my sperm sample large enough?
Yes, not to worry! We can do a lot with a low volume sample. On average, less than 50 microliters is needed to perform all tests in a semen analysis. Having a low volume may affect other procedures such as IUI or cryopreservation, but if this is the case, a lab technician will make you aware of any additional steps needed.
Procedure Protocols & Safety Measures
It's understandable that you may have questions about how your sperm sample will be handled throughout the semen analysis process. Learn more about our security measures below.
What happens to my sample once it has been analyzed?
Once we are done testing a sperm sample, it is immediately discarded into a secure biomedical waste bin. This ensures that your sample does not remain in the lab unless you've consented otherwise (i.e. for sperm cryopreservation storage). Discarded specimens are disposed of according to strict protocols ensuring that there is no risk being transferred.
Why is 2-5 days of abstinence required before semen analysis?
The male body is continuously generating sperm. Nevertheless, it also needs time to keep up with demand. Having an abstinence period of less than two days may affect the sperm sample.
Coincidently, allowing too much time to pass can also provide undesirable results. Staying within the 2-5 day window will provide the best outcome for your appointment. We ask that you be mindful of this prior to your scheduled appointment.
How do you prevent sperm sample mix-ups?
Illume Fertility has a very strict and well thought out protocol to specifically avoid any mix-up of specimens. We will have you review and initial 15 labels that we will use for your specimen and paperwork. Your specimen cup will be labeled twice, and it will be sealed by you. All specimens are logged into a book where we record several identifying factors.
We also assign a unique accession number specifically to your sample while performing any procedure. We have a very extensive protocol and if you have any concerns please reach out to any lab staff member. It is important that you are comfortable throughout the process.
Semen Analysis Results, Cost & More
Curious about how andrologists analyze sperm samples or what they're looking for? Keep reading to get all the facts so you know exactly what lies ahead.
What tests are performed during a semen analysis?
There are many different procedures we perform in the Andrology Lab. The most common things we assess or measure are sperm concentration, motility, and total motile sperm (TMS).
Sperm

concentration is the number of sperm per milliliter of ejaculate. This is important for your doctor to know so they can make the best decisions about your fertility treatment protocol.

Sperm m

otility correlates to the percentage of the sperm that is moving around or "swimming" normally in the sample.
The above two factors affect what we call "

t

otal motile sperm

"

or TMS. This number is particularly important for procedures such as intrauterine insemination (IUI

) because it tells us the total number of moving sperm in the entire ejaculate.
This is just a small example of what we do here at the Illume Fertility Andrology Lab. If you have any questions, we encourage you to ask a lab staff member - they'll be happy to help!
How are semen analysis results interpreted? What do the numbers mean?
Once test results are available, you will be given information about the sperm concentration. This tells us how much sperm is in one milliliter of ejaculate. We will then discuss with you what percentage of the sperm is moving normally (this is described as motility).
We use these two values in conjunction with the sample's volume to calculate TMS or "total motile sperm." This tells us how many moving sperm is in the entire ejaculate sample. This is important for certain decisions made in the laboratory.
Another important test is morphology. Morphology looks at the shape of the sperm as well as identifying key structures and ensuring they are normal. Similar to the other tests we perform, morphology is an important factor in many procedures; especially in the Embryology Laboratory.
Interpreting these results can be challenging. If you have any questions or concerns, we highly recommend reaching out to the lab staff or one of our nurses or doctors for clarification.
How long will it take to receive semen analysis results?
Individuals or couples who are registered as Illume Fertility patients should receive a call with their results from their nurse or doctor within 5-7 business days. Outside patients who are referred to us by their physician should expect their results within 7-10 business days. Reports are reviewed by the lab staff and then faxed to your referring physician once signed off.
How much does a semen analysis cost?
The cost of a semen analysis depends on your insurance coverage. If your insurance does not cover any part of the analysis, your Insurance & Billing Advocate will discuss out-of-pocket pricing with you.
The Importance of Semen Analysis
Uncovering your current fertility potential is step one in the entire family-building process. But in order to feel confident and not overwhelmed by all the medical jargon, it's important to know what's happening with testing and treatment.
We want you to feel as confident and empowered as possible - whether you are undergoing a semen analysis yourself, have a male partner preparing for this appointment, or are curious about how your sperm donor's sample is evaluated.
We wish you all the best on your family-building journey!
Sierra Dehmler is the Content Marketing Manager for Gay Parents To Be and its partner clinic, Illume Fertility. She is also a fertility patient herself. Combining empathy gained on her personal journey with her professional experience in marketing and content creation, she aims to empower and support other hopeful parents by providing family-building resources that educate, inspire and encourage.