Becoming Parents During a Pandemic: Yessenia & Millie's Story
January 19th, 2022 | 7 min. read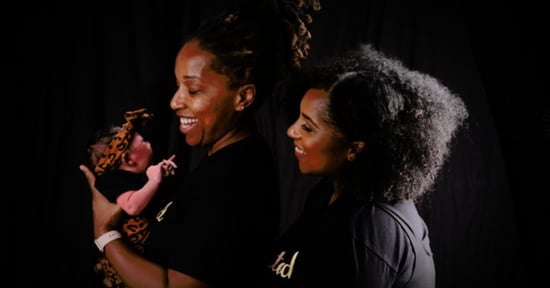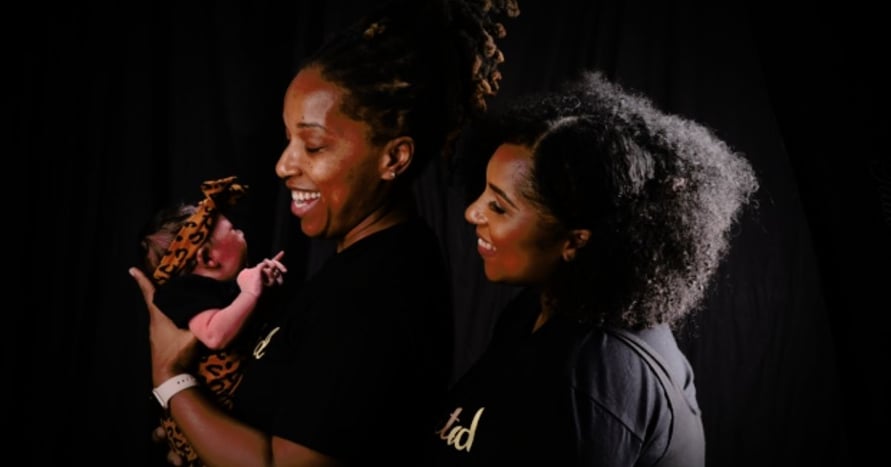 Although the COVID-19 pandemic altered LGBTQ+ moms Yessenia and Millie's wedding and family-building plans, they still found a way to make their dreams of having a baby come true. Read all about their IVF journey and the advice they offer to other LGBTQ+ parents-to-be in this heartwarming story.
Meet Yessenia & Millie
Yessenia and Millie met on a dating app called Plenty of Fish and fell in love right away. "The minute we laid eyes on each other, we felt like it was meant to be," says Yessenia. "We both seemed to be honest, caring individuals looking for love after being in relationships that didn't seem like the right fit for us." After meeting, the two continued to see each other as often as possible and decided to start officially dating a couple of months later.
As their relationship continued to blossom, they enjoyed traveling together and loved going on big adventures as a couple. On a trip to Hawaii, Yessenia and Millie ended up getting engaged. They were excited to get married and celebrate with family and friends, and immediately started planning their wedding in Hawaii for the following year. Unfortunately, this was in 2020, right before COVID-19 was declared a pandemic, which put obviously put a damper on their big plans.
"When my wife and I met, we discussed how we wanted to have a family," Yessenia says. "I was ready to become a mother, but my wife was REALLY ready - I just wanted to make sure we were secure in our finances before bringing kids into the world."
"We knew we wanted to get married before having kids, so we kept postponing the wedding," says Yessenia. "People were afraid to fly to Hawaii during the pandemic, so we ended up canceling the wedding altogether." They were disappointed, but knew they wanted to grow their family soon, and decided to start discussing their options.
First Comes Love, Then Comes Marriage...
Yessenia and Millie realized that since they wouldn't be able to safely travel for the foreseeable future, they would have a lot more free time to devote to the process of starting their family. They began to explore nearby fertility clinics. Yessenia spoke with a coworker who had worked with RMA of Connecticut for her IVF journey and had nothing but good things to say about the staff, including one of their reproductive endocrinologists, Dr. Joshua Hurwitz. "So, I decided to give them a call and set up a consult," Yessenia remembers.
When they began their journey, they had no clue what was involved in IVF treatment. "I had heard the term IVF and heard people saying how expensive it was, and also that it sometimes it takes multiple cycles before you're successful, but we decided to give it a try and see what would come of it," Yessenia says.
"The process ended up moving so quickly, we weren't even sure if we were ready to bring a child into the world that same year since we still weren't married at the time," Yessenia says. "We went through all the treatment [including an egg retrieval] and were only a month away from doing a fresh embryo transfer." The moms-to-be decided to take a weekend trip to Las Vegas, Nevada to elope around October of 2020, because they still felt strongly that they wanted to be married before getting pregnant.
"It wasn't the magical Hawaiian wedding that we wanted and we didn't have any friends or family with us, but we live-streamed the wedding for everyone and just decided to pull the plug - it felt magical!" Yessenia says.
---
Family planning options for same-sex female couples:
---

Ready, Set, Transfer!
As soon as the moms-to-be returned from their elopement in Las Vegas, they had their first fresh embryo transfer. They decided to freeze the rest of their remaining embryos since they had decided to go with IVF instead of IUI treatment. "We got pregnant in November of 2020 and immediately started making plans without knowing the gender of the baby," remembers Yessenia. "We decided to do the optional bloodwork to test for the sex of the baby and check for other genetic abnormalities, which is how we found out we were having a girl!"
Editor's Note: INVOcell is another great fertility treatment option for many same-sex female couples that allows you to be more personally involved in the conception process. Learn more from Reproductive Endocrinologist Dr. Spencer Richlin here.
"We were so excited and couldn't believe we were pregnant," says Yessenia. "But we wanted to wait until the end of the first trimester to publicly announce it to everyone." When they finally announced that they had a baby on the way, everyone was excited and supportive. Yessenia and Millie say they felt ecstatic to become parents for the first time in their lives.
Their beautiful baby girl Nova Verity Franklin came into the world on July 25, 2021. "She has been the light of our lives ever since and our lives have changed drastically - for the better," says Yessenia.
Planning for Their Future
A few months after Nova was born, Millie decided to also go through IVF with RMA of Connecticut in order to create and freeze more embryos for the future. "Her IVF process seemed like it only took three weeks, while mine felt like it took several months," remembers Yessenia.
The two moms recently reached back out to RMA of Connecticut to start preparing for Baby #2 and are hoping for a baby boy next. "We let them know we want to hopefully be pregnant before 2022 ends, and we couldn't be any more excited to start this journey again with RMA of CT by our side," she says. "Being able to grow my family with the help of RMA of CT has been amazing," says Yessenia. "They make things feel so easy and are so supportive each step of the way!"
Today, Yessenia and Millie are focused on baby Nova and becoming the best parents they can be. They are wholeheartedly enjoying parenthood and can't wait to welcome another baby to their family.
---
Let's break down the basics:
---
Advice for Other LGBTQ+ Parents-to-Be
Yessenia and Millie worked hard to prepare for their family-building journey, but were still surprised by some of the financial aspects of the process. They offer this advice to other LGBTQ+ parents-to-be who are starting their own path to parenthood:
Try to remain optimistic throughout the process - it's not always easy, but it's worth it
Accept all the help you can get as new parents
Be aware that some insurance companies discriminate against same-sex couples and may not approve your treatment
Make sure to call your insurance and get familiar with what your benefits are
Get prepared for people to ask you a million questions about your journey (but don't feel obligated to answer)
Keep an open mind as you enter the family-building world
Avoid talking to or being around people who aren't supportive of your journey
Get your finances in order and be aware that surprises might come up along the way
You can find support and guidance from organizations such as RESOLVE, which works tirelessly to make family-building benefits accessible to all families. Also, take advantage of LGBTQ+ family-building resources like Gay Parents To Be! Learning about what lies ahead of you can help reduce anxiety and worry and ensure you feel supported throughout the process.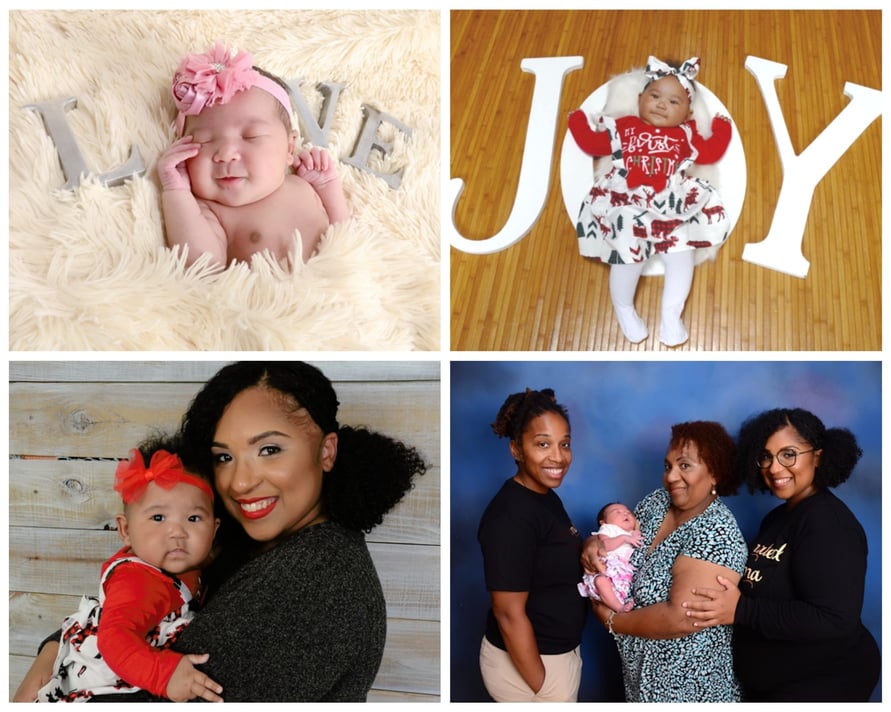 Tips for Moms-to-Be
For moms who choose to carry and deliver a baby, Yessenia recommends the following:
If you're formula-feeding, ask for free formula samples at every visit to your pediatrician's office to save money
You can also register on Enfamil and Similac's websites while you're pregnant to receive free cans of formula and high-value formula coupons to use after baby is born
Use a doula if your hospital offers them - they are absolutely worth it and act as your voice during labor and delivery
Take parenting and birth classes and read lots of different books to get a sense of what's ahead
Download baby apps to help guide you as a new parent
Have money saved up for out-of-pocket expenses that may arise
---
Read another LGBTQ+ family story:
---
The Bottom Line: It's All Worth It
Though the road to LGBTQ+ parenthood can be long and winding, Yessenia says it has all been worth it. By choosing the right fertility practice, asking lots of questions, reaching out for support and following your heart, you will make it through the maze of treatment options and find the right path for you.
Ready to take the next step on your own journey? Schedule your consultation today!
Sierra Dehmler is the Content Marketing Manager for Gay Parents To Be and its partner clinic, Illume Fertility. She is also a fertility patient herself. Combining empathy gained on her personal journey with her professional experience in marketing and content creation, she aims to empower and support other hopeful parents by providing family-building resources that educate, inspire and encourage.