The Surprise of a Lifetime | Megan & Nicole's Story
October 11th, 2022 | 8 min. read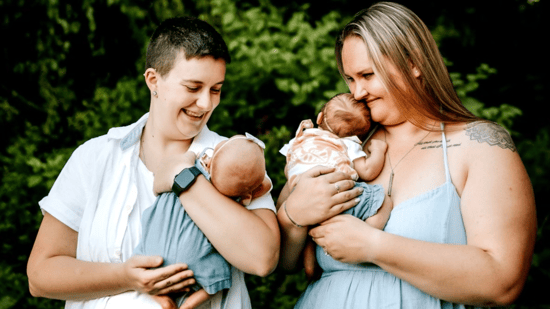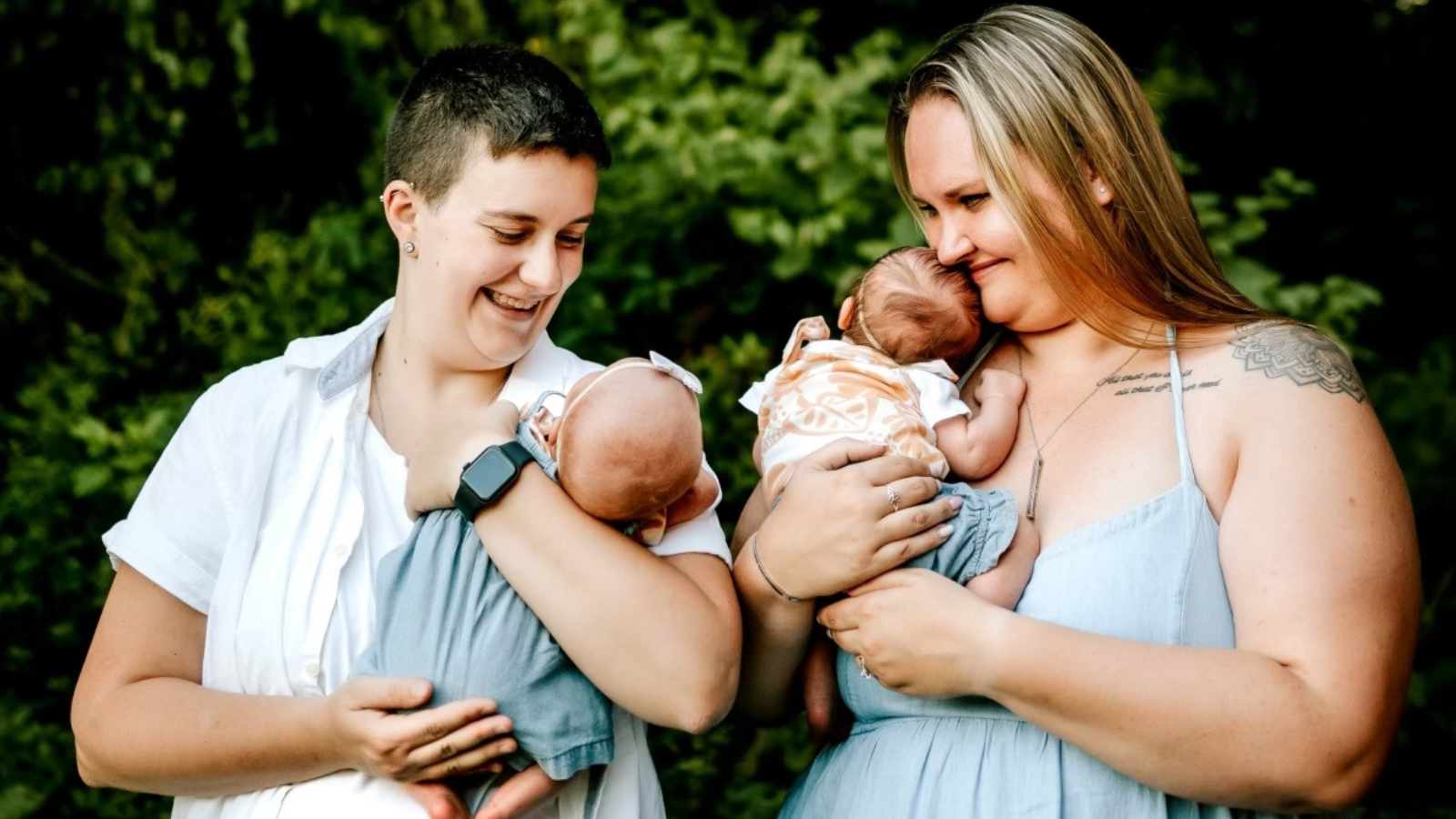 Megan and Nicole dreamt of becoming mothers one day, but nothing could have prepared them for how their journey to parenthood unfolded. From initial discussions with an OB/GYN to working with a fertility clinic, exploring their family-building options, a surprising pregnancy, and welcoming their little ones, they took one step at a time and kept moving forward.
This is their story, told in Megan's own words. Enjoy!
Skip to a section:
---
Family Planning as an LGBTQ+ Couple
The two of us have always known that we wanted to be moms. I always knew that I wanted to carry children, while Nicole always knew that she didn't. It was basically a match made in LBGTQ+ heaven when it came to family planning.
Note: Many LGBTQ+ couples decide early on about which partner will attempt pregnancy first (due to age, genetics or other factors), and some, like Megan and Nicole, know that only one of them wants to carry a pregnancy. These are important decisions to discuss with your OB/GYN or fertility specialist!
Obviously we can't have any "oopsie babies," and have to go through some extensive planning in order to have children. We knew that we wanted to start the process in Fall 2021 as Nicole was finishing up her Master's degree, once she didn't have school taking up all her time anymore.
I (Megan) talked with my OB/GYN at my annual check-up in 2020, and was told to contact her again about 2-3 months before we wanted to start the process. My OB/GYN recommended we work with Illume Fertility (formerly RMA of Connecticut), and we kept the fertility clinic's name in our back pocket as we began gathering more information about family building.
Getting Insight from Friends
We spoke with some college acquaintances who are also LBGTQ+ and have three children of their own, since there is very little information easily accessible out there. Thankfully, they were very willing to provide some information and insight into how they started their family.
We also talked with some close friends who were just starting their process with Illume (they welcomed a beautiful baby girl just a month before us), and they gave us some more information on the different tests that they had to go through, and gave more specific insight into fertility treatment.
---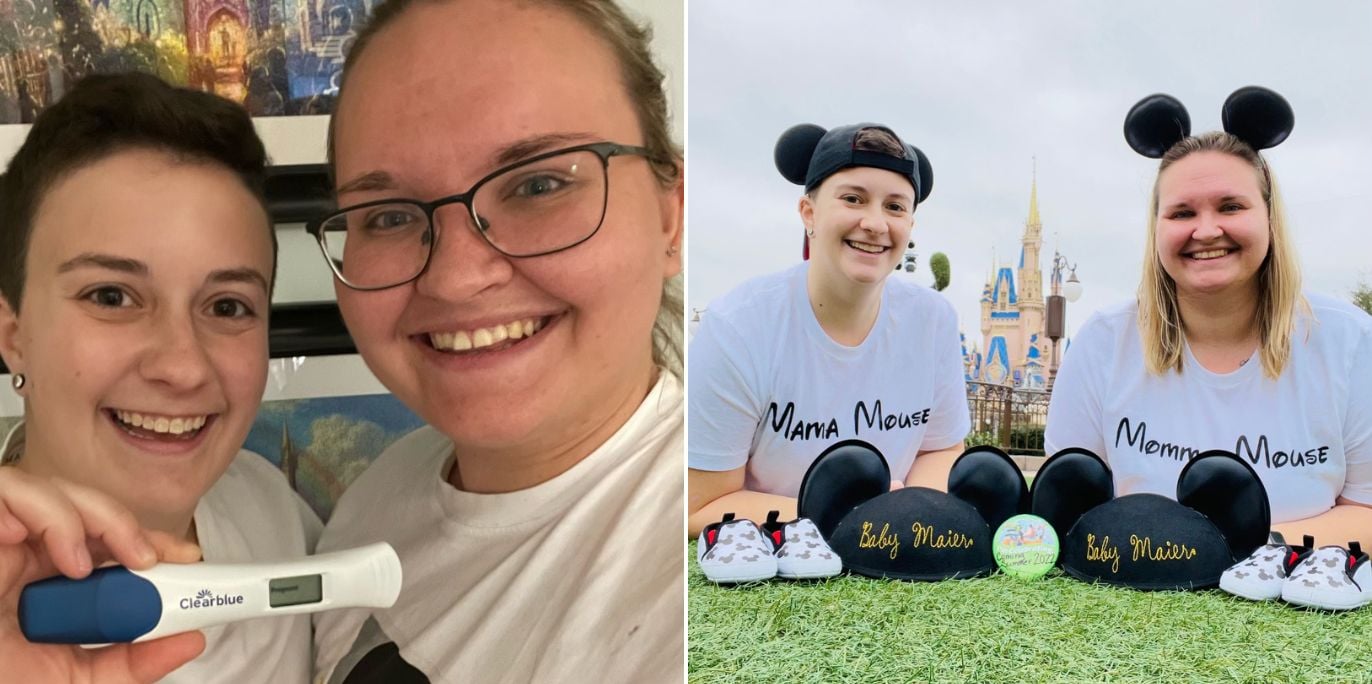 Photos: Spoiler alert! Megan & Nicole announce their pregnancy.
---
At-Home Insemination vs Fertility Clinic
We initially considered trying to conceive on our own at home, but then decided that there were too many unknown variables with that process, like how to get the sperm vials to our house, what the best syringe is, when in my cycle we should do the insemination, if we needed to use multiple vials and try on multiple days to increase our odds of getting pregnant, wondering if I was even fertile or if there was anything concerning about my reproductive system, etc.
All of these unknowns led us to follow the referral to Illume, and start our family-building process with the help of experts.
Creating a Plan with Our Team
We first met with reproductive endocrinologist Dr. Cynthia Murdock for a virtual consultation in August 2021, and immediately knew that we wanted to continue with her as our doctor. We discussed that for this pregnancy we wanted to use my (Megan's) eggs, but in the future, we would want to consider using Nicole's and try reciprocal IVF.
Dr. Murdock and her team quickly set up all of the appointments we were going to need, from genetic testing, blood work, and ultrasounds, to the consults with the social worker and the genetic counselor.
We were very thankful for the consult with both the social worker and genetic counselor as they helped us to determine the appropriate sperm bank to use, risks of choosing certain donors, as well as get us thinking about how much we wanted to share with our families, and how to talk to our children when they get older and start having questions about their donor and their conception.
---
Which path is right for you?
---
Starting IUI Fertility Treatment
After my fertility tests all came back clear, we were given the clearance to purchase our sperm vials and have some sent to the office in anticipation of insemination day. I did take some fertility medications to stimulate my ovaries to produce more than one egg, with the hope that it would increase the chances of one of them taking (as we were doing IUI).
On October 23rd, we went to Illume's Norwalk office for our IUI procedure. Of course, we were very anxious the two weeks after our IUI to see if it was successful, and ended up taking an at-home pregnancy test a couple days before bloodwork confirmed it. We both cried when we saw "pregnant" on the test!
Thankfully, I got pregnant on the first try, which we know is an incredible blessing, as it does not happen for everyone.
One baby or two?
After I got my bloodwork back confirming the pregnancy, we couldn't help but tell all of our immediate family members.
For Nicole's side of the family, it was a really big deal, as this pregnancy would bring their first grandkids/great grandkids/niblings. My side of the family was also incredibly excited, and my brother and his family were excited to finally have niblings since their own kids were ages 2 and 6 at the time.
When we received my first bloodwork results and they told us our beta HCG number, Nicole immediately had the gut feeling that maybe we were having more than one baby. Two weeks later when we had our first ultrasound, we found out that we were, in fact, having TWINS!
Note: Intrauterine insemination (IUI) and some fertility medications can increase your chances of having twins. Always discuss the pros and cons of different treatment methods with your doctor before beginning your journey.
---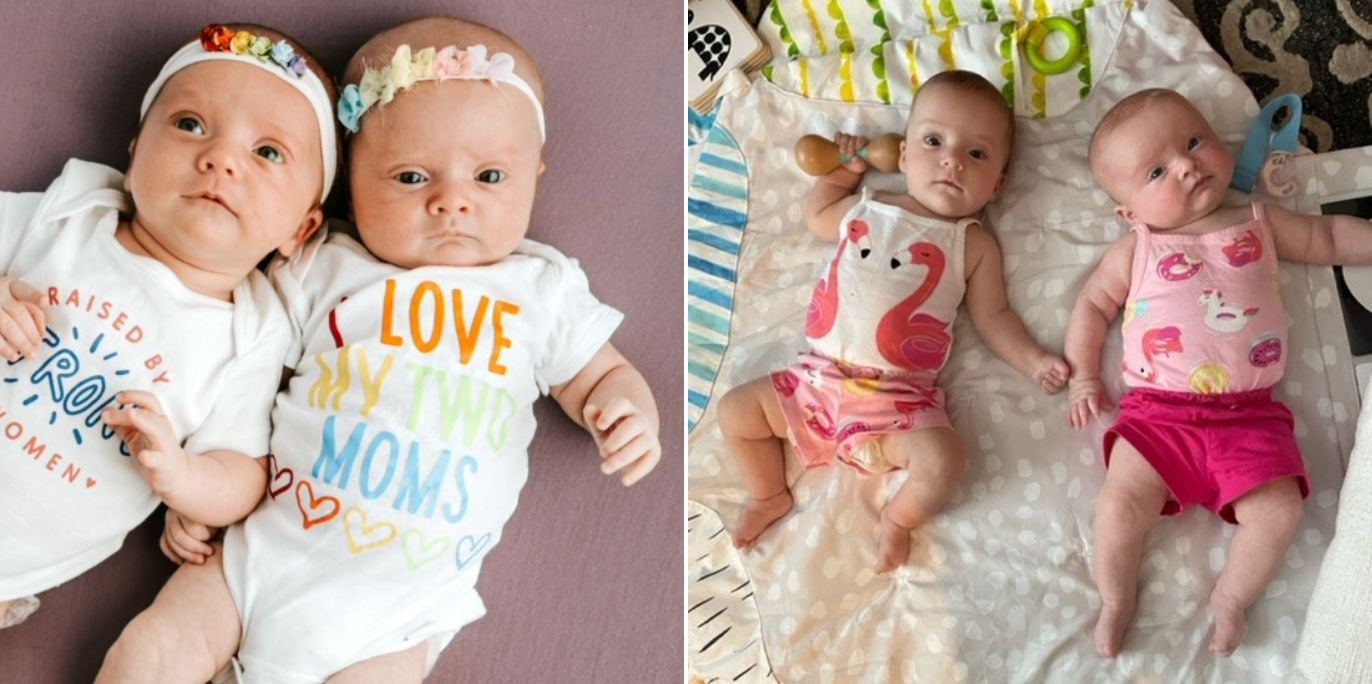 Photos: Megan & Nicole's twin girls, Charlotte & Spencer.
---
Our Twin Pregnancy Experience
I had a very unremarkable and easy pregnancy. We decided to keep the sexes of our twins a secret for us to find out in the delivery room. We were certain that at least one of them was going to be a boy. To our complete surprise, we were blessed to have two incredible little girls: Charlotte Poppy and Spencer Annabeth, born mid-June 2022.
They came a few weeks early, and spent a short stint in the NICU, but have been thriving since being home. They just turned one month old and passed their due date. All of our family and friends are completely obsessed with them, and although we are biased, we think they are the cutest babies in the world.
What We've Learned About LGBTQ+ Family Building
The whole process of our fertility treatments at Illume was so incredible, and we have recommended the practice to all of our LGBTQ+ friends. We have also recommended Illume for our straight friends and family members as they begin to consider having children, to look into the genetic testing to ensure that their genetics don't clash in ways that can cause problems for their future children.
We highly recommend reaching out to other LGBTQ+ families and learning about their fertility journey and learning about the different options you have to create your family, as well as having someone as a support system to talk things through with so you know that you are not alone.
---
Hear from more LGBTQ+ moms:
---
We also highly recommend taking full advantage of the insights that Illume's social worker and genetic counselor can offer. They were integral in our fertility process! Without their help, I don't think we would have had the same confidence in our choice of sperm donor, agreeing on what we are willing to share with our friends and family, and how we will talk to our children in the future about how they came to be.
We still have a handful of sperm vials left for future pregnancies, and look forward to working with the team at Illume again when we are ready to expand our family. Right now, our twin girls are keeping our hands full!
Editor's Note: A big thank you to Megan and Nicole for sharing their journey to motherhood with us. We're so grateful to all of the LGBTQ+ families who choose to share their experiences and insights with our community. Want to share your story? Message us on Instagram to learn more!
More Resources
Sierra Dehmler is the Content Marketing Manager for Gay Parents To Be and its partner clinic, Illume Fertility. She is also a fertility patient herself. Combining empathy gained on her personal journey with her professional experience in marketing and content creation, she aims to empower and support other hopeful parents by providing family-building resources that educate, inspire and encourage.