Finding Success with IVF: Taylor & Mary Kate's Story
February 9th, 2022 | 6 min. read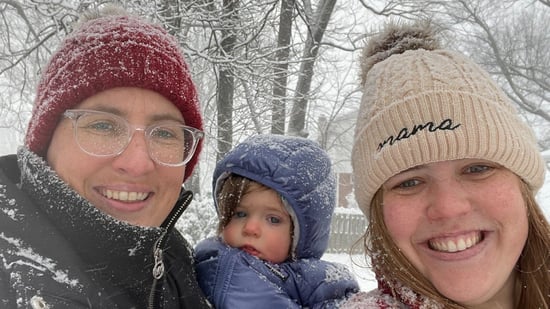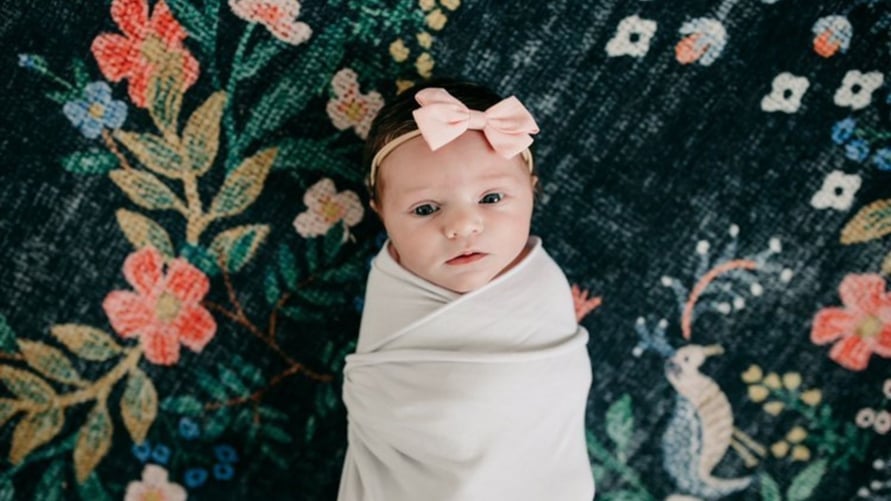 When hopeful LGBTQ+ moms-to-be decide they are ready to grow their family, the first step is often finding a fertility clinic that can help them make their dreams come true. For moms Taylor and Mary Kate, the journey to bringing home their first daughter was challenging, eventually leading them from IUI to IVF. This is their story.
Meet Taylor & Mary Kate
From the beginning, both Taylor and Mary Kate always wanted to have children. "We used to say we wanted four kids," says Taylor. "Then we had our daughter - and now we think two or three kids will be just fine!" But the road to growing their family wasn't an easy one.
"We originally went to a different fertility clinic," says Taylor. "Then our insurance sent us to RMA of Connecticut and we were beyond pleased...it was a significant improvement in every way!" Taylor and Mary Kate immediately felt well cared for, supported and comfortable after they switched clinics.
"The staff was so much warmer and significantly more informative," says Taylor. "The facilities were so much nicer, and we never felt rushed - everyone was so kind and helpful!" For many parents-to-be, starting the fertility treatment process can be overwhelming and stressful. Choosing the right fertility clinic can make or break your experience. "Everyone at RMA of CT took the time to answer all our questions without ever making us feel we were asking too many," remembers Taylor.
---
Wondering how to choose the right fertility clinic? Read:
---
The Highs & Lows of Fertility Treatment
"There were a lot of unknowns before our first appointment," says Taylor. "We didn't know what to expect." Making the decision to start fertility treatment is a big one, and brings with it a lot of different emotions.
While the reasons for needing to pursue fertility treatment may be different for LGBTQ+ couples, the journey is largely the same. The roller coaster of hormone medications, injections, appointments, disappointments, insurance roadblocks and more can make the experience draining and stressful - physically, emotionally and financially.
"The highest high is our beautiful, healthy baby girl Hunter who turned one on February 1st," says Taylor. "The low was only having one viable embryo, because we want more children - and knowing we have to start all over again is emotionally and financially stressful."
What's next for their family? "We hope to start the process of giving Hunter a sibling this year!" says Taylor.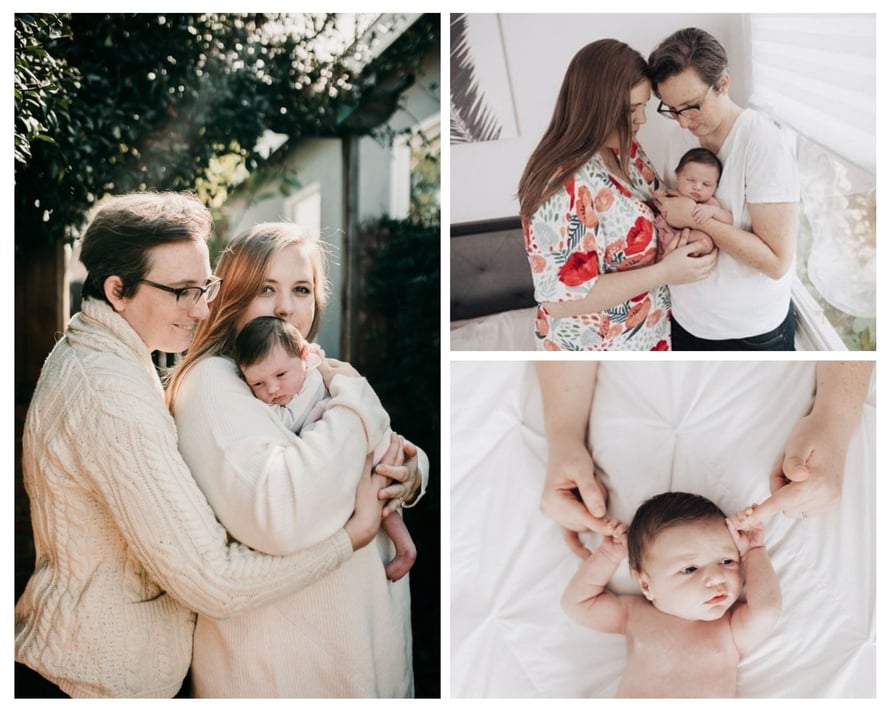 On Sharing Their Fertility Journey
"Fertility is a difficult subject," says Taylor. "But I found that the more I shared with friends and family, the more people came to me to share their own struggles with fertility." Choosing to open up about what you're going through as you work to grow your family also means opening yourself up to potentially unwanted opinions, insensitive questions and unhelpful advice, which is why so many fertility patients decide not to share their journey with others.
While talking about what you're experiencing can be tough, it can bring support from unexpected people and make you feel less alone. Taylor says found a lot of comfort in sharing with others throughout her fertility journey.
---
Which treatment option is right for you?
---
"Going through the IUI and IVF process and then becoming a mother has really shown me how important it is to have a community of people around you who have been through or are going through similar experiences," she says. "All of it is hard, from your first ultrasound to losing embryos to pregnancy to childbirth to parenting."
Through all of the most challenging parts of fertility, pregnancy and parenting, Taylor learned that she had to lean on others. "It is ok to ask for help and support," she says.
Where to Find Support & Community
"I found a lot of LGBTQ+ couples through Gay Parents To Be's Instagram community and followed their journeys that way," shares Taylor. "That was both comforting and informative, especially because we were so isolated due to the COVID-19 pandemic in real life - being a part of a community online was nice."
Join our online community by following us on Instagram and Facebook and subscribing to our monthly newsletter, The Voice!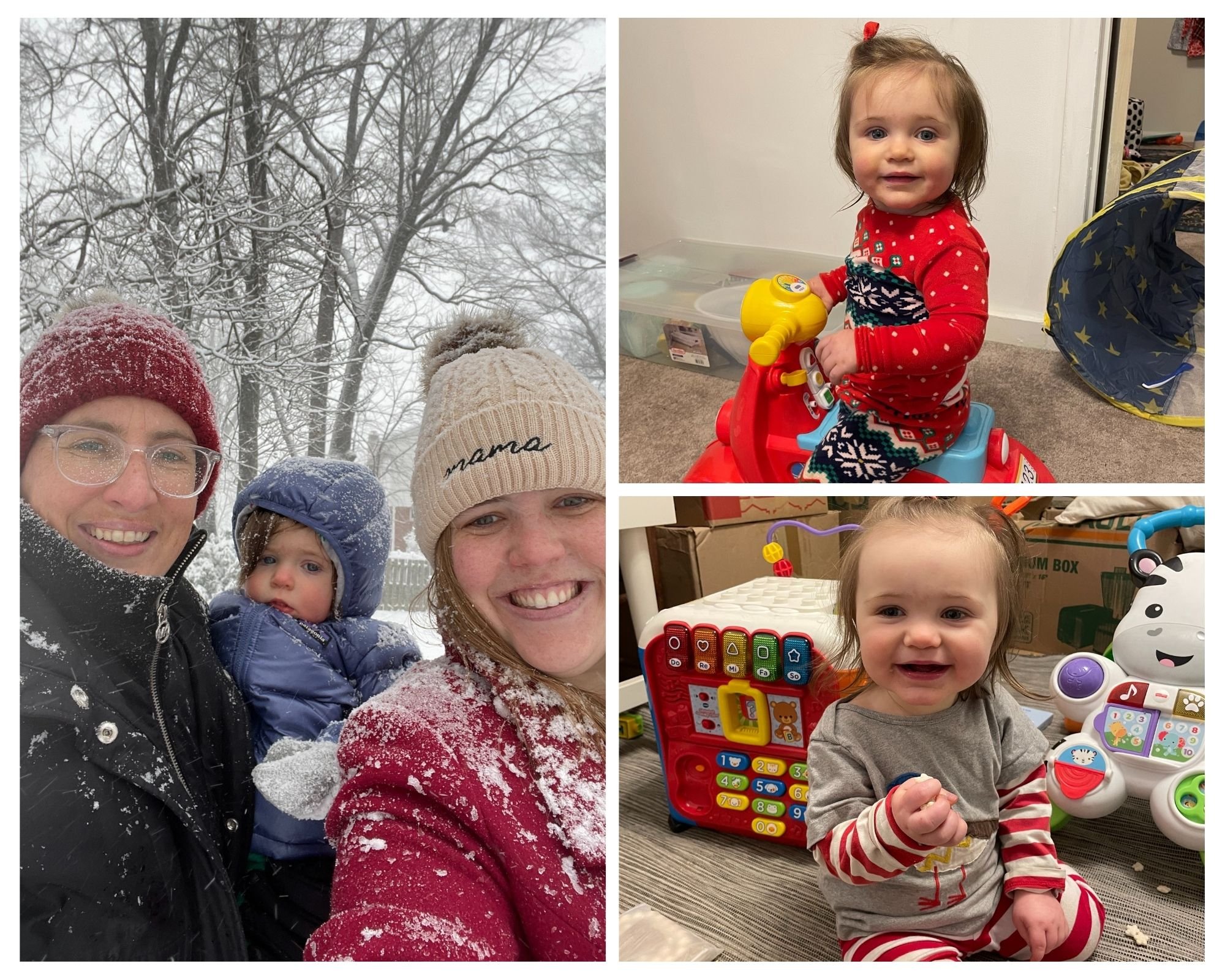 Advice for LGBTQ+ Parents-to-Be
Taylor's biggest piece of advice? "Feel your feelings - they are all valid!" she says. "And remember that you're not alone and you can do hard things!"
Another thing Taylor and Mary Kate learned on their fertility journey was that asking questions helped them better understand and navigate the entire experience. "There are no stupid questions - ask them all," Taylor says.
When you work with a fertility clinic, you are typically assigned a full Care Team to help support you and guide you through treatment. At our partner clinic RMA of Connecticut, that team consists of specialized professionals like a social worker, a genetic counselor, a patient navigator, a nurse, and of course, a Reproductive Endocrinologist.
In addition, RMA of CT has a robust Third Party Reproduction team, who have decades of experience helping LGBTQ+ families grow with the help of donor sperm, donor eggs and gestational carriers and understand the unique challenges of LGBTQ+ family building.
---
Want to read another LGBTQ+ family story?
---
RMA of CT has unique offerings like an Integrated Fertility & Wellness program to help holistically support you through your journey. From acupuncture to reduce stress and improve IVF outcomes to mental health counseling to nutritional guidance and free support groups and yoga classes, you have a wide array of tools and resources available to help you achieve success - whatever that may look like for you!
Take advantage of every possible resource you can, and know that you're never alone - no matter how isolating fertility treatment can feel. You deserve to feel cared for and supported on your path to parenthood!
More Resources for Moms-to-Be
Sierra Dehmler is the Content Marketing Manager for Gay Parents To Be and its partner clinic, Illume Fertility. She is also a fertility patient herself. Combining empathy gained on her personal journey with her professional experience in marketing and content creation, she aims to empower and support other hopeful parents by providing family-building resources that educate, inspire and encourage.