Navigating Our Bumpy Road to Parenthood | Emily & Staci's Story
August 30th, 2022 | 8 min. read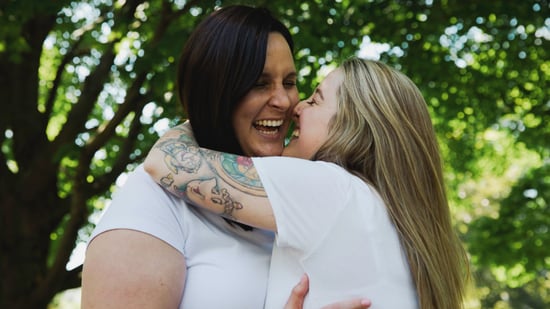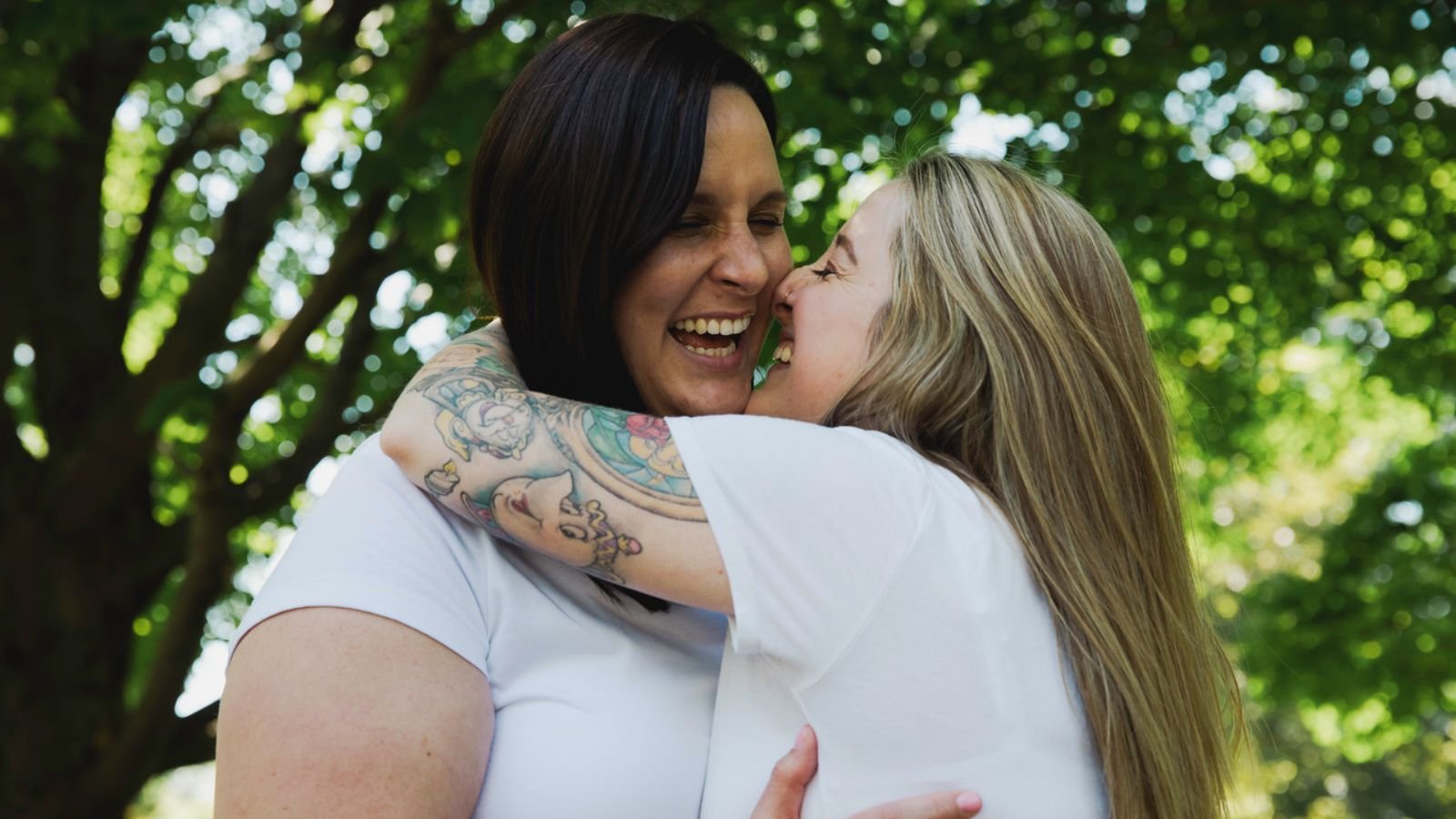 In the world of LGBTQ+ family building, there are no accidents. The decision to become a parent is an intentional act, one that requires a high level of commitment and patience. Hopeful moms Emily and Staci know that better than most. In this blog, they share their story of loss, perseverance, and hope as they continue navigating their tumultuous path to parenthood.
Skip to a section:
Meet Emily & Staci
You know the old saying, "When you know, you know?" Emily and Staci's love story is a beautiful example of two people finding each other at just the right time and confidently diving headfirst into creating a new life together.
After meeting through a mutual friend at the beginning of the COVID-19 pandemic, Emily and Staci immediately felt a connection and even discussed their mutual desire to have children on their first date. "Sometimes you just meet someone and have those important conversations immediately," Emily says. "I also think being cautious with our hearts and health due to trying to avoid COVID led us to tackle some big topics right away!"
After investigating their family-building options, they decided to seek the help of the reproductive endocrinology team at our partner clinic, Illume Fertility. "Our friends raved about Illume and everyone that helped them on their journey to becoming parents - it was a no brainer!" Emily says.
What happened next was series of bumps in the road that the couple never expected...
---
Get a quick crash course:
---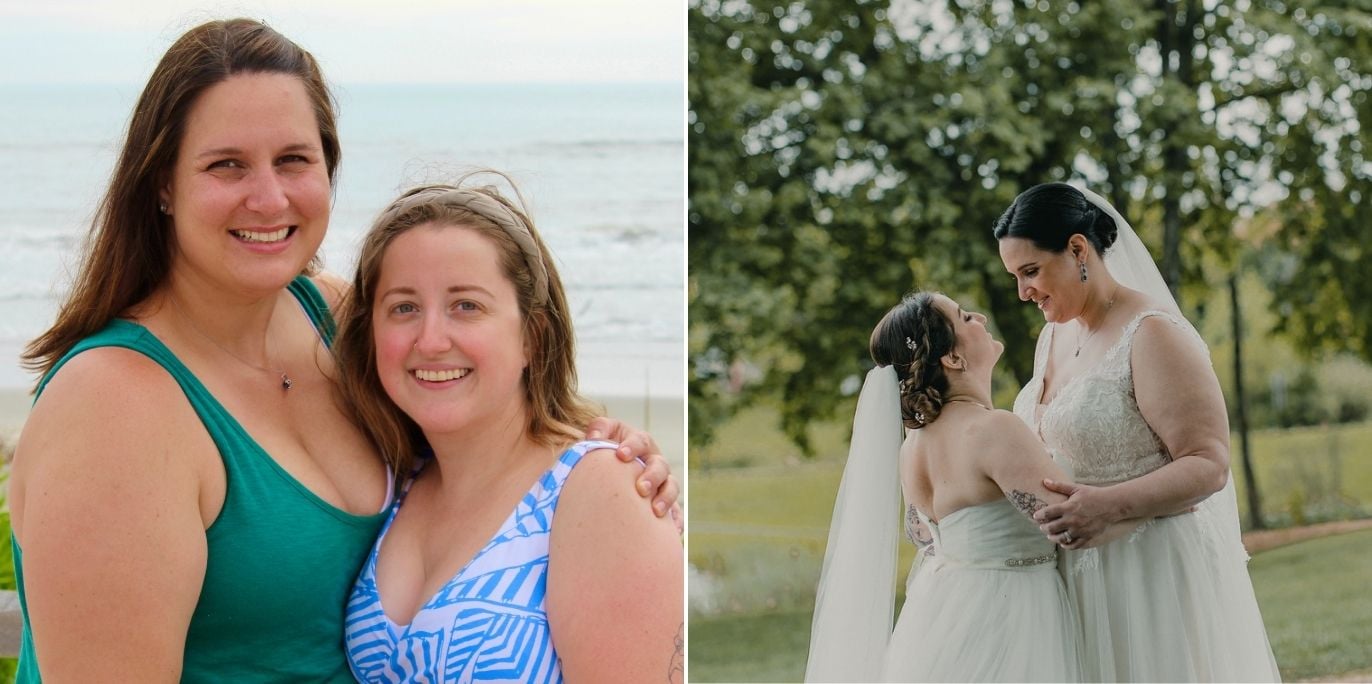 Bump #1: Shocking Genetic Testing Results
"We began our path to parenthood with the idea that Staci would undergo IUI treatments and we'd get pregnant fairly quickly due to her age and health," says Emily. "Unfortunately, we found out that Staci had complex underlying genetic issues that led us straight to IVF instead." Emily also struggles with health issues of her own, including Ehlers-Danlos Syndrome, a connective tissue disorder.
Although this new information was an added challenge, Emily and Staci feel grateful that they did genetic testing. "We cannot imagine the pain and trauma of enduring more than we have without those tests," Emily says. "Staci's results were a shock, but it was better to have all of the data so we could make better decisions based on all the information!"
Their next challenge? Finding a sperm donor who was compatible with Staci's genetic issues. Out of 500 potential donors, only one was a good match! Their Care Team helped guide them through the process so they could better understand the complex genetic concerns at play and eventually they moved forward with IVF treatment.
Bump #2: Only One Healthy Embryo
The next step was for Staci to have an egg retrieval, which yielded amazing results: 21 eggs! After being fertilized with their designated donor's sperm and developing into embryos in the lab, the six remaining embryos underwent preimplantation genetic testing. Sadly, they learned that out of those six embryos, only one was genetically normal.
"We transferred our little girl, who we named Ermani Grace, and had a wonderful 9.5 weeks of being pregnant with her, dreaming and hoping for the best things for her future - and then we miscarried," Emily says. "The attachment and hope and excitement and love we felt for her were real." With their pregnancy loss, they now became members of another club no one wants to be a member of: the 1 in 4 couples who experience miscarriage.
"After our miscarriage, we decided it was my turn to do an egg retrieval while Staci recovered physically and mentally from our loss," says Emily. Her egg retrieval yielded two genetically normal embryos, so Staci underwent a second embryo transfer, which unfortunately was not successful. After these two big blows, Staci advocated for more testing as she felt something was off. Their doctor agreed, and they moved forward.
---
An expert explores how it all works:
---
Searching for Answers
Through an Endometrial Receptivity Analysis (ERA) cycle, the couple learned that Staci's body needed a little more progesterone to create an ideal environment for their next embryo transfer. They also opted for EMMA and ALICE testing, which helped them better understand Staci's body and make more changes to their IVF protocol for the next transfer.
What are EMMA and ALICE tests? Both an Endometrial Microbiome Metagenomic Analysis (EMMA) and an Analysis of Infectious Chronic Endometritis (ALICE) involve taking an endometrial biopsy to assess the bacteria inside the uterus, which can help some fertility patients with recurrent implantation failure or pregnancy loss.
What's next for the couple? Emily and Staci plan to transfer their one remaining embryo soon, but admit that they're nervous to go through the process again. They've decided that they will each go through one more egg retrieval if needed, but try to remain hopeful that this third embryo transfer will be the one that finally brings them their long-awaited baby.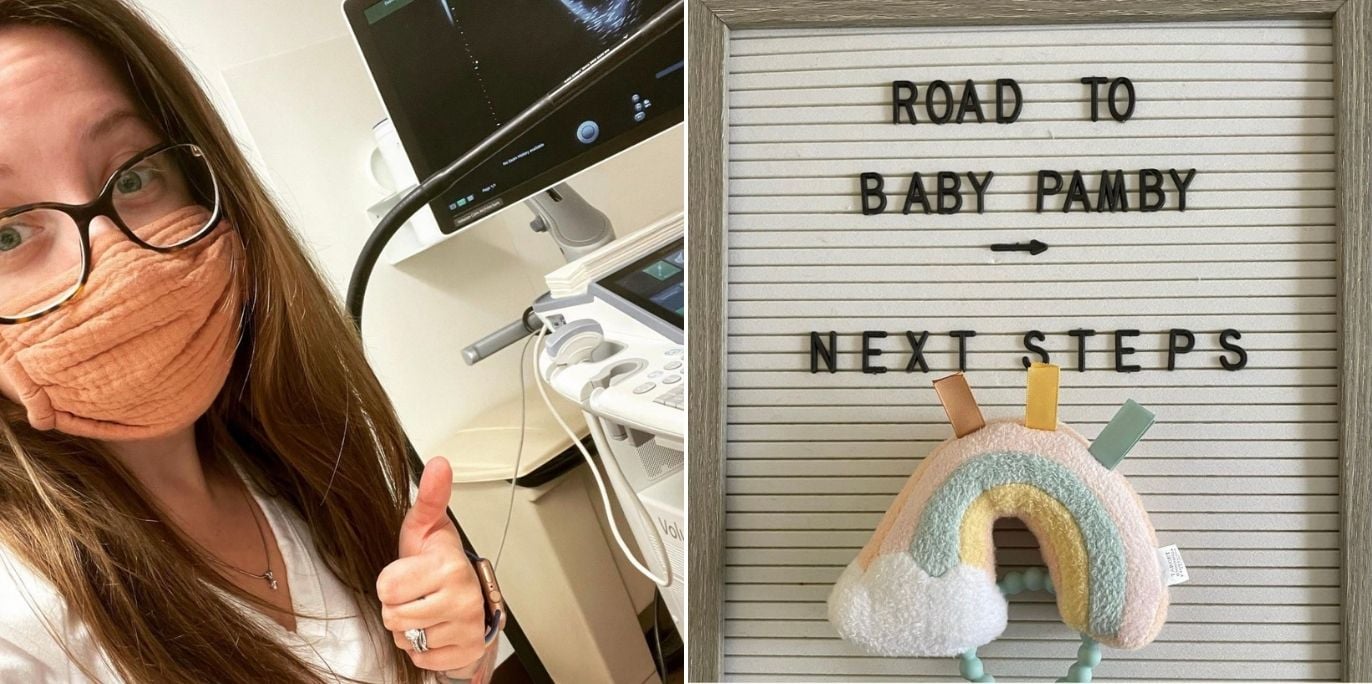 Bump #3: The Emotional Roller Coaster
"We are now a little over a year into working with Illume Fertility to try and bring a child into the world," Emily says. "When people say things like 'It's a rollercoaster of emotions,' or 'It's the hardest thing we've ever done,' believe them!" The couple acknowledges they have celebrated some of the highest highs and endured the lowest lows over the past year, and have a heightened level of empathy for others walking a similar path.
"I wish we could have comprehended how difficult the fertility journey is," Emily says. "It's hard on your relationship as a couple and it is mentally, emotionally, and physically exhausting - more than we ever imagined!" However, this experience has reminded Emily and Staci time and time again of their inner strength.
But the hardest part of this process so far? Not holding a child in their arms yet, Emily says. "The moment we suffered a miscarriage, we knew our lives would never be the same and that the journey was about to get a lot more difficult and emotional." Their deep desire to be parents and share the love they have with a child of their own keeps them going.
---
Ready to take
your

first step towards parenthood?
---
On Finding the Courage to Keep Trying
The couple makes sure to check in with one another as they continue with IVF treatment, and have worked with a therapist to grieve their losses - both important parts of navigating infertility. "We are also blessed with compassionate friends and family members, and love that we have made new ones along the way," Emily adds.
They openly share their LGBTQ+ family-building journey on Instagram, documenting the process to help others feel less alone and foster community. Being able to connect with other fertility warriors and cheer each other on when things get tough has been a surprisingly rewarding part of their experience.
Another thing Emily and Staci are passionate about? Advocating for others and sharing their story in any way possible. They are outspoken advocates for reproductive rights and the unique challenges of LGBTQ+ family building, often sharing the financial and insurance roadblocks they've hit with great transparency.
As they gear up for their third embryo transfer, the couple continues to remain open about their experience in the hopes that it will encourage other hopeful parents to keep going - no matter how difficult their path to parenthood may be.
Want to see their journey in real time? Follow them on Instagram at @thepambystory!
More Resources for Moms-to-Be
Sierra Dehmler is the Content Marketing Manager for Gay Parents To Be and its partner clinic, Illume Fertility. She is also a fertility patient herself. Combining empathy gained on her personal journey with her professional experience in marketing and content creation, she aims to empower and support other hopeful parents by providing family-building resources that educate, inspire and encourage.