LGBTQ Parenthood & Legal Protection
March 9th, 2021 | 6 min. read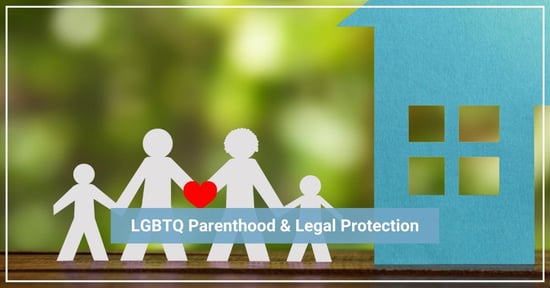 LGBTQIA+ family building is alive and well. Booming, in fact. According to an extensive LGBTQIA+ family building survey conducted by Family Equality, "63% of LGBTQ millennials are considering expanding their families, either by becoming parents for the first time, or by having more children."
Adding to this exciting news, more accessible and necessary medical resources for the LGBTQIA+ community exist than ever before. There are other advancements as well, in the form of more inclusive insurance coverage for the necessary and appropriate fertility treatments necessary, making having an LGBTQ family more affordable.
All good news.
Legal Status of LGBTQ Parenthood
Other excellent news is that there are now "parentage" laws passing in many states, that legally protect LGBTQIA+ families.
In the simplest possible terms, a parentage law is a change in legislation which acknowledges a non-biological parent as a legal parent without a second parent adoption -- a costly and time-consuming process that is still required in many states. Without a parentage law, a non-biological parent is considered a "legal stranger", even if that person is listed as a parent on a birth certificate. Without the designation of legal parenthood, input on important decisions is denied to the non-biological parent, including (but not limited to) medical treatment, safe travel between states, and more.
One state at a time, experts and advocates have been working tirelessly to support the passage of parentage acts, ensuring that a non-biological parent is recognized as a legal parent. Three such advocates who have been instrumental in passing parentage laws in Maine, Vermont, Rhode Island, and New Hampshire - Douglas NeJaime, Esq., Polly (Patience) Crozier, Esq., and Kate Weldon LeBlanc answered questions on why this legislation is vital for all families to be safe and secure.
Parentage Acts Protect LGBTQ Families
Douglas NeJaime, Anne Urowsky Professor of Law, Yale Law School
1. What made you take up this cause in the form of legislation?
Everyone benefits when the law is clear and comprehensive, and that's what legislation offers. Children benefit when their legal connection to their parents can be established in a straightforward and simple way. Parents benefit when they have the protection of parentage without having to go to court to engage in an expensive process to adopt their own children. And the state benefits when families have the security and stability of legal recognition, and parents don't have to use government resources to have their parentage established in court.
2. What will it mean for you personally for this to pass in CT? (At this point, parentage laws have been passed in Maine, Vermont, Rhode Island, and New Hampshire, leaving only Massachusetts and CT without parentage laws in the Northeast).
I grew up in Connecticut, and my parents and extended family still live here. I am proud of my state, and I want us to continue to be a leader in equality for. LGBT people. And as a parent of a toddler, I know how critical it is for families to have the protections that legal parentage provides.
My work at Yale focuses on nonbiological parent-child relationships, particularly in families formed by same-sex couples and through assisted reproduction. The Connecticut Parentage Act would protect those families and many others.
---
Read the Connecticut Parentage Act factsheet here for more information
---
3. What does it mean legally for a non-biological parent to have this kind of law?
If the Connecticut Parentage Act becomes law, children with non-biological parents will have the same protections that other children in the state enjoy. Non-biological parents will no longer be treated as legal strangers to their children, and they will not need to adopt their own children in a lengthy, costly, and invasive process.
Polly Crozier, Senior Staff Attorney, GLBTQ Legal Advocates & Defenders
1. What else is happening in New England legislatively on parentage protections?
GLAD is working hard in coalition to ensure that all children have equal access to the security of legal parentage throughout New England. As a region, we are making substantial strides. Maine (2016), Vermont (2018), and Rhode Island (2020) have all enacted comprehensive legislative parentage protections. New Hampshire has also enacted comprehensive parentage protections, and just this year passed HB 1162, which expands access to adoption, confirmatory adoption and judicial decrees for children born through assisted reproduction.
Connecticut and Massachusetts remain a focus for our collaborative legislative advocacy, particularly Connecticut as it is the only New England state without clear protections for children born to non-biological, non-marital parents. I am hopeful that the legislatures in these states will act to protect children and their parent-child relationships.
2. We're doing this state by state, should we aspire to eventually having a federal parentage bill or law?
Family law -- surrounding parentage, child custody, and divorce -- is a creature of state law. The Uniform Law Commission provides recommendations to states on model laws for enactment at the state level, and the Uniform Parentage Act provides that model framework for parentage. The Connecticut Parentage Act is based on the UPA 2017. We hope that all states will update their parentage laws based on the UPA in the interest of protecting all children and families.
Kate Weldon LeBlanc, Executive Director, Resolve New England
1. Who will this bill impact?
The law in Connecticut, like in many states, has not kept pace with the rich diversity of families and with the many paths to parenthood. To address these gaps in legal protections, the Connecticut Parentage Act (CPA) clearly sets out who can establish legal parentage and the process for how this is done. This bill would ensure access to legal parentage for all children in the Constitution State, but those particularly impacted are those children with unmarried, same-sex, or non-biological parents.
2. What happens for people who live in states where there is not a parentage act/law?
Updated parentage laws provide clarity, consistency, and security for children and families. In the states that do not have updated parentage laws, many children are left unnecessarily vulnerable. For example, I have had the privilege of getting to know families that wen through a medical crisis before the second parent had been legally recognized. It was heartbreaking to hear how much added anxiety and suffering these families experienced because of these gaps in legal protections. This vulnerability has been particularly glaring in the context of the Covid-19 global pandemic. This time is stressful for all families but especially for those who have not yet been able to secure their parentage rights.
Protecting Your Family When There is Not a Parentage Act in Your State
Accessibility to the medical help needed for LGBTQIA+ individuals to build a family provides a firm foundation on which to build, legally. Ensuring that children and parents are then legally protected is a crucial next step. The most accepted way to legally protect your family when there is no parentage act in your state is a second party adoption process.
While in many states, this would be only unnecessarily burdensome, it could be far worse. There are states that discriminate against adoption for the LGTBQIA+ community. While this typically would not occur in a situation where the non-biological parent is married to the biological parent, or is acknowledged as the other parent by the biological parent, it is a potential legal problem that could be challenged in court.
Every Child Deserves a Family is a Federal Act supported by the late John Lewis, prohibiting discrimination in the placement of children, either through fostering or adoption, with an LGBTQIA+ person or couple. This action is one that needs to be supported and can be done by writing or calling your Congressperson.
What You Can Do to Support LGBTQIA+ Family Building
One word. VOTE.
Raise your voice - not literally, but metaphorically and politically. Let your representatives know that these issues are important to you.
When you vote, support local and national candidates that support you, your community, and your rights to build a family.
---
Are you a member of the LGBTQ+ community, an ally, or a prospective parent living in Connecticut? We need your help supporting the Connecticut Parentage Act.

---
Working with Gay Parents To Be and our partner fertility clinic, Illume Fertility, as a dedicated Patient Advocate gives Lisa Rosenthal an opportunity to expand her passion and commitment to reproductive health and family building. Lisa is committed to supporting all families in having the families that they desire, in the ways that work best for them.