LGBTQ+ Family Building in 2021
April 15th, 2020 | 5 min. read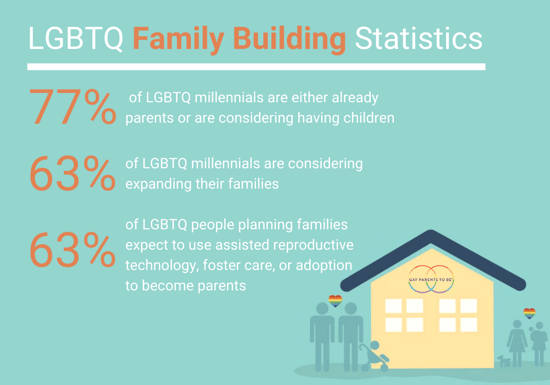 When you start your family-building journey as member of the LGBTQ+ community, you will find that medical insurance coverage is often lacking, and that there are still laws in some states that prohibit gestational surrogacy and other practices that may benefit you. You probably know from experience that laws and regulations are not necessarily geared for your convenience or your protection. Let that be the end of negative thoughts. Happily, plenty of people have found the path to biological family building. You can, too.
Gay Parents To Be offers guidance specific to the unique needs of our community.
For cisgender single men and couples, we offer support as you navigate a surrogacy journey, and help to physically, mentally, and genetically screen both your egg donor and gestational carrier.
For cisgender single women and couples, we offer guidance as you navigate the many biological parenting pathways available to you, including intra-uterine insemination (IUI), IVF with one partner's biology, and reciprocal IVF.
Transgender patients ideally begin their journey toward parenthood before beginning a formal transition. Transgender men and women may need to work with an egg donor, sperm donor, or gestational surrogate, or they may be able to use their own eggs or sperm.
Tests and Timing
You may be able to make progress from now until the end of the year with both insurance and medical tests. If you are employed by a company that offers health insurance, mid-November to Dec. 15 is usually the time set aside for Open Enrollment. It allows you to examine your current plan and choose a new one that might offer more benefits that are friendly to LGBTQ+ parents-to-be. The deadlines are strict, so check now with your human resources office for information on available plans so you can make a decision.
You have options.
If you have health insurance, the last months of the year are when you are most likely to have met deductible ceilings. That means your insurance will cover more of the cost of tests through Dec. 31.
Your insurance policy is likely to present one of the first difficulties as you seek support.
Most insurance policies approve coverage based on a traditional model that defines potential infertility as an inability to become pregnant after egg exposure to a sperm source over a 12-month period.
LGBTQ+ people are not infertile under that model but do need help from a board-certified Reproductive Endocrinologist to facilitate the bringing together of gametes (egg and sperm) and help them navigate the biological family building options available to them. A consultation is a first step.
At your first consultation with a fertility specialist you will discuss your options. Start by learning first steps to family building. For cisgender LGBTQ+ men or couples, a semen analysis is the first step to assessing an individual's fertility. This information will help guide your REI's recommendations as you move forward with biological family building, and is often covered by insurance!
For cisgender LGBTQ+ women or couples, the recommended first tests would be a blood panel that evaluates hormone levels which indicate fertility, and an ultrasound to assess each person's reproductive organs.
For transgender persons, a journey would be highly personalized by one's own reproductive endocrinologist, based on personal medical history. For these patients, next steps and fertility testing may be covered by insurance – but we recommend that you speak to your financial advocate after an initial consultation to learn more.
Many of the test results you obtain now will be good for up to six months, when you may be starting procedures based on those test findings. Schedules are tight at the end of the year – for both you and medical offices – but if you are flexible, you can ask to be put on a waiting list for a cancelled appointment.
We understand your needs
The Human Rights Campaign Foundation, the educational arm of the nation's largest lesbian, gay, bisexual, transgender, and queer civil rights organization, named Gay Parents to Be and Reproductive Medicine Associates of Connecticut to its 11th edition of the Healthcare Equality Index (HEI). For the second consecutive year, Gay Parents to Be had a perfect score, making them "Leaders in Equality" by demonstrating a commitment to LGBTQ-inclusive policies and practices for both employees and patients. Gay Parents to Be is one of only two fertility practices in the nation on the .
We maintain active partnerships with other experts in the reproductive field, including representatives from the LGBTQ+ community-at-large, parent voices, reproductive law experts, select surrogacy and egg donor agencies, and nationally recognized LGBTQ+ health psychologists, counselors and support individuals.
When choosing a treatment provider, consider four aspects that indicate a true willingness and ability to work with LGBTQ+ patients.
The website and literature should include the words "sexual orientation" and "gender-identity or expression," as well as a patient bill of rights.
Ask about visitation standards for LGBTQ+ patients. There should be no limits or restrictions on visits by partners or related during hospital stays to recover from treatment.
Does the healthcare organization hire LGBTQ+ employees? It should have a written and public employment policy that forbids discrimination based on sexual orientation and gender identity.
Does the facility provide employees with training specific to LGBT patient-centered.
Finance your family plan
You may work for a company that provides coverage friendly to LGBTQ+ employees. But they – and insurance policies for LGBTQ+ pregnancies – are the exception. When insurance won't support your family choices, you have other options.
With help from your employer or on your own, you can save money, with tax benefits, through a variety of programs. A flexible savings account allows you to withhold money from your paycheck and then spend it on unreimbursed medical expenses. A health reimbursement account is funded by employers for their workers to spend on medical costs. And a health savings account is designed for people with high-deductible health plans to pay for qualified medical procedures. Check with the benefits administrator at your employer or with the company that issues the account to ensure that fertility treatment is covered and help to personalize your plan.
Plan for 2021
Studying insurance plans and medical savings accounts and other aspects of family planning can be daunting. On the positive side, we help with all of those. Gay Parents To Be, an international program serving the LGBTQ+ community has worked with thousands of members of the LGBTQ+ community. We have more LGBTQ+ experience, resources and partners than any reproductive medicine practice in the United States and is the only stand-alone fertility clinic on the East Coast with the HEI designation. We provide as many as four dedicated team members to help you on your family building journey, along with resources like attorneys, psychologists and donor agencies. Gay Parents to Be has a dedicated financial advocate for every patient that will even strategize ways to advocate for increased benefits from your employer and insurance company in the coming year.
More LGBTQ+ people are having babies – the Williams Institute at UCLA says that as of 2016 about 125,000 same-sex couples were raising almost 220,000 children under 18.
You can, too.
Ready to start planning? Call Gay Parents to Be at 203-956-2265, or click here to schedule your consultation.