Why Should Same-Sex Couples See an Infertility Specialist?
If a couple isn't necessarily infertile, why do they need a fertility specialist? We explore why it's helpful to work with an expert.
June 23rd, 2023 | 7 min. read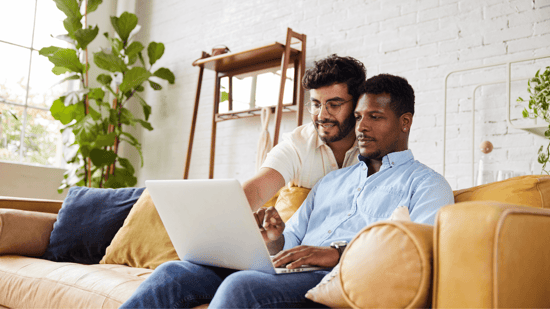 If you're in a same-sex relationship but have no known fertility issues, it may seem counterintuitive to seek the help of an infertility specialist. Let's talk about why working with a family-building expert can be so beneficial for LGBTQ+ couples looking to have a baby.
In this article:
The Basics of Family Building
So, you want to have a baby. You're probably excited (and a little bit nervous) about expanding your family. You may be ready to take the first step towards your dream, but aren't sure where to start. Not to oversimplify things, but there are really only three elements that are essential for pregnancy: sperm, egg and uterus.
Depending on which of those three things you (and/or your partner) can contribute to the equation (and which ones you may need), you will likely need the help of an infertility specialist - even if you don't anticipate any major fertility issues.
Let's talk about why that is.
What is social infertility?
If you're a member of the LGBTQ+ community, you aren't necessarily "infertile" as defined by reproductive disease. So why would you need a fertility specialist?
Well, regardless of your sexual orientation or gender identity, egg, sperm and uterus are still the main essentials everyone needs to make a baby. And if you need the help of an egg or sperm donor or a gestational carrier (surrogate) to build your family, the guidance of an LGBTQ+ inclusive fertility practice can make all the difference on your journey.
This is known as social infertility, a term sometimes used to refer to a situation where a hopeful parent needs the help of a third party to grow their family because they don't possess all the physiological elements needed for pregnancy.
In addition, some LGBTQ+ folks may have undiagnosed fertility issues that are discovered during the first step of family building, which is fertility testing. Gaining this valuable information about your baseline fertility and working with an expert can increase your chances of success and reduce the amount of time it takes to achieve pregnancy.
Everyone Deserves Access to Care
The current definition of infertility in most states is based on a person's inability to become pregnant after 12 months of exposure to sperm (or due to an impairment in their capacity to reproduce). This leaves out a large population of hopeful parents: the LGBTQ+ community.
Unfortunately, this narrow definition also affects how HR policies and insurance companies qualify patients for certain types of treatment - which in turn reduces access to care.
For example, paying out-of-pocket for surrogacy (which can cost upwards of $200,000), is completely out of reach for most same-sex male couples.
Thanks to the hard work of legislators and advocates around the United States, this archaic definition is being challenged to include ALL people who need the assistance of a medical professional to grow their families.
What is third party reproduction?
While the process does become more complicated if you are missing one or more of the three necessary family-building puzzle pieces (sperm, egg or uterus), there are some amazing experts who can help you fit those pieces together.
When you need to have a third person involved in the process of family building, we refer to this as third party reproduction. One of the best definitions comes from the experienced third party reproduction team at our partner clinic, Illume Fertility:
"Third party reproduction is a term used when another person is involved for any of the following: egg source, sperm source, or uterus - or a combination of all of these. In some cases, such as when a same-sex male couple would like to have a baby, we would use a donor as the egg source and a gestational carrier for the uterus."
Your Choice of Fertility Clinic Matters
In the words of our third party team members, Diana, Nora and Monica:
"You want to choose a fertility practice that has a specialized, multi-disciplinary team with years of experience. As a result, they will have refined their process so that they are well-organized and knowledgeable. The practice should also get to know egg donors and intended parents well, and provide personalized, attentive care throughout the entire process."
So that's where an experienced fertility specialist (also known as a reproductive endocrinologist) comes in. These physicians have the expertise to not only coordinate your care, but also to help you find safe, reliable sources for any of those additional puzzle pieces you may need.
Taking the time to find a reputable, experienced fertility clinic will pay off in the long run, as the quality of your Care Team directly impacts your chances of success.
How An Infertility Specialist Can Help
Your chosen fertility practice will be involved every step of the way, monitoring your progress, coordinating your treatment plan, and helping you find the right egg or sperm donor and/or gestational carrier, if needed.
That's why locating a practice that has experience working with members of the LGBTQ+ community is paramount to your comfort and ultimately, your success.
It's not enough for a practice to simply say that they welcome LGBTQ+ patients. You'll want to see proof that the practice displays a strong commitment to inclusivity, and has been vocal and visible in community affairs and local organizations.
Finding an LGBTQ+ Inclusive Practice
One of the most reliable ways to see how a medical practice has treated members of the LGBTQ+ community is by looking them up in the Healthcare Equality Index (HEI).
What is the HEI? Created by The Human Rights Campaign, the Healthcare Equality Index is an educational arm of the organization that annually evaluates healthcare providers and facilities, considering factors like LGBTQ+ inclusivity, staff training, and clinic environment.
HRC only designates providers that earn a score of 100 (the highest possible) as an LGBTQ+ Healthcare Equality Leader, which we're proud to have earned for six years running at Gay Parents To Be and Illume Fertility. Our HEI leader status simply shows our continued dedication to providing exceptional, inclusive care for those in the LGBTQ+ community.
The Language of LGBTQ+ Family Building
How we talk about the uterus, eggs, sperm and other aspects of the family-building process matters. Each family's journey is different. The diversity of hopeful parents in the LGBTQ+ community means their experience with conception, pregnancy and birth will be unique too.
Want a crash course in LGBTQ+ family-building terms? We've got you covered.
If you're using an egg donor or sperm donor to build your family, your choice of donor is important (whether your donor is de-identified (anonymous) or known.
For those using a gestational carrier (surrogate), there are additional concerns and questions.
Where should I begin?
While the process may sound complicated, remember that open communication, empathy and patience are the main elements necessary on any family-building journey.
There are indeed many layers of teamwork, trust, respect, and responsibility (plus a host of medical and administrative professionals who will help you build your family), but the three things needed to create a baby always remain the same: sperm, egg and uterus.
If the first step to creating a family is knowing that you need those three things, the second step is knowing where to turn for assistance. Remember that while it can feel overwhelming, there are so many kind family-building professionals here to help you. Just take it one step at a time.
Working with Gay Parents To Be and our partner fertility clinic, Illume Fertility, as a dedicated Patient Advocate gives Lisa Rosenthal an opportunity to expand her passion and commitment to reproductive health and family building. Lisa is committed to supporting all families in having the families that they desire, in the ways that work best for them.