Equal Family Building Benefits for All this Pride Month
June 22nd, 2020 | 3 min. read
By Emma Lott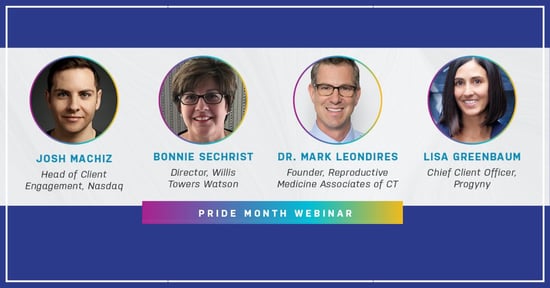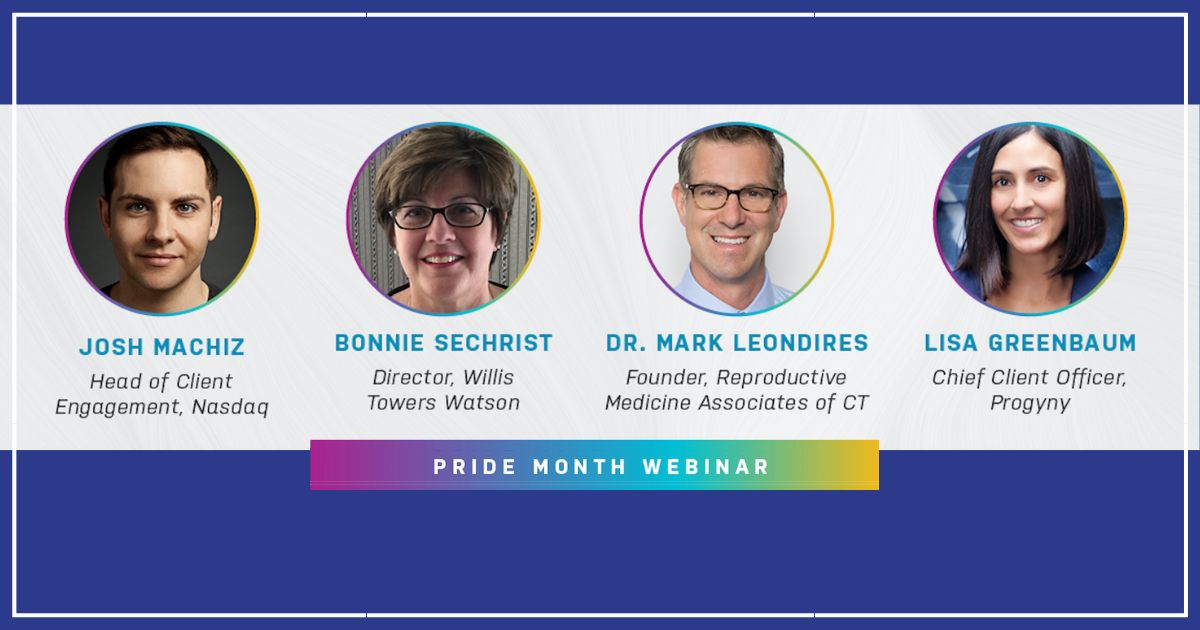 During this year's virtual version of Pride month, many companies are expanding webinars, info sessions, and discussions to allow the public to continue learning about the LGBTQ community. As many of you know, Gay Parents To Be was founded by Dr. Mark Leondires after he went through his own family building journey. While he and his husband are now proud parents of two children through the IVF & surrogacy process, Dr. Leondires spends his spare time advocating for LGBTQ inclusivity and fertility benefits for all.
One way to increase the visibility of the disparity between heterosexual and LGBTQ fertility coverage is to urge large corporations to provide equitable family-building benefits for all their employees. In that spirit, Dr. L was proud to participate in the NASDAQ/Progyny sponsored webinar, Understanding LGBTQ+ Family Building + Benefit Trends.
The webinar was a featured Pride Month event sponsored by NASDAQ and Progyny, and was held on Wednesday, June 17th. The panel was moderated by NASDAQ's Head of Client Engagement, Josh Machiz, and featured two other distinguished guests including Bonnie Sechrist, Director of Health Management Consulting at Willis Tower Watson and Lisa Greenbaum, Chief Client Officer at Progyny. Discussion topics included LGBTQ family-building options (including surrogacy, adoption, and reciprocal IVF), equitable fertility and family-building benefits trends, and what it means for employers that are behind the curve in offering inclusive benefits.
---
Watch the webinar recording below!
---
Webinar Recap:
"It was an honor to speak at the NASDAQ/Progyny-sponsored webinar, Understanding LGBTQ+ Family Building + Benefit Trends," said Dr. Mark Leondires, founder of RMA of Connecticut, Gay Parents To Be, and Gays with Kids. "While many companies are making major strides in offering inclusive fertility benefit coverage for all people, there is still work to be done. Speaking up for the rights of LGBTQ people who want both to be parents and have equal access to family-building benefits, will hopefully and eventually lead to a world with family-building coverage for everyone."
"Now more than ever, family comes first," said Lisa Greenbaum, Chief Client Officer at Progyny, a leading fertility benefits management company in the US. "It is imperative that employers and physicians, like Dr. Leondires, work together to advocate for the LGBTQ+ community and ensure that all employees have equitable family building benefits."
In the race to attract and retain top talent, companies have begun offering inclusive benefits, a step in the right direction when it comes to equal benefits and fertility coverage for LGBTQ persons. Dr. Mark Leondires spoke about LGBTQ pathways to parenthood and how important it is for more companies to offer equitable family-building benefits to all employees.
---
Interested in attending a virtual event? Check out our events calendar to stay in-the-know!
As the Brand Specialist, Emma is the marketing lead for Gay Parents To Be, helping to build awareness of the brand not only as a direct path to parenthood, but also as a general resource for fertility information in the LGBTQ community. She loves the chance to attend conferences on LGBTQ health and family building, and meet prospective patients.