7 Best LGBTQ Family & Fertility Podcasts You Should be Listening To
September 30th, 2020 | 4 min. read
By Emma Lott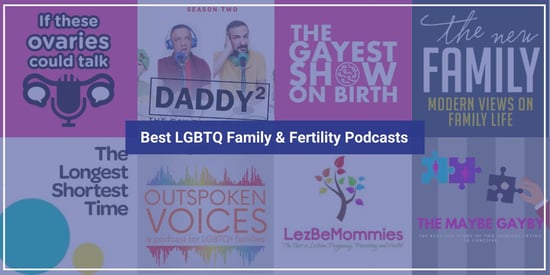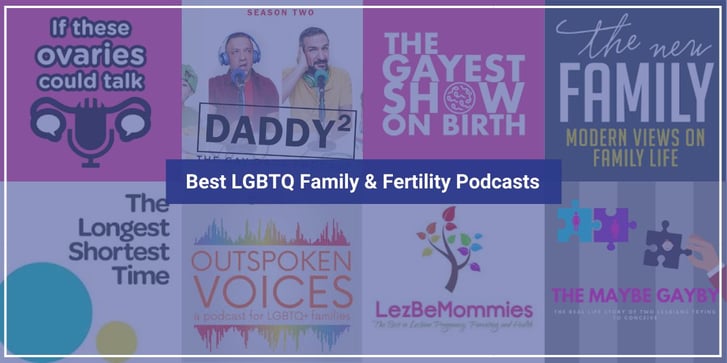 September 30th is National Podcast Day, and in preparation we rounded up the best podcasts on gay family and fertility.
Whether you're a parent already, have an interest in gay family building, or just want to hear more stories from families who have been there – tune into these top family & fertility podcasts for the LGBTQ community. Happy listening!

1. The Gayest Show on Birth
Tune in for weekly episodes as moms Karyne and Kate navigate and narrate their journey as moms to baby Ari. It's worth going back to past episodes to hear all about their reciprocal IVF journey as well.📱Follow The Gayest Show on Birth

2. If These Ovaries Could Talk
Two lesbians talk about making and raising babies and nontraditional families with weekly guest speakers. Scroll through to find episodes on surrogacy, the legal aspects of LGBTQ family building, and a special episode featuring our own Dr. Mark Leondires and his husband Greg.📱We love to follow ITOCT on social as well!

3. The New Family
Although not necessarily a podcast on LGBTQ parenting, this pod tells the first-person stories of people with families of every shape and size. Listen for interviews with all sorts of parenting experts who talk about what the "new normal" is for families today.

4. LezBeMommies
Created by Elizabeth Caliva, queer mom and mindset coach, this podcast was a great exploration of topics related to lesbian pregnancy, conception, parenting, and general health. They've stopped releasing new episodes, but the entire series is still available to listen.

5. The Longest Shortest Time
This podcast discusses parenting and family building stories and surprises, and self-advertises as the parenting podcast for everyone. Named one of the Webby Award's best family & kids podcasts of 2018 and 19, this pod has something for everyone. We especially loved their three part "sperm series". 📱Follow The Longest Shortest Time on social.

6. Outspoken Voices
This podcast, released by Family Equality each month, invites guest speakers to discuss any and all topics related to LGBTQ+ families. Here at Gay Parents To Be, we get a lot of questions about using a donor to conceive and how to talk to a future child about it, so we loved this episode, featuring "donor conceived queerspawn".

7. Daddy Squared - The Gay Dads Podcast
This podcast is hosted by dads Yan and Alex, fathers to young twins. They bring in expert voices (who just happen to be gay dads themselves) to speak on topics relevant to parenting, particularly issues that face the LGBTQ community. We also love following them on social! 📱Follow Yan & Alex on social
---
Interested in learning more about LGBTQ family building? Want to hear more stories from real families? Sign up for The Voice, our LGBTQ family newsletter!
As the Brand Specialist, Emma is the marketing lead for Gay Parents To Be, helping to build awareness of the brand not only as a direct path to parenthood, but also as a general resource for fertility information in the LGBTQ community. She loves the chance to attend conferences on LGBTQ health and family building, and meet prospective patients.