[VIDEO] What Does LGBTQ Family Building Look Like Now?
October 23rd, 2019 | 3 min. read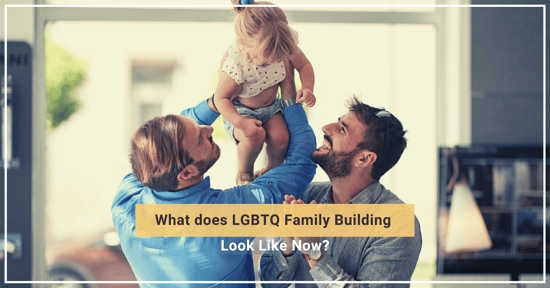 In our last LGBTQ History Month blog, we reviewed the history of LGBTQ family building, and what's led us to where we are now. Here's more on where we're at in 2019:
LGBTQ family-building is more widely accepted in 2019, which is awesome. Part of this is because of research -- for example, we now have a 30-year study on queer parenting that started in 1986 and
was just recently published, finally, in the New England Journal of Medicine. This study confirms that kiddos raised by queer parents and those from a more "traditional" family are equally mentally healthy.
So, are children of LGBTQ parents different from those with non-LGBTQ parents? The short answer in regards to mental well-being is, no.
Are gay millennials having kids?
Because of studies like these, queer millennials are now picturing themselves as parents. The 2019 LGBTQ Family Building Survey from Family Equality shows that 63% of LGBTQ adults between 18-35 are planning on growing their families -- either becoming parents for the first time, or expanding their family. This generation is starting to think about parenthood with the Marriage Equality Act paving the way for them.
So 2019 looks pretty good, but we still have more work to do. Gay Parents To Be is proud to be a part of this work, because we're committed to fighting for queer families to have equal parenting rights and accessibility.
What are the barriers to LGBTQ family building now?
A huge factor in family building for LGBTQ parents is cost. Although infertility treatments are now commonplace in the wider family building world, this doesn't regularly apply to the LGBTQ community.
Often future queer parents do not meet the standard definition of infertility, so their family building is not covered by insurance. Sometimes they receive full or partial reimbursement, but this is rare. While it's important to celebrate the rights we now have, we have to work towards equality on all fronts in parenting -- you shouldn't have to persuade your insurance company, or your employer that you deserve to have kids. But this is where we are today, and that's why we've compiled a list of 4 LGBTQ Family-Building Questions to send to HR.
Another challenge persists in the queer family-building arena: The question of legal parentage. When using reproductive technology to build a family, queer parents worry about not being biologically related to their kiddos, and losing their rights and being separated from their kids. Their worries aren't unfounded, even in 2019, but we now have a number of ways to safeguard against this issue – a reproductive attorney can guide parents through pre-birth orders and second-parent adoptions.
Gay Parents To Be will continue our work of fighting for queer parents' rights. We all know now that queer parents are equally good parents, and should receive equal insurance support for their family building. But years of prejudice and bigotry can outweigh even the most thorough of studies. Educating and fighting ignorance is how change is made, and how kids get loving homes.
As an informational resource and starting point for LGBTQ parenting, Gay Parents To Be has helped more than 1,000 LGBTQ members build their families. Sign up for our monthly newsletter to learn more and hear from both experts, and parents who've been through the process.
Molly Horton Booth (she/they) is a queer writer and editor. Her work can be found here on Gay Parents to Be, Wayfair.com, McSweeneys.net, etc. She's also an author of YA fiction, and her work has been featured on the American Library Association's Rainbow List. Her books include: SAVING HAMLET (2016), NOTHING HAPPENED (2018), and TWELFTH GRADE NIGHT (coming Fall 2022) all published by Disney Hyperion. Molly lives on a beach outside of Boston, MA, where she spends her free time with friends and family, obsessively crafting, and doting on her pets. Find her on Instagram @mollyhortonbooth or at mollyhortonbooth.com.