30-Year Study Busts Myths About Queer Parents
April 2nd, 2019 | 2 min. read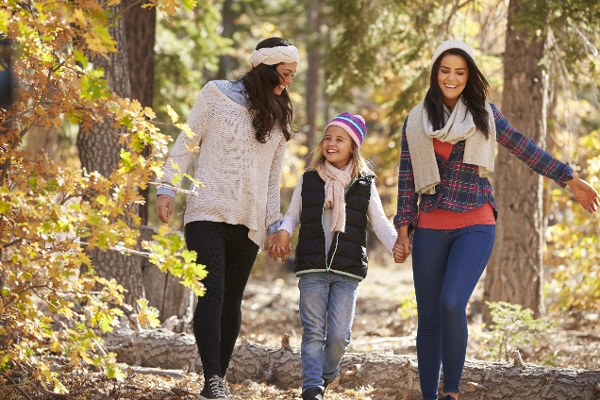 Hey! Guess what? Two women can raise happy, healthy kids all on their own. It turns out, the gender identity and expression of your parents and how you were conceived doesn't affect your mental health. It just doesn't. We know this, you know this, and a recently published study spanning three decades of research confirms this.
In 2018, the New England Journal of Medicine published a study done by the National Longitudinal Lesbian Family Study. This U.S. study, led by Nanette Gartrell, began in 1986 and followed children with lesbian parents from infancy to adulthood and compared their overall mental health to children raised by the more "traditional" heterosexual, cisgender parents.
Gartrell's final report on these 25-year-olds determined that there were, "no significant between-group differences with respect to adaptive functioning (family, friends, spouse or partner relationships, and educational or job performance), behavioral or emotional problems, scores on mental health diagnostic scales, or the percentage of participants with a score in the borderline or clinical range." So, this study looked at multiple ways to measure mental health, and it didn't matter – across the board, there was no difference.
Ultimately, Stephanie and her wife came to the same conclusion as this study – that children born into same-sex-parent families are going to be healthy, functioning members of society. "Everyone's afraid for the children," Stephanie notes. "But the children are fine."
"It comes out of a personal passion to help, which is what it means to be a doctor," Dr. Leondires said. "As a parent realizing how transformational it is, I wanted to share that in/as a resource and a process in a fertility center that can make this all happen."
Photo provided by Stephanie Ocasio
Molly Horton Booth (she/they) is a queer writer and editor. Her work can be found here on Gay Parents to Be, Wayfair.com, McSweeneys.net, etc. She's also an author of YA fiction, and her work has been featured on the American Library Association's Rainbow List. Her books include: SAVING HAMLET (2016), NOTHING HAPPENED (2018), and TWELFTH GRADE NIGHT (coming Fall 2022) all published by Disney Hyperion. Molly lives on a beach outside of Boston, MA, where she spends her free time with friends and family, obsessively crafting, and doting on her pets. Find her on Instagram @mollyhortonbooth or at mollyhortonbooth.com.