Becoming Moms Through Reciprocal IVF | Taylor & Holly's Story
April 28th, 2023 | 7 min. read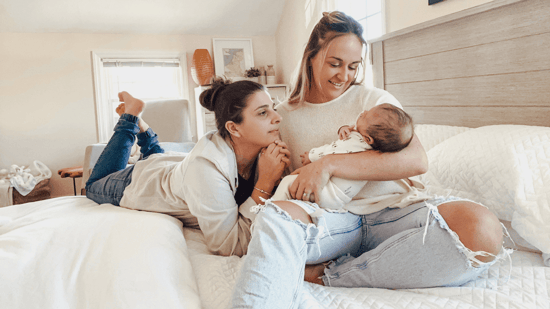 Moms Taylor and Holly open up to share their LGBTQ+ fertility journey, which included both IUI and reciprocal IVF, as well as how they navigated the ups and downs, their advice for other two mom families, and what life looks like as a family of four.
In this article:
Editor's Note: We are so grateful to Taylor and Holly for being willing to share their story with us in honor of National Infertility Awareness Week. To learn more about what RESOLVE and other organizations are doing to fight for increased access to fertility and family-building care across the United States, please visit their website.
Meet Taylor & Holly
Taylor and Holly met on an LQBTQ+ dating app called HER in 2016 and quickly fell into a serious relationship. They lived in Boston, MA and Providence, RI before moving to Connecticut together. In 2018, after realizing they wanted to spend forever together, they got married in Taylor's hometown near Stowe, VT.

The couple now resides in West Hartford, CT with their two babies, Roux and Holland, and their two cats.


"Family has always been central to our relationship," Holly says. "In fact, our shared desire to build a family is one of the things that drew us towards each other." They discussed early on how many kids they both wanted (lots), who would carry the pregnancies (Taylor never wanted to carry, but Holly did), and that they both wanted a biological connection to their children (meaning they would likely pursue both IUI and IVF).

"We even discussed what to do about our last names!" Holly says. "While Taylor was willing to hyphenate or take my last name, I wanted to make sure that her last name had special meaning. So I suggested that if we ever had a girl, we would name her Rousselle (Taylor's last name) and we would call her 'Roux.'
Ready, set...babies!
In 2019, Taylor and Holly felt ready to start growing their family. They reached out to their OB/GYN for a referral to a fertility clinic and were soon connected to the team at Illume Fertility.
"While the referral originally came from our doctor, we felt even more confident in our choice because we had close friends (Katie and Becky) who were working with Illume and had already had their first baby," Holly recalls. "They spoke so highly of the care and support that they received, not just from their doctor, but from everyone they interacted with."
One thing they didn't expect, however, was how many in-person appointments would be required on their path to parenthood. They soon learned they'd have to drive in to the Illume offices for initial fertility evaluations, diagnostic blood work, morning monitoring, ultrasounds, and other important parts of the process.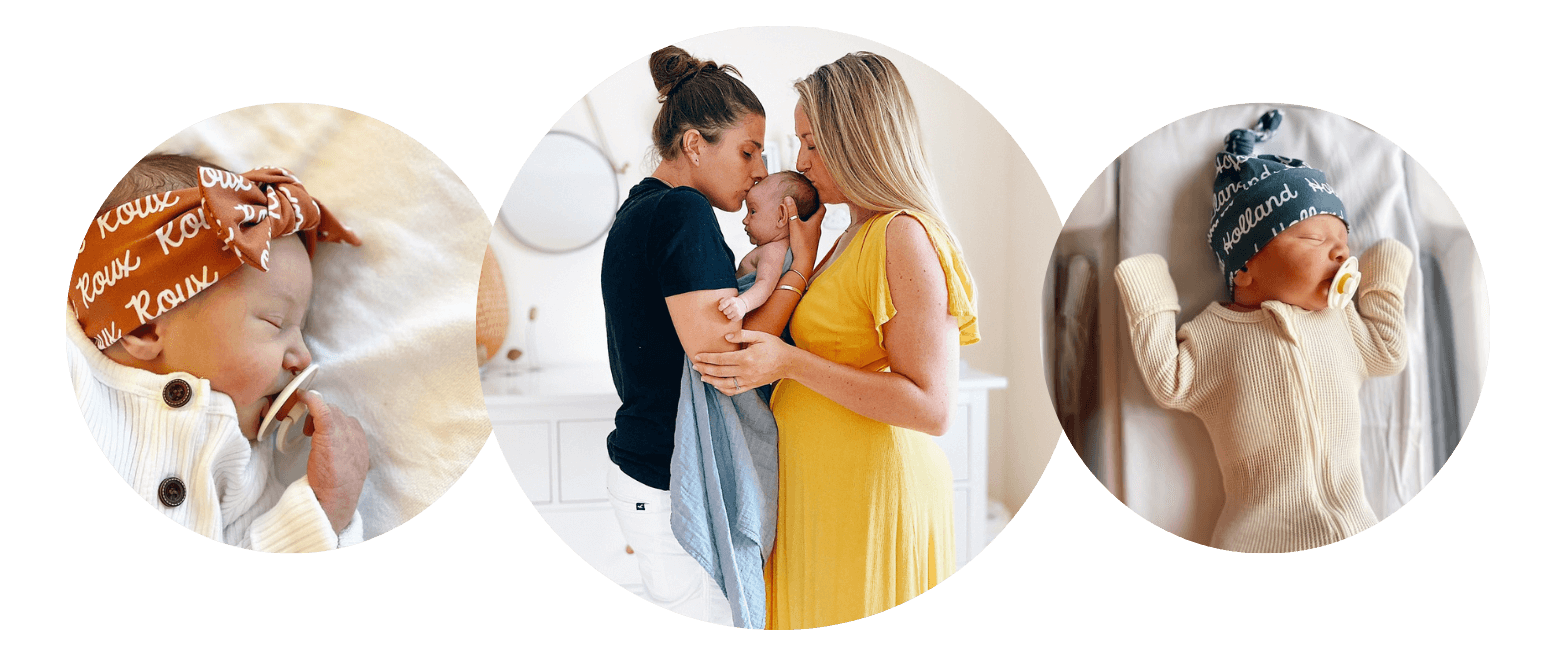 Our Reciprocal IVF Journey
The couple had their first consultation with Dr. Cynthia Murdock in June 2019 and discussed their long-term plans for kids, including their desire to do reciprocal IVF in the future so both Taylor and Holly could have genetic connections to their children.
They decided to start with an intrauterine insemination (IUI) cycle, using Holly's egg with sperm from a donor. Thankfully, their first try was a success, and they got pregnant in August 2019. Their daughter Roux was born in May 2020.
In November 2021, when Roux was a little over a year old, Taylor and Holly had another consultation with Dr. Murdock to discuss trying for Baby #2. "We knew that the reciprocal IVF process using Taylor's eggs would be more complicated than a simple IUI cycle," Holly says.
During Taylor's egg retrieval in March 2022, she had 23 eggs retrieved, with 17 eggs maturing, and nine eggs successfully fertilizing (using the same sperm donor they'd used for Roux). Ultimately, the couple was able to freeze five embryos.
The most difficult part of the process for Taylor and Holly was waiting for results and the uncertainty after Taylor's egg retrieval. "We felt good about having so many eggs retrieved," Holly recalls, "but in the days following, it was really unnerving to see the numbers dwindle so quickly."
Thankfully, when they went on to do a frozen embryo transfer in April 2022, they got pregnant with their second baby, a boy.
Why don't all eggs become embryos?Dr. Murdock explains the attrition process after egg retrieval.
---
What are the best options for hopeful moms?
---
Leaning On Community
"We were very lucky to have gotten pregnant quickly with both children," Holly says, "but in navigating this sometimes confusing, overwhelming process, we were very fortunate to have friends who had been through IVF themselves and were ready and willing to answer questions - or just talk."
One of their close friends, Sarah, even hopped on a FaceTime call with the nervous moms for our first night of IVF injections. "We felt like we needed the extra support," Holly says. "And we've tried to pay that forward to other people who have reached out to us with questions as they begin their own fertility journeys."
Advice for Other LGBTQ+ Parents-to-Be
Finding your own community and support system is essential, the couple says.
"It's especially helpful to have other LGBTQ+ couples who have been through the process and can answer questions or provide resources," Holly says. "Also, don't hesitate to make connections with people on social media - most people we have reached out to were so warm and willing to talk!"
Similarly, she says, the couple loves hearing from and connecting with other parents/parents-to-be.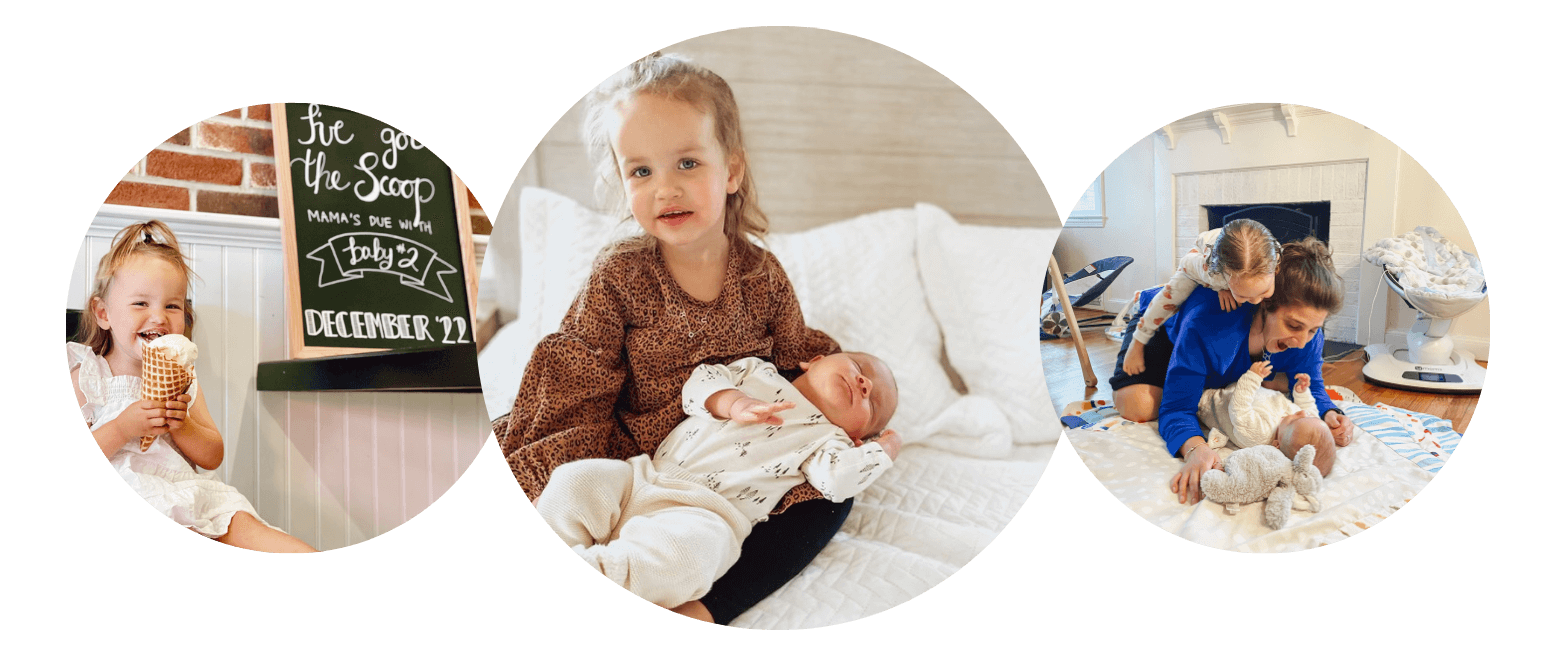 Best Resources for Two Mom Families
Before starting their IUI and IVF journeys, the couple says they loved listening to episodes of "If These Ovaries Could Talk" (now called The Queer Family Podcast). "It was an amazing resource and a great conversation starter for pregnancy and parenting-related things," Holly says.
"Now, as parents, we stock our bookshelves with LGBTQ+ family-friendly books to ensure our kids see families like theirs represented," Holly says. Some of their favorite books include:
Another favorite family tradition? Attending West Hartford's family PRIDE festivities with their kids every June!
Looking Towards the Future
"Right now, we're enjoying the hectic and amazing life that comes with having two babies," Holly says. "Roux loves being a big sister, and Holland can't take his eyes off of her!" The siblings already have a strong bond that their moms can't wait to see develop as they grow up together.
As for growing their family in the coming years, Holly says they can't wait: "Future babies? Yeah, sign us up!"
Sierra Dehmler is the Content Marketing Manager for Gay Parents To Be and its partner clinic, Illume Fertility. She is also a fertility patient herself. Combining empathy gained on her personal journey with her professional experience in marketing and content creation, she aims to empower and support other hopeful parents by providing family-building resources that educate, inspire and encourage.