Broadway Husbands Become Broadway Dads: Part 1
November 12th, 2020 | 11 min. read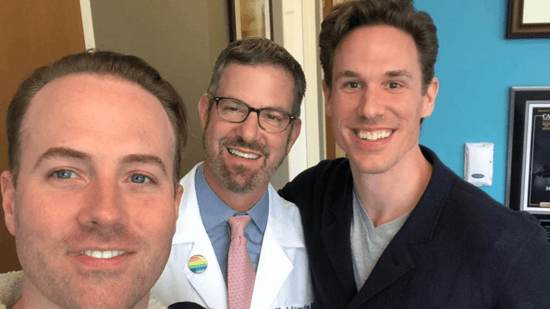 Navigating Surrogacy Through 2020
The path to parenthood for LGBTQ individuals and couples can have some unexpected twists and turns, and 2020 has thrown its own fair share of curveballs - many of which have impacted the surrogacy process for prospective parents. But for dad-to-be duo Bret and Stephen, they're making this path their own, and we're so excited to be following along with them as they vlog along the way. Let's take a look at a real family building timeline, and see how the Broadway Husbands are navigating family building through 2020 - curveballs and all.
In this blog, we'll be giving a short recap of each step in the Broadway Husbands' surrogacy journey (so far), but feel free to watch their full videos for even more insights and to hear about the process in their own words.

The One Where They Start the Surrogacy Process - June 2018
Bret and Stephen met in 2006, and bonded over their mutual passion for the stage. After marrying in 2011 and becoming the Broadway Husbands, they began their next big adventure - becoming dads! We're able to follow along, as they've vlogged about it over the course of the last few years.
Check out their first video on starting the process, choosing a provider, and figuring out how to budget for the considerable costs of surrogacy.
Here at Gay Parents To Be, we know that surrogacy can be an expensive process, so we appreciate the Broadway Husbands' open honesty about budgeting, planning ahead for costs, and using a credit card to pay for each step as they go.
P.S. If you don't follow them on Instagram, you're missing out. We came for the Disney content, but stayed for the dance videos.

The One Where They Choose a Fertility Clinic - July 2018
Once Bret and Stephen really decided to move forward with the process, choosing a clinic and a fertility provider that felt right was an important decision. They decided to move forward with our clinic partner, Illume Fertility (formerly RMA of Connecticut), for a variety of reasons: the clinic is close to their home in NYC, they got married in Connecticut, and they really connected with Dr. Leondires.
"Dr. L", as his patients call him, is "married to a man, has two children of his own, and is a doctor who makes this happen for other people," say Bret & Stephen. Plus, even though Stephen hasn't met Dr. L in person yet, "he broke down the process in a way that felt very authentic...that it could happen for us and be really practical," rather than something only attainable for celebrities and the uber-wealthy.
In this video, they talk more about getting ready to come into the office for the first time, freezing sperm for later, and choosing their "egg person" (official term - egg donor).

The One Where They Give their "Samples" - September 2018
Things are moving along! In this third "episode," the Broadway Husbands give us a recap of their team day experience, and share some exciting life news!
For many prospective dads, the surrogacy journey is undergone largely through email, phone, and Zoom communication - you only have to come into your fertility doctor's office a handful of times. For Bret and Stephen, their first day in the office is called a "Team Day" - it's a bit of a marathon, and involves:
Getting bloodwork drawn
Providing a sperm specimen
Getting to meet Dr. L in person (for Stephen)
Getting to meet their nurse, navigator, and finance coordinator
Meeting with the social worker
Meeting with the genetic counselor
Signing consents
Taking a nap after all of the above!
One of their key takeaways from the day is talking to the social worker about how to speak to their future child, and discuss their origin story. Watch the video for their key takeaways!

The One Where They Learn Some New Words - December 2018
After taking those first steps at their clinic, the Broadway Husbands are ready for the next section of their journey - selecting and matching with their egg donor. They first fill out a questionnaire indicating if they have preferences for height, eye color, and other genetic markers, and then are sent profiles of a few potential donors. In their own words, viewing egg donor profiles is like dating profiles. Bret and Stephen ended up choosing the first profile that they were ever sent - it was a match at first sight!
Other than her entire health and family history, the couple knows relatively little about their donor - they are not privy to her name, or where she lives. While many donors are now open to an open-door or known donation, their donor chose to remain anonymous.
Their next step is actually just to wait - their donor needs to "cycle" (aka get her period) twice before they begin medication for the egg donation process.

The One With Some Egg-citing News - January 2019
Spoiler alert - there are Shuford-Hanna embryos sitting in storage at Illume Fertility 😍. The Broadway Husbands are well on their way to becoming Broadway Dads. In this next video, Bret and Stephen discuss what the egg donation and embryo creation process is like for dads, why they chose to do PGT testing, and tease their next step - finding a surrogate.
Watch to find out how many embryos were successfully created!

The One Where They Use Social Media to Find their Surrogate - March 2019
If you're in the middle of your surrogacy process, you may have realized that matching with a surrogate can take a while. This is because gestational carriers are highly screened by both a surrogacy agency and a fertility clinic, and then each match is carefully considered by the agency before being presented to intended parents. If choosing an egg donor is like looking at dating profiles, connecting with a surrogate is more along the lines of matchmaker's match.
That being said, this process is time-consuming and the agency costs can add up. In this video, Bret and Stephen talk about connecting with their surrogate on social media, and winning a package of free agency services online! Social media works its magic once again.

The One Where They Meet Cute - with Their Surrogate
In this video, Bret and Stephen take a big step - meeting their surrogate and her partner for the first time. In many surrogacy journeys, the surrogate and intended parents live in separate states - sometimes across the country from one another. The Broadway Husband's gestational carrier is not from the area and has never been to NYC, so they show her the sites as they get to know one another.
The following day, the Broadway Husbands, their surrogate, and her partner all come to their fertility clinic to complete medical screening for their surrogate, as well as a group therapy session. Watch the full video for some surprise questions that came up during their session 😳!

The One Where They Were On a Break
For many intended parents going through a surrogacy journey, life can sometimes get in the way! Whether that's due to a move, a change in finances, or one of so many other reasons - it is not uncommon for prospective parents to put their surrogacy journey on hold for a little while, while they get their affairs in order.
What's not as common is putting a surrogacy journey on hold in order to accept a Wicked job offer, as well as a move back to a major city! In this video, Bret and Stephen discuss what they've been up to for the past few months, and how excited they are to get back on track with their surrogacy journey.
We're so excited to continue to share our Broadway Husband's stories as they continue along their surrogacy journey. In order to stay up to date with Bret, Stephen, and their Broadway stories, be sure to sign up for The Voice, our monthly LGBTQ+ family newsletter.
---
Sign up now to get exclusive LGBTQ+ family building info, events, and more.
---
Sierra Dehmler is the Content Marketing Manager for Gay Parents To Be and its partner clinic, Illume Fertility. She is also a fertility patient herself. Combining empathy gained on her personal journey with her professional experience in marketing and content creation, she aims to empower and support other hopeful parents by providing family-building resources that educate, inspire and encourage.