How to Find Fertility Clinic Success Rates: A Guide for Dads
March 17th, 2021 | 6 min. read
By Emma Lott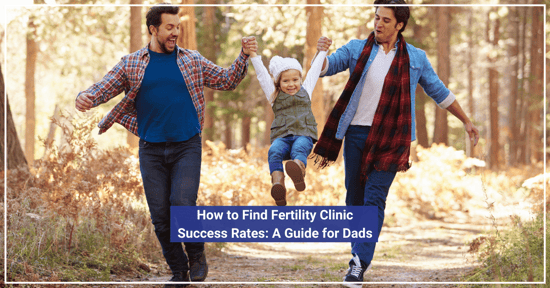 For prospective parents in the LGBTQ+ community, there are many pathways that you might take to build your family. Whether you decide to pursue a private or public adoption, or biological family building, there is now a wealth of information available online to help you get started, to take that first step. For dads-to-be who have chosen to pursue biological family building with the help of an egg donor and gestational carrier, the journey ahead is exciting, yes, but also slightly overwhelming. How do you know that you are choosing the best clinic for your journey, putting your future family in the best hands?
For dads-to-be, your choice of fertility clinic may rely on a variety of factors, including:
Location

Clinic Success Rates

Physician (you may want to work with a specific doctor)

"The X Factor"
While some of these factors may be hard to quantify, clinic success rates are reported by over 85% of fertility clinics in the United States and are available online at the Society for Advanced Reproductive Technology website.
---
Learn more about finding and using SART data to find your clinic here

---
Why Does Data Matter When Choosing a Fertility Clinic?
There are two main reasons dads should use SART data to choose a fertility clinic.
It allows you to see how many surrogacy journeys your chosen clinic has facilitated in the last-reported year. You want to put your future family in

experienced hands

.

Single dads or male couples pursuing surrogacy have higher chances of success compared to the majority of patients at a fertility clinic. Your family building plan will use the help of a

healthy egg donor

,

a

gestational carrier who has successfully carried a pregnancy

to term, and a whole team of reproductive laboratory and clinical professionals.

Knowing how to interpret SART data for surrogacy journeys can be key to choosing the right clinic for you.
Here at Gay Parents To Be and RMA of Connecticut, we are passionate about family building information and education - but we also know that hearing from a real parent can be the most powerful message. Below, Eric, a dad through egg donation and surrogacy, shares how he and his husband used data to help choose their clinic, and how they knew it was the right fit.
Q: What made you investigate SART data in the first place?
A: I first read about SART on the ASRM [American Society for Reproductive Medicine] website while researching how my husband and I – a same-sex male couple – would be able to grow our family through surrogacy. After learning that we needed help from two different women (an egg donor and a gestational carrier), we signed up with Donor Concierge to help us find our egg donor. However, our egg donor search could not begin until we were signed up with an IVF clinic.
We began reaching out to a few IVF clinics recommended by Donor Concierge, and several clinics that we found through our own online research. While we knew we wanted to work with a clinic experienced in helping LGBTQ+ couples grow their families, we didn't know what else we should be considering before making a decision. To get started, we compiled a list of IVF clinics around the country that had a history of working with LGBTQ+ couples and then looked up their IVF success rates on SART to help us determine which clinics on our list had the highest success rates for singleton births using donor eggs and thawed embryos. We met with the top 3 clinics on our list and ultimately decided to work with Dr. Leondires at RMA of Connecticut.
Q: What was your experience like using SART's (the Society for Advanced Reproductive Technology) website?
A: Using SART's website is very straightforward and easy to use. On their website, we were able to not only find detailed information about the IVF process, but also look up IVF success rates for the clinics we were considering working with on our journey to parenthood.
Q: Every patient has a different reason for choosing their fertility clinic. What made you choose RMA of Connecticut?
A: My husband and I are a same-sex male couple, so it was important to us to feel like there was a good connection with the team at the IVF clinic we chose to work with. There are many aspects of the IVF journey that center around women's reproductive systems, so we needed to find an IVF clinic with a team that would be willing to help us understand everything we should be looking for in an egg donor. We met with 3 different reproductive endocrinologists before deciding which doctor to work with – each clinic having at least some experience working with LGBTQ+ couples. In the end, we decided to work with Dr. Leondires at RMA of Connecticut because...
Dr. Leondires is a gay man who has gone through his own surrogacy journey to have children, so he can relate on a personal level to what we're going through.
The clinic has been a member of SART for many years, so we know they're committed to providing quality and ethical services.
The clinic's IVF success rates are impressive, so we felt more confident about both the level of care we'd receive, as well as making the financial commitment for the IVF journey.
We felt like the clinic's team was a good match for our family.
We here at Gay Parents To Be are so grateful to Eric and his husband for sharing their story - and as an educational resource powered by the facility and staff at RMA of Connecticut, we are honored to help them grow their family!
No matter who you chose to help build your family, your choice of fertility clinic (and really, any family building professional) is highly personal. But, in the words of our own Dr. Mark Leondires: "At the end of the day, everyone wants to help you bring home a happy, healthy baby."
If you or someone you know has more questions about LGBTQ+ family building, SART data, or wants to connect with real parents who have been there, we're here to help. You can also sign up for our LGBTQ+ family newsletter, The Voice, for monthly stories and updates delivered to your inbox.
As the Brand Specialist, Emma is the marketing lead for Gay Parents To Be, helping to build awareness of the brand not only as a direct path to parenthood, but also as a general resource for fertility information in the LGBTQ community. She loves the chance to attend conferences on LGBTQ health and family building, and meet prospective patients.