We Are Family | A Journey to Queer Motherhood
April 4th, 2023 | 10 min. read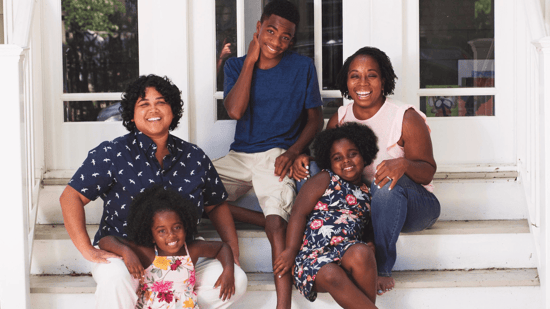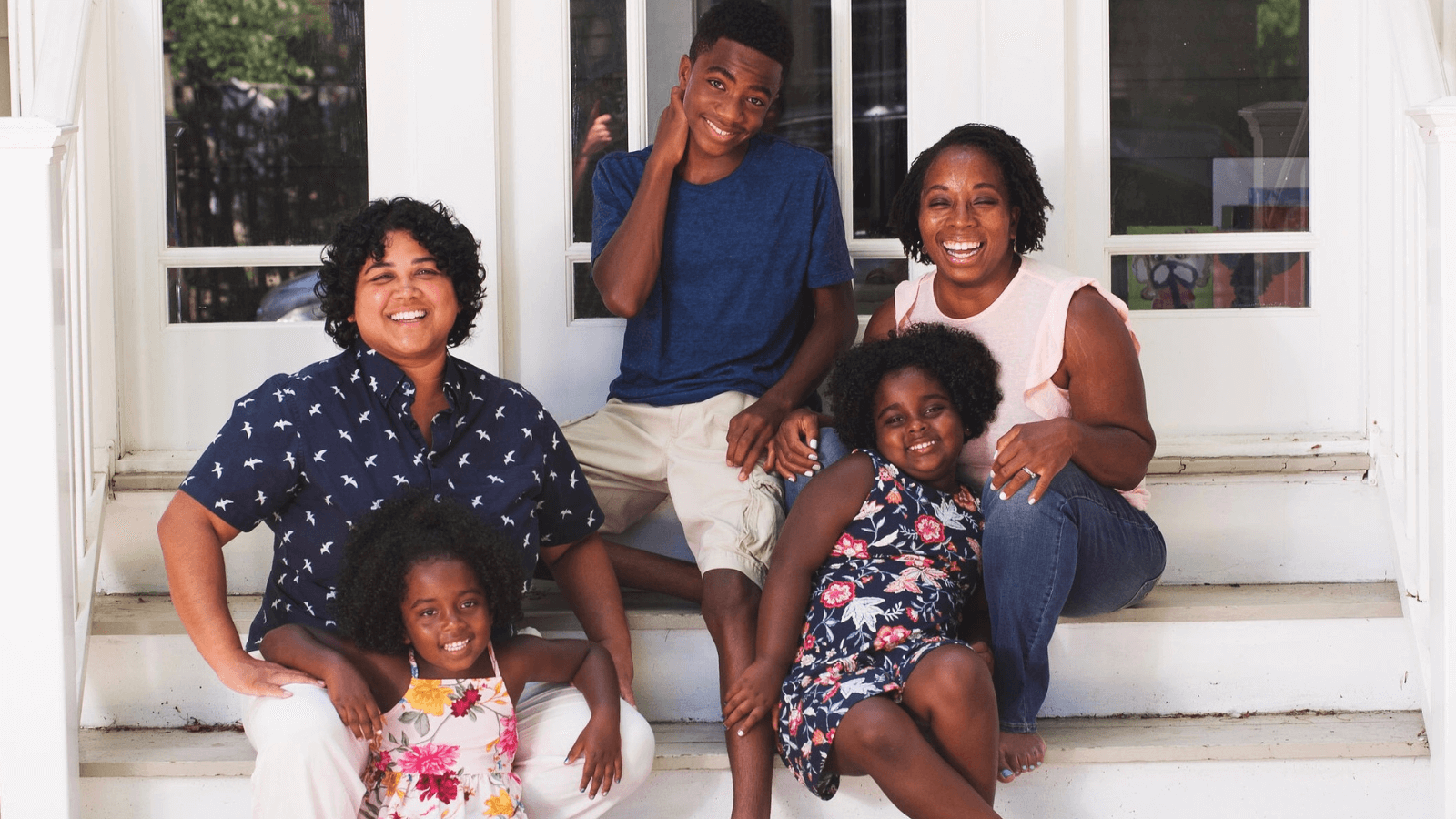 Photo: The Rathkopfs
Dinushka, my now wife, and I met on a dating website over 16 years ago. We got to know each other via phone calls and emails for a month before our first date in 2007. Over email, I first shared with Dinushka that I wanted to have kids. Then, she shared with me that she did not. This is the story of what happened next.
In this article:
Navigating Big Life Decisions with a Partner
On our first date, Dinushka shared that one day, she might want to adopt a child and have a few dogs.
She did not, in fact, ever want to be pregnant.
By the time we got to the point of going out on that date, I knew that neither one of us had ever dreamt of getting married to anyone. I'd daydreamed about the security and safety I imagined marriage would provide me, but I never envisioned my wedding day or signing any marriage license.
How could I? I was gay.
How I Became a Mother
Shortly after I graduated from college, I became a mother to my biological half-brother Jonathan, when my mother suddenly passed away. Our bond was immediate - so while he didn't grow in my belly, he grew in my heart from the very first second he was born. He was always my son.
As our firstborn son, the hope to give him siblings was further fueled by my desire to have more children with Dinushka.
Dreaming of the Future
By the time we got engaged, she'd let go of the hope that my dream of having a baby would vanish. My hope of getting pregnant one day never left me. I bought pregnancy magazines, educating myself long before I knew what a cryobank was.
The magazines reminded us, in our tiny apartment, that my dream of getting pregnant was alive and well.
By the time we married, Dinushka was as ready as she could be, but wholly supportive of my dreams - including having a baby. Three years after our wedding, we started talking about getting pregnant. We both had a bit of trepidation, but we began our research. I asked other lesbian couple friends about their process and reported back to Dinushka.
We'd talk every night just before we fell asleep about the process or what we perceived it to be.
Her stream of "what if's" was never-ending. What if we don't find the best sperm donor for us? What if you can't get pregnant? What if we can't afford it? What if our families don't come around to the idea of our child? I tried to quiet her fears, but we were both scared.
I, too, had the same questions and fears as she did. But I also had hope and faith that we were meant to be parents together, from conception to baby shower to delivery room mayhem to strapping our baby into their car seat for the very first time. We were in this together.
Searching for Our Sperm Donor
I knew the kind of donor I was looking for - the male version of my wife. She is a Sri Lankan American who is kind and curious. She genuinely wants to help others and expects nothing in return.
I'd be carrying the baby, which wasn't even in question, and as a Black woman, it was important for our kid to resemble us both. The search for a Sri Lankan sperm was so challenging because there are hardly any Sri Lankan sperm donors available.
We opted for a cryobank recommended by a friend called Fairfax Cryobank. We found one sperm donor that fit our criteria. We decided to widen our search and looked into another cryobank. To say it was slim pickings is an understatement.
Then it came down to really "sitting" with each donor (in the solace of our living room) to reviewing donor interviews, listening to their words, trying to think of who these men would be if we met them in real life.
We paid for access to photos of some donors, and a voice recording made it more personal and less transactional for us. By the time Christmas of 2012 rolled around, we'd decided on a donor. We ordered and froze the vial of sperm until we were ready to begin our first in vitro fertilization (IVF) treatment cycle.
---
Want to learn more about family building?
---
Embarking on Fertility Treatment
I went into the IVF process nervous, but ready to start my journey to motherhood.
I had a reproductive endocrinologist whom I trusted, and we went ahead with our first in-vitro fertilization (IVF) cycle one year after my myomectomy, a surgery to remove uterine fibroids.
My wife's face looked flushed every time we moved to the next stage of the IVF process. When the many meds arrived at our front door, when she had to stick me with needles, and when we took our first at-home pregnancy test, she seemed to be holding her breath every single step of the way. That is, until the first test came back negative.
Processing Our Grief
Our first round of IVF was a failure. I cried in her arms the night we found out the test was negative. I couldn't believe it. I wanted a baby so bad, to be pregnant with our child, so badly, that I was sure it worked.
I didn't know if I could handle another round of IVF, the roller coaster ride of it all…the blood tests, the needles, the medications, the monitoring, but my dream to have a baby with Dinushka was still in my heart.
So, we tried again. The first IVF failure changed Dinushka's reaction and her demeanor about the whole thing from then on. She wanted the baby as much as I did. We'd gone through the process the first time together. And then we moved on to IVF cycle number two.
IVF Round 2: A Fresh Perspective
We changed clinics, moving our treatment over to Illume Fertility (formerly RMA of Connecticut).
From the moment we walked in, from the reception desk to my first meeting with Dr. Shaun Williams, to the nurse assigned to us, they all felt like a blessing. During my consultation with Dr. Williams, I let my fears from my other experience come out.
Before our appointment finished I asked, "While we go through the IVF process, can I have Chinese food, given the MSG?" And his response was, "Like with all things, in moderation, yes, you can have Chinese food." The staff at our first clinic told me to stay away from Chinese food.
I was elated that I could still have this indulgence and my body wouldn't suffer (or our future embryos) because of this choice.
Uncovering More Fertility Roadblocks
I went through more poking and prodding as Dr. Williams tried to figure out what might have caused our first IVF cycle to be unsuccessful. As we moved through more tests and procedures, new challenges were discovered.
First, I had a polyp in my uterus, which needed to be removed before my new team of reproductive endocrinologists would even attempt another cycle of IVF. Then, my thyroid levels were not optimal for conception, so we needed to get that under control before we could try again. And somewhere in between, we ordered one last vial of sperm and waited.
My body went through more preparation, and my fear began to grow. Now, I was the one with the what if's. What if my body doesn't work again? What if the needles hurt more this go-round? What if people ask questions about my sudden weight gain, a reaction to the medications? I didn't have any answers yet. I knew I would take things as they came.
We agreed that round two would be the last for us.
We were lucky. Our insurance paid for the first two IVF cycles, but for anything after, we'd need to foot the bill. On top of that possible huge expense, I couldn't stomach the same kind of disappointment for a possible third time.
The Results of Our Second Cycle
But the second embryo transfer took, and I was pregnant! The call that I was pregnant came in during my work day. When my nurse shared the news with me, I smiled from ear to ear. Then I called Dinushka. She was also at work, so her excitement was slightly muted, but not by much because she is a naturally loud person.
Three or so days later, when the beta hCG blood test was repeated, my numbers had more than doubled.
I called Dinushka at work again to share the news. "I am still pregnant, and my numbers are like in the 300s or something," I said. "What!? That's high, don't you think?" she asks. "No…it just means it's a strong, healthy, viable pregnancy," I said with false confidence. "Ok, well, great. Glad the numbers are strong," she said, and we ended our call.
Two seconds later, she called back, "Nik, I think you're pregnant with twins. I just Googled it, and your numbers are in the twin range," she said excitedly. "No, can't be. There's just one baby in there. Please, no more Googling," I said, again with the same confidence I had just had a few minutes before.
---
Explore more journeys:
---
Adjusting to a New Reality
For a few weeks, it felt amazing holding onto this secret. My dream was coming true.
When we went for our first ultrasound, the doctor spent a lot of time searching my belly. I began to worry, silently asking myself what he was looking for, and then the words left my mouth, "Is everything ok?" I asked, worried. "Yes, I am just looking around…there, there it is, the second baby," he leisurely said.
My loud wife became even louder with, "WHAT! TWO!?! Are you sure? There aren't more, are there?!" she said, panic starting to set in. She had been right, or perhaps Google had been right, a few weeks before. We were having twins.
I loved every single second of being pregnant.
During the eight or so months that I carried our twin daughters, I beamed. I beamed the entire time, from the morning sickness to the sore stomach muscles from all of the stretching to the sleepless nights because I couldn't get comfortable.
Even when worry found me, and it did, I was happy to have two babies, two healthy (I prayed) babies.
Why We Share Our Experience as an LGBTQ+ Family
Throughout our IVF journey, the pregnancy, and then with the birth of our girls, Dinushka and I were not only two women trying to have a baby, we were two queer women who also wanted to be parents.
Every step of the way, we took every question from friends, family, and even strangers, as an opportunity to educate them about our family. We let them know, too, that we could not speak for "all gay and lesbian" parents or families. We were forming ours. We had to stand up for our family and protect our kids, and part of that was out.
Our kids also needed to see and build community with other families like ours. We were both moms, and I was mommy and Dinushka, mama. This was our family, and we were laying the foundation that felt right to us.
Living Out Loud as Queer Moms
We continue to educate others so they get it right and can better understand our family and us, giving people a window into how other queer, gay, and lesbian families come to be. We educate and share about ourselves and our family, so others can treat our kids and family fairly.
Now that our girls are older (almost 8), we empower them to be a voice for our family too. We equip them with the words to help them better educate their second grade friends, even some who can be unkind, and we hope their friends will then inform their families, so the kids can educate the adults.
While the journey to expand our family didn't go as I'd dreamed it would, it worked out how it was meant to.
We would have adopted a baby if I couldn't get pregnant through IVF. And that would have been okay too.
It's all a journey, and each person's experience is so different from the next.
In the end, we get to call each other family.
Nikkya Hargrove is an author, mother, and advocate. She is a graduate of Bard College, and a 2012 Lambda Literary Non-Fiction Fellow. Her writing includes topics like same-sex multi-ethnic marriage, becoming a mom as a gay woman, the prison system, and having a special needs child. Nikkya currently lives in New England with her Sri Lankan-American wife and their three children. Her forthcoming memoir, Mama: A Black, Queer Woman's Journey to Motherhood, is expected in 2024.