DIY Holiday Rituals for Your LGBTQ+ Family
November 23rd, 2020 | 12 min. read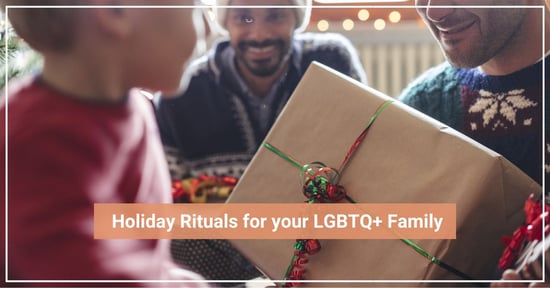 Celebrating Your Family During the Holidays
If a family were a cozy blanket woven together with love, the threads would be rituals and traditions. Those traditions, especially during the holidays, are often handed down from one generation to another.

But what happens when they don't fit exactly right?
At first glance (and second, and third...), many holidays are portrayed as white, hetero-normative events. Certainly not what we're trying to share with our children, or pass on as best practices!
The holidays are special because you make them special - you're making memories for yourself and your children. You may choose to carry on the traditions you grew up with if they still fit, feel comfortable, and are a gift you want to give to your children. These are especially worth looking at since most families choose to celebrate holidays in ways that reflect and represent them.
One way to make sure that you're keeping the traditions alive that are most meaningful and relevant is by examining long-held family rituals to see if they reflect your present family - the one that you've created, rather than the one that you were born into.
Make Adjustments to Traditions You Want to Continue
Ask yourself (and your partner or spouse, if you have one) these questions so that you can adapt what you grew up with to what you want to share with the family you've formed.
Be courageous and consider what part of the tradition really fits, and what needs to be adapted
(or even removed) because it doesn't reflect all loving families.
Questions to ask yourself:
Are you holding onto a family tradition that doesn't really fit, but is part of a long lineage

?

If so, why? Just because it's always been done that way?

Can you adjust it to reflect your family so that it makes more sense for you and your children?

Are you comfortable with the religious aspects of the traditions you grew up with, or is it necessary to change them in some way so that they reflect your current family?

Could you speak to your spiritual leaders about speaking to family configurations outside of those hetero-normative roles, that more accurately reflect the loving families of our LGBTQIA+ community?
Keep What's Meaningful - or Fun!
What traditions really call to your heart, that you can share in a way that will speak to your children? Those are the ones to keep and adapt as necessary.
What was meaningful to you? All of our senses are affected by celebrations. They come alive through lighting candles, baking, praying, decorating, opening gifts, telling stories, sharing memories of previous holiday seasons, watching football, attending church/temple/mosque, and cooking. The smells, images, tastes and intimacy of family and friends are different for each of us, and how we choose to share them with our children can be different than the ways in which our parents shared with us.
And if there wasn't a lot of that growing up, here's your chance for a redo. You can experience this for the first time with your children!
Be open to fun. Some fun isn't what you expected. Just as you likely encourage your children to try new things, be open to doing the same. Baking not your thing? Make a mess with your kids, and you may find yourself laughing and relaxing despite yourself!
Adapt Traditions to Fit Your LGBTQ+ Family
Since many holiday traditions are often pictured with white, hetero-normative families, showcasing one daddy and one mommy, here is a reminder that there are resources that celebrate the whole spectrum of our families.
Here are some carefully curated holiday books to add to your collection and enjoyment. Reading and including them as part of your festivities are a visual representation that pictures your glorious family as part of the family continuum.
Here's what one family had to say, in "How LGBTQ Families Make Christmas Their Own" (although it's applicable to all winter holidays):
"Our challenge was to bring a lot of magic, and a sense of something almost sacred, to a celebration that wasn't tied to a particular religious story. We talk a lot about what cultures around the world have these celebrations of the light in such a dark time of year," North said.
Check out Mombian for some reviews of holiday books that are representative of different family configurations.
Two books that stood out to this writer (and reader!) were these:
Over the River & Through the Wood: A Holiday Adventure

, by Linda Ashman and illustrated by Kim Smith, takes the concept of the classic song and gives it a new spin, showing us how various couples and their kids within an extended family creatively overcome obstacles on their way to meet at Grandma's for the (unspecified) holidays. The bouncy rhymes are inspired by but not identical to the original poem (which was intended for Thanksgiving, though some versions include a line about Christmas). The family includes a White couple with three White kids; an interracial gay couple with one light- and one dark-skinned child; an interracial different-sex couple with a biracial (or possibly multiracial) boy; and a White couple with twin girls who look who look like they might be of Asian descent. It's a fun romp showing the diversity that may be found even within one family.
The Christmas Truck

,

by J. B. Blankenship and illustrated by Cassandre Bolan, shows a child (whose gender is never specified and whose wavy hair could be seen as any gender), prepare for Christmas with their papa and dad, and help find and deliver a gift to the child of a family that is not able to afford gifts. The bouncy rhymes, bright illustrations, and depiction of extended family are lovely, as is the message about giving.
Bring in the New!
Bringing in new ideas. What do you always wish you had gotten to do as a kid, but wasn't in the family repertoire? It's your turn now, so go ahead and do it!
Include the children in this brainstorming process, if they are old enough. They may hear their friends talking about traditions that are intriguing to them. See how you can include those ideas in your celebrations.
Discuss with your children what's been meaningful for them in the past, as well - you don't want to toss something out that they enjoyed, or truly held dear.
Talk to your friends and shamelessly steal their good ideas! Give credit if you like, of course. Create new traditions, based on your and your children's interests.
Is it All About the Presents?
If it is, that's ok! There's no judgment here. You may love the tradition of many different gifts to rip open, and may want to see the amazement you felt as a young child reflected in your child's eyes. If that's your joy, indulge in it!
If you're into it, make some gifts. Your relatives will enjoy receiving that hand painted or colored card as much as your child will making it. It's fun for the kids to make a card, put it in an envelope, place a stamp on and mail it. Immerse yourself in their wonder, how it is brand new to them.
Go higher tech with older children or teenagers, using a resource to help you make something personalized. There are plenty of websites out there that make it easy, like Shutterfly or Mixbook. The modern version of a DIY family holiday card!
Enlist your kids help in choosing presents for their family, and help them make or get something for their parents! Giving goes both ways, and your children will enjoy seeing your reaction to their gifts.
If it's about Christmas in your household, decide about the Santa thing. Decide about which gifts your kids get from Santa and which are from you. Children do compare the gifts they get from Santa with their friends, and not every family can afford to buy expensive gifts. The idea that Santa gives more extravagant gifts to some children who are "good," may lead them to compare with friends in a way that leaves someone feel ashamed or "bad." Let the more extravagant gifts come from you, so that no one is left wondering if they were on the naughty list!
A Twist on Fun Holiday Food Ideas
The holidays don't have to be all about tasty treats, but cooking together is a great way to enjoy your heritage, create a shared memory, and have something satisfying and delicious to eat afterwards. It is also something you can share with family and friends!
Now is a great time to either share something you grew up with or spend time looking for a new, appetizing looking dish you want to cook together. If there isn't one specific food that screams "holidays" to you, consider looking up foods that are specific to your heritage. Make something new, and maybe it will become a tradition for years to come.
Children as young as 2 or 3 can help prepare food - you can look for "no cook" recipes to avoid a hot stove or oven. They love to help. And they love to eat what they prepare!
Focus on Love and Fun
"The Perfect Christmas Gift For Your Kid Might Be… Nothing" makes compelling suggestions NOT to overwhelm your children with too much, especially if they are under the age of six.
"Maybe you'll decide it's not about what's under the tree but rather about how you spend this fleeting time with your little people."
Enjoy your holiday season with your family, in a way that fits perfectly.
From our family to yours, happy holidays.
---
For more ideas on fun gifts for kids of LGBTQ+ families, check out our gift guide below!
---
Working with Gay Parents To Be and our partner fertility clinic, Illume Fertility, as a dedicated Patient Advocate gives Lisa Rosenthal an opportunity to expand her passion and commitment to reproductive health and family building. Lisa is committed to supporting all families in having the families that they desire, in the ways that work best for them.