LGBTQ+ Fertility Testing: First Steps & Getting Started
January 14th, 2021 | 9 min. read
By Emma Lott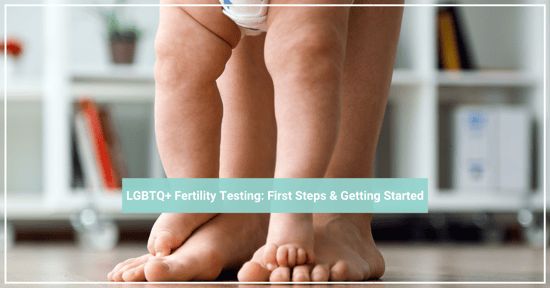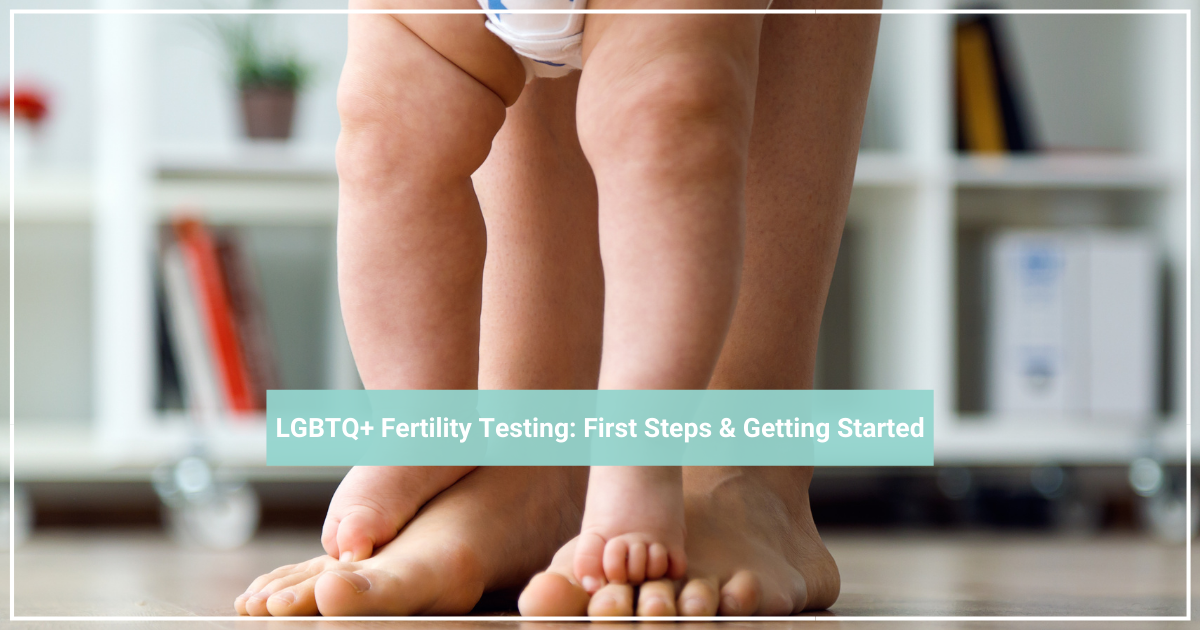 Starting a family isn't always easy, especially if you're a member of the LGBTQ+ community. Whether you're going this journey alone or hope to add a child with your same-sex partner, the road to achieving a family can be both daunting and confusing. First, you need to decide whether you'd like to adopt or build a biological (i.e. genetically linked) family.
If you've chosen the latter option, we can help! At Gay Parents to Be, we have a ton of knowledge about (and many years of experience with) helping members of the LGBTQ+ community grow their families.
In this blog, we'll teach you the steps involved in LGBTQ+ family building. From choosing how to have a child (i.e. using IUI v. IVF treatment) to finding the right fertility specialist to navigating insurance red tape, we explain what to expect from this incredible but sometimes baffling process. All you have to do is prepare for the amazing journey ahead.
Fertility versus Infertility—Why Definitions Matter
Before we get into the nitty gritty of LGBTQ+ family building, it's important to understand the difference between two words you're going to hear a lot—fertility and infertility. Unfortunately, the official descriptions for these terms are archaic, although frequently used.
The term fertility denotes a person's power to conceive and reproduce. The word infertility is where things get murky. According to the WHO, infertility is "a disease of the reproductive system defined by the failure to achieve a clinical pregnancy after 12 months or more of regular unprotected sexual intercourse." While this definition is outdated and obviously doesn't apply to many in the LGBTQ+ community, it's overwhelmingly used as a basis for determining a person's insurance coverage.
Depending on the insurance company, an "infertile" LGBTQ+ single or couple may need to complete multiple pricey procedures (i.e. IUI) before another medical course (i.e. IVF) will be considered for coverage.
Despite its controversial definition, LGBTQ+ infertility ultimately means that a person is unable to conceive or carry a child. While many LGBTQ+ couples don't truly experience this disorder, experiencing one of the following conditions could make your same sex family building journey more challenging.
Endometriosis
Thyroid Conditions
Tubal Factor Infertility
Male Factor Infertility
Diminished Ovarian Reserve
Fertility Preservation
Congenital Uterine Anomalies
Don't worry, your fertility specialist will take these into consideration when developing your plan - just one of the many reasons that your doctor (or REI) is a key player in your family building story.
What's the First Step in Building an LBGTQ+ Family?
Whether you're single or part of a same-sex couple, your family building journey will begin in the same place—the office of a fertility specialist (or, with social distancing guidelines, via a virtual consultation). If you're wondering where to start, the best way is to begin with some research about the best fertility practice for your needs.
How to Choose a Fertility Practice
We highly suggest choosing a provider who's LGBTQ-friendly; that way you'll be able to feel fully understood and supported during the entire process. Even details like inclusive bathroom signage, patient paperwork, and imagery in the waiting room can make you feel more welcome and confident in your clinic - just ask moms Stef and Denise, who knew walking into the waiting room of RMA of CT that they had found their family-building home.
---
We think family building stories are inspiring 😍Learn how Stef & Denise got started, chose a fertility practice, and more.

---
If you're a mom to be: Choose a practice that's close to home. You'll need to attend frequent appointments (we call them morning monitoring) to evaluate your hormone levels and uterus.
If you're a dad to be: Your practice can be further away since you won't need to be in the office very often and can usually use e-mail or other forms of telecommunication to complete most of your journey virtually.
What to Expect From Your First Fertility Consultation?
While many people meet their fertility specialist face-to-face the first time, others may be introduced virtually - and now many follow-up appointments even occur virtually. Either way, this is an important meeting, so try to be present. Check out this list of ways to make the most of your virtual consultation (pro tip - a moving vehicle is not the best location).
One other way to make the most of your consultation is to come prepared. If you or your partner have completed any previous fertility testing, were referred by another doctor, or have any relevant medical history, jot it down before your consultation - with all the new information you'll be learning, it can be easy to lose track. We've even a handy guided sheet, to help you organize your thoughts before, during, and after your consultation.
Medical history
Previous test results
Family history
Insurance information (if applicable)
After interviewing you about your goals, medical and family histories, your fertility doctor will enlighten you about the ins and outs of the process ahead. They will also arrange for you to schedule some initial fertility testing. Last, your fertility specialist will outline the various treatments available to you (and/or your partner), and create a bespoke plan based on your fertility results.
What Are the Different Fertility Tests?
Not all fertility tests are created equal. Depending on your gender and relationship status, you may be looking at a different type of test than others. While this is an essential part of family building, it's important to discuss the various testing options with your fertility specialist.
What You Need to Know About Fertility Testing for LGBTQ+ Couples
Fertility testing allows your provider to develop a tailored fertility plan that's perfect for your situation. Armed with the knowledge discovered through testing, you'll be able to better predict the exact costs associated with your family building journey. This is a helpful tool when creating a budget. The good news? Most of these tests are covered by insurance.
Garnering advice from an REI or fertility specialist is essential to a successful family building plan. Although it may be tempting to design your own path to creating a family, it's safer (and likely much more successful) to use the guidance of a professional.
Fertility Testing for LGBTQ+ Females
Moms to be can expect to undergo a myriad of tests, many of which fall under the LGBTQ+ fertility coverage. These include:
AMH (Anti-Mullerian Hormone) Testing
An easily completed blood test, AMH is a baseline fertility evaluation that can be a marker of a woman's ovarian reserve and overall fertility.
A round of fertility testing typically conducted on the third day of your menstrual cycle which includes the following evaluations:
FSH (follicle stimulating hormone) – can help diagnose difficulties with sexual development, menstruation and fertility (i.e. PCOS, ovarian cysts, irregular vaginal bleeding, and infertility).
LH (luteinizing hormone) – overly high levels of this hormone can indicate disorders such as ovarian failure and polycystic ovary disease.
E2 (estradiol) – a vital form of estrogen, estradiol is essential for proper growth of the breasts, uterus, fallopian tubes, vagina, and outer genitals.
On the 21st day of your cycle, you can expect to have your progesterone and estradiol levels checked. Your fertility specialist will also likely examine the thickness of your uterine lining (a.k.a. endometrium). All of these factors contribute to your body's readiness to become pregnant and carry a child to term.
Genetic Carrier Screening
Completed by testing blood or saliva, genetic carrier screening is usually covered by insurance and screens for various genetic conditions. Results are returned within two to three weeks. This test goes above the "23andme" tests you can get online. These allow your provider a clear insight into your genetic makeup. Genetic counseling is an essential part of the fertility process and this type of information is important to know when selecting a sperm or egg donor.
For more detailed information about lesbian family planning, check out this article. Still confused? This useful blog outlines 11 common LGBT family planning terms you should know.
Fertility Testing for LGBTQ+ Males
Dads to be can also expect to undergo a series of tests including:
An easily completed test, semen analysis is often covered by insurance. You'll obtain results within days. A man's semen health can be impacted by factors like age, steroid or hormone use, medication use, and whether he smokes or drinks alcohol.
Genetic Carrier Screening
Completed by testing blood or saliva, genetic carrier screening is usually covered by insurance and screens for various genetic conditions. Results are returned within two to three weeks.
This test goes far beyond the "23andme" tests you can get online. These allow your provider a clear insight into your genetic makeup. Genetic counseling is an essential part of the fertility process and this type of information is important to know when selecting a sperm or egg donor.
Next Steps & Fertility Treatment
Now that you know what to expect from fertility testing, it's time to focus on what comes next.
Moms to be: depending on your various fertility test results, your provider may recommend you embark on a journey with IUI or IVF, or even reciprocal IVF. Read more here about the different pathways to parenthood for LGBTQ+ moms.
Dads to be: your REI will speak with you about the results of your semen analysis, which will allow you to either continue with your family building journey, or maybe make some mild lifestyle modifications. Don't worry, we broke down the semen analysis and information about possible results here - read more
If you have more specific questions about LGBTQ+ family building or fertility testing, we're here to help. Contact us today to chat with a Gay Parents To Be team member.
---
Make the most of your first fertility chat with our Fertility Consultation Guide. Download yours now!
---
As the Brand Specialist, Emma is the marketing lead for Gay Parents To Be, helping to build awareness of the brand not only as a direct path to parenthood, but also as a general resource for fertility information in the LGBTQ community. She loves the chance to attend conferences on LGBTQ health and family building, and meet prospective patients.