What You Should Know About LGBTQ+ Family-Building Insurance Coverage
Learn how to explore your insurance coverage, what you can do during open enrollment, questions to ask HR, and more.
July 21st, 2023 | 7 min. read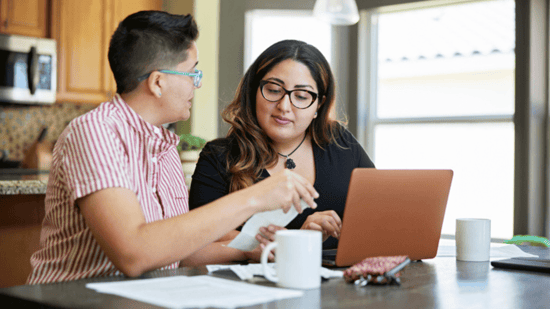 There's no denying it - the financial aspect of LGBTQ+ family building can be confusing and downright overwhelming. After working with patients and insurance companies for decades, we've combined our knowledge and experience to provide an in-depth guide to your options, the best questions to ask HR, and how to make the most of your coverage.
In this article:
The Good News: Things Are Changing
In recent years, companies like Starbucks have begun to offer expanded fertility coverage to all employees and boost reimbursement maximums. This is yet another step in the right direction when it comes to equal benefits and fertility coverage for LGBTQ+ folks who wish to grow their families.
An increasing number of organizations are recognizing the need for insurance coverage that offers LGBTQ+ employees access to the family-building benefits they need.
Still, many companies and benefit providers do not reimburse equally for family-building services (like IUI and surrogacy) for LGBTQ+ individuals and couples. And while we wish that every company would see the headlines and copy a page from Starbucks' playbook, you don't have to wait for that to happen.
When employees use their voices to demand more comprehensive insurance coverage at work, everyone benefits. Don't be afraid to advocate for inclusive policies and protections from your employer. We'll discuss the best questions to ask your HR department below.
Understanding Your Insurance Coverage
If you have insurance coverage through an employer, it's important to ask the right questions in order to understand what your plan might cover (or reimburse you for) when it comes to LGBTQ+ family building. The best place to start is your HR department or representative.
The following questions are a great place to start the conversation and get answers.
4 Essential Questions to Ask HR
Is there a fertility benefit offered at this company? If the answer is yes, what treatments and testing are covered? Does this benefit apply to all employees equally, regardless of gender or sexual orientation?
Are there many in-network fertility clinics to choose from? If yes, do any of those clinics tailor programs or services to the specific needs of the LGBTQ+ community?
Are reimbursements offered to all employees for procedures that are typically not covered by insurance, such as IUI or surrogacy?
Are there any exclusions to our fertility/family-building policies that I should be aware of?
What if I don't have any family-building coverage?
We encourage you to be persistent with your employer, especially in regard to equal coverage for LGBTQ+ employees. However, in the event that your company does not offer a family-building benefit, we offer a grant guide and encourage you to explore other financial assistance resources from organizations like Family Equality.
Additionally, if your primary policy just isn't cutting it, companies such as Progyny offer expanded coverage for pathways like surrogacy and adoption. This allows employers to offer benefits not included in their primary policy, and can be a great option to raise to your HR department or representative.
What is open enrollment?
Although it is important to advocate for yourself all year round, one of the times that you can make big changes in your personal plan is during open enrollment.
Open enrollment is the time each year when you are able to manage your benefits and healthcare costs by choosing the best plan for you. The enrollment window typically opens November 1st and closes December 15th each year.
While you do typically have until January 15th to make changes, if you want your new coverage in effect on January 1st, you'll need to meet the December 15th deadline.
If you are self-employed or work for a small business, there may be plans available to you through the Health Insurance Marketplace or independent insurance companies.
If you work for a larger company, this is a good time to evaluate the plans offered by your employer and choose the best fit for you.
Note: Open enrollment periods can vary by company, so we recommend that you check in with your HR department and note any upcoming deadlines. You don't want to miss out on this opportunity to manage your costs for next year.
What are your family-building goals?
Open enrollment is the best time to pick an insurance plan that will allow you to meet your goals in the coming year. Especially if you're considering biological family building or fertility treatment, you may want to select a plan with a lower deductible, so the full breadth of your insurance coverage will kick in earlier in the year.
This is also a great opportunity to ask your employer about the specific fertility or family-building benefits of each plan, including if there are any reimbursements for certain costs. Many employers are now also offering third-party policies (as mentioned above) that include coverage for LGBTQ+ family building.
Utilize All of Your Financial Resources
If your company does not offer coverage specifically for LGBTQ+ family building, you may be able to use other methods to finance your family-building journey. With help from your employer or on your own, you may be able to save money with tax benefits through a variety of programs.
Here are some options to consider:
A flexible savings account allows you to withhold money from your paycheck and then spend it on unreimbursed medical expenses.
A health reimbursement account is funded by employers for their workers to spend on medical costs.
A health savings account is designed for people with high-deductible health plans to pay for qualified medical procedures.
Note: Check with the benefits administrator at your employer or with the company that issues the account to ensure that fertility treatment is included in these expenses and help to personalize your financial plan.
What to Do Before The Year Ends
Are you close to meeting your deductible on your current insurance plan? (Perhaps you've already met it!) This means your insurance will cover more costs through the end of the year.
If you're wondering what steps you can take that will be covered by insurance, we do recommend speaking to your specific provider to learn about your exact coverage. However, the following services are often covered by insurance, so be sure to explore whether you can schedule and complete them before December 31st.
For those assigned female at birth:
Initial consultation with a fertility specialist (reproductive endocrinologist)
Ultrasound to check for uterine or fallopian tube dysfunction
Evaluation of quality and quantity of egg reserve
For those assigned male at birth:
Note: For trans patients who have taken surgical or hormonal steps to transition, you will discuss your medical history and goals with your reproductive endocrinologist (as well as your partner's, if applicable), then create a personalized plan together.
These next steps may be covered by your healthcare plan, but you should always speak to your insurance provider as well as the financial advocate at your fertility clinic to confirm.
Why is planning ahead so important?
Many of the fertility testing results you receive now will be valid for up to six months or a year.
Not only is this an opportunity to complete preliminary fertility and wellness assessments, but it is a great way to take a step towards your family-building plan with your fertility specialist. Being prepared will help start things off on the right foot so you can achieve your goals sooner.
At Gay Parents To Be, you will be connected with an Insurance & Billing Advocate after your initial consultation. This financial expert will be able to help you fully understand your benefits, advise you on how to handle the costs of family building, and point you towards helpful resources for LGBTQ+ families.
Now is the best time to get started on your path to parenthood!
Sierra Dehmler is the Content Marketing Manager for Gay Parents To Be and its partner clinic, Illume Fertility. She is also a fertility patient herself. Combining empathy gained on her personal journey with her professional experience in marketing and content creation, she aims to empower and support other hopeful parents by providing family-building resources that educate, inspire and encourage.