How Much Does IVF for Surrogacy for Gay Men Cost?
August 23rd, 2019 | 3 min. read
By Emma Lott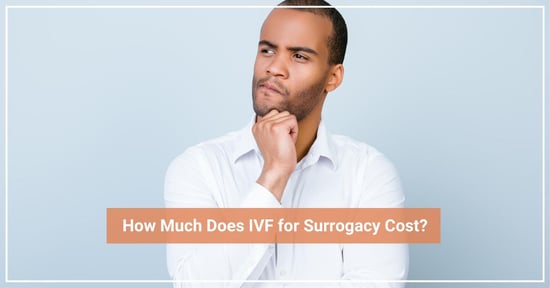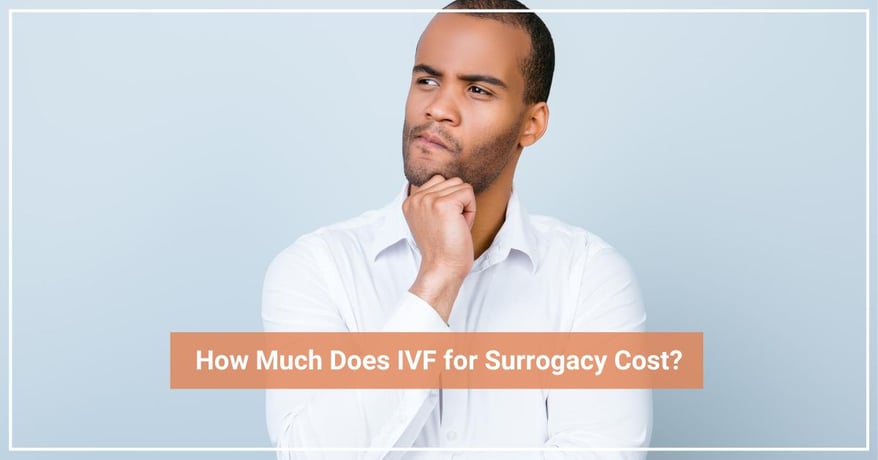 By now, you're probably aware that the
journey to parenthood via surrogacy
is an expensive process. Although a growing number of companies offer LGBTQ family building benefits that include surrogacy, many dads-to-be still pay for their surrogacy journey(s) out of pocket.
To help budget for your surrogacy journey, we want to make it clear what the costs are for a gay dad's journey to fatherhood.
We'll first break down the key players in this process, so that you can understand the distribution of costs. Then, we'll use the rest of this article to dive into the IVF costs of a surrogacy journey.
Budgeting buckets for your surrogacy journey
IVF clinic responsibilities during surrogacy
IVF clinic costs of surrogacy
How are surrogacy costs broken down?
There are two key players in your surrogacy journey – an IVF clinic, and a surrogacy agency. When it comes to the genetic equation, the key players are you and your egg donor, who will be contributing her gametes, or eggs. After embryos are created, they are transferred to the uterus of your gestational carrier, who will carry the pregnancy until birth.
In order to ensure the appropriate legal protections for all parties, as well as your future child, an attorney experienced in reproductive law is also involved.
Therefore, it makes sense that your costs can be broken down into three general buckets
IVF clinic costs
Agency & legal costs
Donor & surrogate compensation
What does the IVF clinic do for surrogacy?
During your surrogacy journey, your IVF clinic is responsible for the following:
What are the IVF costs of surrogacy?
Clinic costs can vary on a case-by-case basis and will depend on factors such as your location (country and state), as well as your employer benefits and insurance coverage. However, we've done the research to provide you with a range of cost expectations to consider when budgeting for the IVF portion of your surrogacy journey.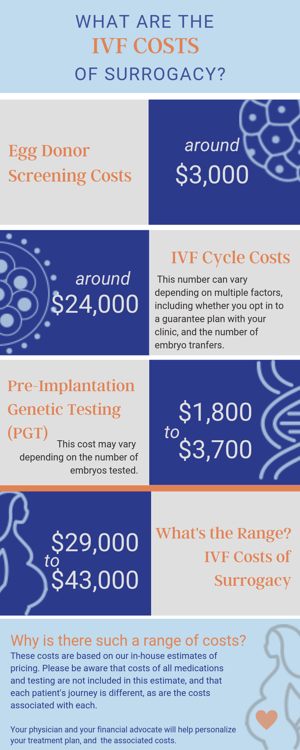 Donor screening costs = approximately $3,000
IVF cycle cost = approximately $24,000

This number can vary depending on multiple factors, including whether you opt in to a guarantee plan with your clinic

PGT cost = $1,800 - $3,700
Total IVF costs to budget for = $29,000-$43,000
Please note that the estimate above does not include donor or gestational carrier compensation, legal fees, or costs related to working with a surrogacy agency.
Is there financial help for IVF for gay dads?
There are two main avenues of financial relief when it comes to IVF costs for gay dads. Some dads take advantage of a third-party fertility insurance benefit, and other dads apply for financial assistance through a grant program. We recommend calling your insurance company to discuss how you can maximize your personal benefits. Check to see if costs related to genetic screening, or a semen analysis (for you and your partner!) are covered under your policy.
LGBTQ Fertility Insurance
Speak to your H.R. department about offering a benefit for LGBTQ family building. More and more companies are allowing employees the opportunity to participate in third party programs that provide coverage for same-sex family building.
Family Building Grants for Gay Dads
Many dads-to-be end up taking advantage of family building grant programs to make their dreams a reality. Be sure to reach out to your fertility clinic and ask if they're aware of programs that other dads have used. Know that some financial assistance may be contingent upon the clinic you select.
Two programs to check out are the Nest Egg Foundation and the Gay Parenting Assistance Program, made possible by Men Having Babies. If you're interested in learning more, be sure to check out our booth at the next Men Having Babies event – this organization awards Gay Parenting Assistance grants to applicants after evaluating financial need, among other factors. There are two levels of financial assistance offered through the Gay Parenting Assistance Program (GPAP).
As the Brand Specialist, Emma is the marketing lead for Gay Parents To Be, helping to build awareness of the brand not only as a direct path to parenthood, but also as a general resource for fertility information in the LGBTQ community. She loves the chance to attend conferences on LGBTQ health and family building, and meet prospective patients.