Is IVF Covered for LGBTQ+ Families in New York?
April 16th, 2021 | 3 min. read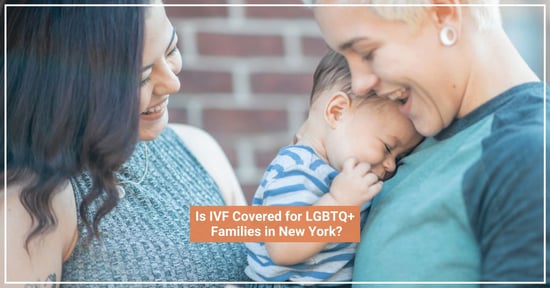 New legislation in New York state will require insurance providers to cover same-sex family building without discrimination.
In early 2021, New York state Governor Cuomo's office announced a directive requiring insurance providers to provide immediate coverage for fertility treatment, regardless of a patient's sexual orientation or gender identity. In the words of Cuomo,
"Every New Yorker regardless of sexual orientation or gender identify should have the same opportunity to conceive a family, and we must do everything we can to ensure cost is not a barrier...In New York State, we believe love is what makes a family and that the law must work for everyone. This action will go a long way toward achieving that goal."
Here at Gay Parents to Be and RMA of Connecticut, we are proud to work with prospective parents from all over the world, but with offices in Connecticut and New York, we hope that this historic declaration will make a difference for patients right in our backyard. In this blog, we'll unpack how this change might impact future parents, what will (and won't) be covered, and how we're hoping to learn more.
Will Insurance Cover Fertility Treatment for LGBTQ+ Couples?
Right now, 1 in 8 couples in the U.S. struggle with the reality of infertility, and for many, the costs associated with treatment are prohibitively high. For same-sex couples whose biological family building journey often requires assistance from a fertility team and a donor, this additional financial hurdle can be a defeating obstacle.
Prior to this mandate, insurance providers or products may have denied coverage to a same-sex couple, or mandated a certain period of time or treatment prior to coverage. For moms-to-be, this may have looked like "3 or 6 required IUI cycles before you can move on to IVF treatment" or a certain amount of costs paid out-of-pocket before insurance kicked in. For dads-to-be, an IVF cycle with donor eggs was typically denied coverage. This is still an unfortunate reality for prospective LGBTQ+ parents in many states.
In plain speak, this new New York state directive states: if you're going to allow heterosexual couples coverage for IVF (and other fertility treatments), you must also offer that same benefit to same-sex couples. While we are still unsure what this will look like in practice, we are so excited to see how this impacts our LGBTQ+ families based out of the New York area.
What Will the NY Insurance Coverage Mandate Cover for LGBTQ+ Families?
For same-sex female couples moving forward with IUI or IVF treatment, this New York insurance mandate will hopefully mitigate treatment costs for a lot of the family building process. Parts of the process that might remain out-of-pocket would be medication costs and the costs associated with donor sperm - but, of course, costs vary depending on your insurance plan.
For same-sex male couples and single dads-to-be, this insurance mandate will hopefully impact your costs associated with your fertility clinic (the IVF cycle using your sperm and your donor's eggs). We've included a list of costs that would probably stay "out-of-pocket" below:
Egg donor compensation
Surrogacy agency fees
Surrogate (gestational carrier compensation)
Legal fees
Miscellaneous fees associated with surrogacy (travel, insurance for your surrogate, medication costs, pregnancy expenses)
For more information about your specific insurance policy, and if these statewide changes might impact your family building journey, always call the number listed on your insurance card, or speak to your H.R. representative.
We are so glad that many states now have a mandate for fertility insurance coverage (New York and Connecticut included), and that larger companies are beginning to offer insurance coverage for all pathways to LGBTQ+ biological parenthood.
However, for those LGBTQ+ parents who are not able to take advantage of those benefits due to employment or current state residence, we hope that directives like this one in New York state will pave the way for future inclusive insurance mandates. In the words of former NY State Assembly-person Simotas, "It simply makes no sense that state lines should determine which Americans are offered the assistance to build a family and which are not."
Molly Horton Booth (she/they) is a queer writer and editor. Her work can be found here on Gay Parents to Be, Wayfair.com, McSweeneys.net, etc. She's also an author of YA fiction, and her work has been featured on the American Library Association's Rainbow List. Her books include: SAVING HAMLET (2016), NOTHING HAPPENED (2018), and TWELFTH GRADE NIGHT (coming Fall 2022) all published by Disney Hyperion. Molly lives on a beach outside of Boston, MA, where she spends her free time with friends and family, obsessively crafting, and doting on her pets. Find her on Instagram @mollyhortonbooth or at mollyhortonbooth.com.