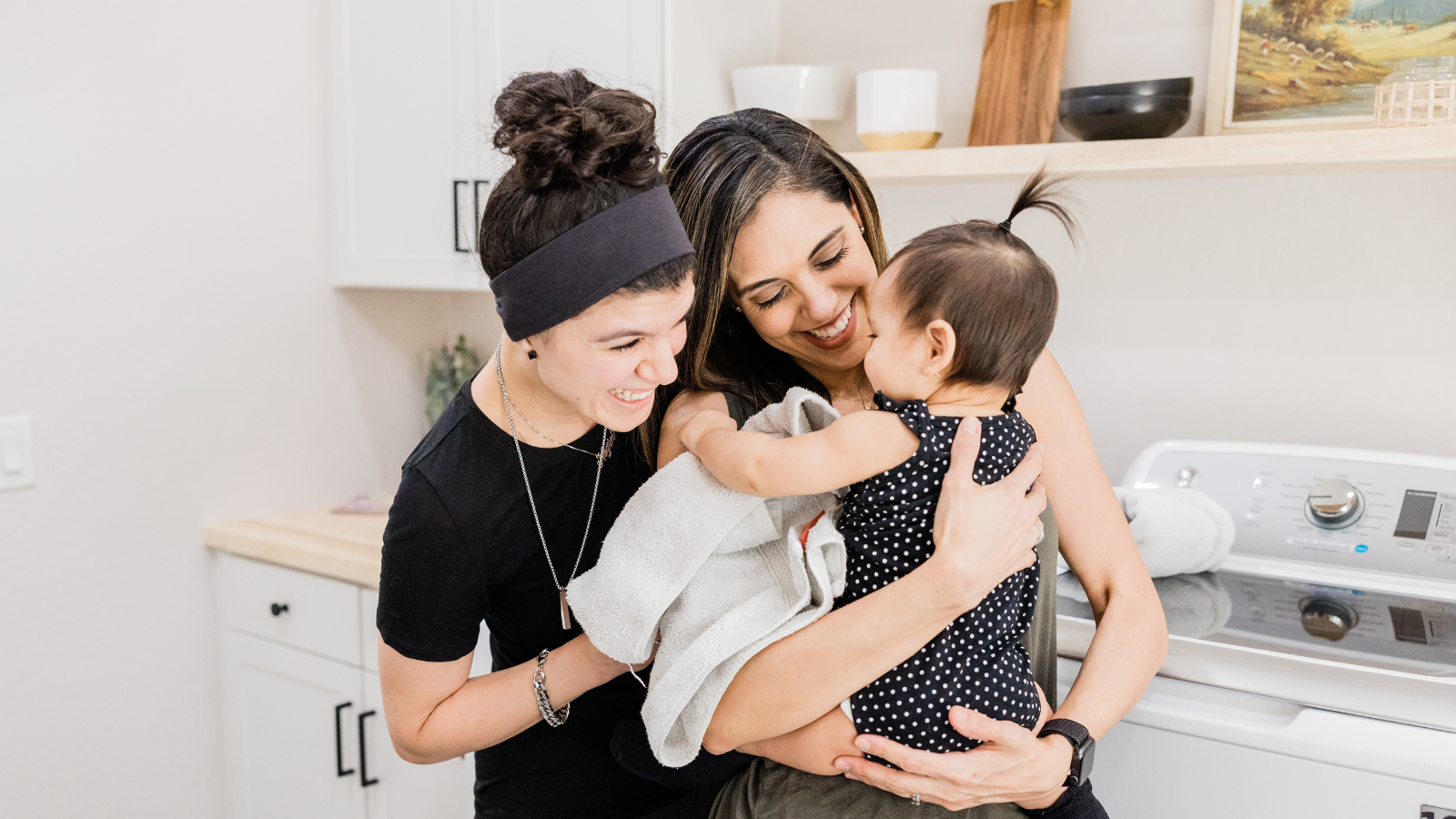 There are many paths to parenthood for LGBTQ+ parents, with some being more stressful and trying than others. Regardless of how you choose to grow your family, it can be challenging to prioritize your mental health and emotional wellness throughout the process.
Whether you're adding a child to your family by adopting, going through fertility treatments like IUI or IVF, or working with a gestational carrier (surrogate) to help make your dreams come true, it's common to experience added stress and anxiety at times. Here are some ways to help you maintain balance and emotional wellbeing!
Skip to a section:
Set Yourself Up for Success
Prospective LGBTQ+ parents have many different paths and options to consider. For those who choose biological family building through fertility treatment, it can be an intense process, both physically and emotionally. Many of my patients have found it helpful to learn from other LGBTQ+ parents who have been through a similar journey.
Options for support include seeking out resources (such as books, websites, and podcasts) and connecting with other members of the LGBTQ+ community. In preparing for the fertility treatment process or any family-building journey, it's important to remember that there will be ups and downs on each path to parenthood and that taking time for self-care is essential. Your mental health matters just as much as your physical health!
Where to Find Support as an LGBTQ+ Parent-to-Be
Thankfully, there are an increasing number of resources and lots of support available to you as an LGBTQ+ parent-to-be. We encourage you to find your favorite podcasts, groups, and information sources! Here are some of our favorites:
---
Want to connect with other LGBTQ+ parents-to-be?
---
However you choose to resource yourself for the journey ahead, make sure you feel supported and have friends, family members, or a counselor to turn to for a listening ear. Having this in place will make a world of difference!
Unique Challenges for LGBTQ+ Parents
It's no secret that LGBTQ+ parents and parents-to-be face unique challenges and may experience stress, anxiety, depression or other mental health issues on their path to parenthood. Identifying and acknowledging these challenges is a good first step to finding ways to resolve or manage them!
Some common concerns that I hear from LGBTQ+ patients are focused on the stigma and bias they experience from others and feeling a lack of representation of their parenthood experience (either in their local community or in the media and world at large). It's also common for LGBTQ+ parents-to-be to feel isolated, especially if they are unable to find welcoming, affirming spaces or community groups as they prepare for parenthood.
On any family-building journey, patients can experience a wide range of emotions, from excitement, hopefulness and joy to disappointment, frustration and grief. LGBTQ+ parents-to-be often have to cope with both internal challenges and external challenges, such as lack of insurance coverage for medically-necessary treatments, other financial obstacles, pressure or judgment from others and the added stigma and bias that still exists against the LGBTQ+ community.
If you're feeling any of these things, know that you're not alone and there are many resources to support you!
Overcoming Stigma and Bias
Depending on where you live and how progressive your family, friends, and community are, you may experience some of the following stigma and bias from others as an LGBTQ+ person trying to grow your family. You may also experience none at all!
Here are some common questions or "concerns" from others that you may face:
People expressing concerns that there is no father figure (for children with two moms), or no mother figure (for children with two dads)
Intrusive questions about the sperm donor, egg donor, or gestational carrier, and "whose child" it is
The idea that a family isn't "complete" without the traditional mother/father/child dynamic
While these are incredibly frustrating, antiquated questions and ideas that can feel difficult to handle, remember that you don't owe anyone an explanation on your family-building journey. You get to decide what you do and don't share. Speaking with a therapist or counselor trained in LGBTQ+ issues (particularly LGBTQ+ family-building) can be a great way to process any challenging questions, conversations or emotions that come up.
---
Learn how to tackle difficult questions:
---
Feeling frustrated? Take action!
Many of my patients have also found it particularly helpful to connect with other LGBTQ+ families to share experiences, build community and participate in advocacy efforts to take real action against stigma and bias and improve access to fertility and family-building care for ALL families.
If you're interested in impacting legislation for families like yours, or want to get more involved in advocacy efforts, I highly recommend checking out RESOLVE. This is a great place to start and learn more!
Your Mental Health Matters
Happy, healthy families come in many forms, and there are lots of different family-building options out there. As a Reproductive Endocrinologist, my role is to support, guide and care for those who grow their family through fertility treatments, and it is an honor to help my LGBTQ+ patients to become parents.
My advice to those going through the process would be to share your family-building goals, openly communicate any fears or concerns that you have with your healthcare team, and reach out for support as you navigate your journey. We are always here to help, and you're never alone on this path to parenthood!
More Resources for LGBTQ+ Parents
Want to explore more articles, videos and other resources? We've got you covered!
Read Family Stories
For Moms-to-Be
For Dads-to-Be