What's The Process? Common Questions About LGBT Family Planning
June 22nd, 2016 | 5 min. read
By Dan Woog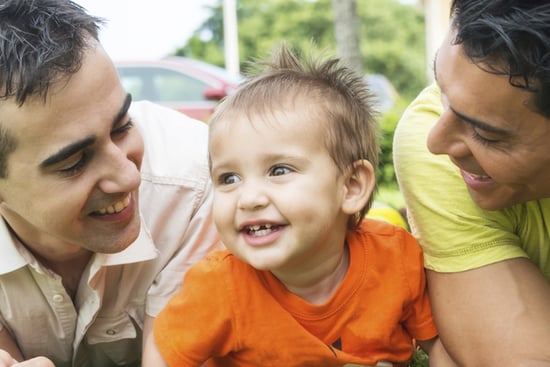 Nora Bolger is the third party reproduction nurse manager at Reproductive Medicine Associates of Connecticut (RMACT) and GayParentsToBe. This month, we sat down with her to address some of the questions and concerns gay couples have when planning to build their families.
Getting Started: LGBT Family Planning With Nora Bolger
What are some of the initial trepidations you hear expressed by the LGBTQ couples that you meet with?
They usually start with questions about timing. They are often unsure of when exactly is the right time to engage with a fertility clinic. They may be considering using an egg donor or sperm donor, but are unsure of how to approach them, or what the next steps are. Sometimes, they have already identified a surrogacy agency they'd like to work with, but they have no idea of the cost.
So part of the complexity is people coming in at different places on the continuum. I would emphasize that couples should reach out to a fertility clinic regardless of where they are at in the process. We (the clinic) spend a lot of time answering questions for people who will never come here -- and that's okay -- or who will come here eventually, but need to do certain things first.
We can give them a task list. That helps them to feel less overwhelmed. So I think the overall message we want to send to everyone is just start asking questions! We'll put things in a doable order for you, and in the process of doing so, you will better understand the path that is best for YOU.
Once a couple establishes an understanding of how the process will unfold for them, what then becomes their next set of concerns?
One of the most common questions we get is, "How long does the process take?" For a gay male couple, it can take up to a year. That's from when you first start talking to a clinic or agency about doing this, to having your gestational carrier (surrogate) be pregnant. It doesn't include the pregnancy. It can also be shorter, of course, depending on the amount of research, planning, and preparing a couple has done prior to engaging a clinic.
Another concern gay couples have is the order in which they find a fertility clinic and surrogacy agency. They can find the clinic first and then the agency, or they may find the agency and then the clinic. The order does not matter because any agency can work with any clinic.
As a fertility clinic, we can help you to identify the important things to look for in a Surrogacy agency. If couples do not have an agency yet, it's okay to come in and talk to the doctor first.
Another common question is, "How many times will I need to come to the fertility clinic?" For a gay couple living outside the country, it may only be once. They do not have to be here for the transfer of their embryos into their gestational carrier. We can Skype with them on that day, so they can remain involved in the whole process. Couples really just need to come in once for their day-of screening, which includes blood work and a consult. In doing so, they take care of the required FDA pieces.
Does the initial consult include seeing Lisa Schuman (LCSW(psychotherapist)?
That depends on which agency is being used. Some agencies provide the psychological piece for both the gestational carrier, and the intended parents, while others do not.
Can a couple safely have a child, even if one of them may be HIV+?
At GayParentsToBe, we are absolutely comfortable working with HIV+ patients. Not all clinics can say that. If you're HIV+ and you think a gestational carrier would never match with you, that's not true. The Bedford Research foundation in Massachusetts engages with the patient, analyzes their specimen, and will confirm there's no viral load so the carrier will feel comfortable moving forward with the process.
What happens if both partners want to be biological parents? Is that the correct term?
If both men want to be intended fathers or biological parents, we'll make embryos for both men. We help them decide next steps. We prefer single embryo transfers, for safety reasons in pregnancy.
How much time is spent on the egg donor, as opposed to the gestational carrier? Is there equal emphasis on them? Should there be?
It depends on the couple. To me, the most important piece is your gestational carrier, because she's the one who is physically carrying your baby, and with that, a lot of things can happen.
Couples have the opportunity to pick and choose their egg donors and gestational carriers, be comfortable and take their time, right?
Right. I think one common fear is, "If I don't pick this carrier, no one will ever offer me another one." For this reason, couples are usually hesitant to be picky. Yes, there are fewer gestational carriers than egg donors, but they are totally separate processes. Your clinic will review all records to determine if they're medically appropriate, so you do not have to worry about that piece. But if something seems unclear or just does not feel right, it's important to give it some thought and voice your concerns.
Why do lesbians have to see a psychotherapist to pick sperm?
It's not about being a lesbian. It's about what the relationship with the donor will be in the future. Or how the parent(s) will talk to the child about a donor being involved, in the future.
Is this true for heterosexuals too?
Yes. We do the same thing. So if you're an egg donor or sperm donor recipient, we require you to meet with one of our Licensed Social Workers as well.
The biggest message I've gotten from you is: start the process!
Yes, but you don't have to come in -- that's the important part. Dr. Leondires does free virtual consults for Gay Parents To Be!

Dan Woog is a writer, educator and LGBT activist. He has written 17 books. Subjects include LGBT issues in gay education and the workplace, gay male athletes, and the importance of straight allies. He is also a co-founder of OutSpoken, Fairfield County's support group for LGBT youth.