Getting Started: Family Building For Lesbians

Congratulations on making the decision to become mothers! At Gay Parents to Be, in partnership with Reproductive Medicine Associates of Connecticut (RMACT), we know how important this decision is, and we are ready to help. Right from the start, we work closely with you to make sure you have all of the information you need and all of your questions answered. From there, we bring you the finest care available in reproductive medicine as well as access to any additional services you might need.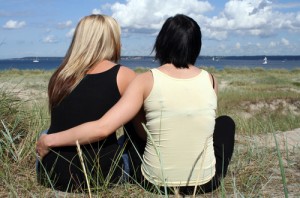 The experts in reproductive medicine at Gay Parents to Be are familiar with all of the most advanced and effective treatment options available to help lesbians become parents. You will also be supported by a team of dedicated professionals including nurses, patient coordinators and a financial services representative who will work with you to coordinate all aspects of your care.
In your first meetings with us, we will ask you questions about your parenting goals and health history. We will explain your family building options and make arrangements for any medical testing that you need. Your patient coordinator will also describe the process of using donor sperm to achieve a pregnancy and, if you are interested, can also explain the option of using a surrogate or gestational carrier.
Individuals and couples at Gay Parents to Be can also take advantage of a range of emotional and other support services, including individual and group counseling with Lisa Schuman, LCSW, one of the area's leading experts on the psychology associated with parenting and fertility treatment.
Getting started is easy. The first step is to check with your insurance carrier to determine whether you need a referral from your primary care practitioner to seek treatment from a reproductive endocrinologist. From there, one call to Gay Parents to Be can start you on the road to having a baby. We are passionate about helping lesbian parents-to-be make their dreams a reality.
Call us at 203-290-6510 to set up an appointment or ask us any questions.