Pride 2023: Our New Website, Local Pride Events & More
Just in time for 2023 Pride, we are excited to launch our freshly redesigned website and announce participation in local Connecticut Pride events!
June 2nd, 2023 | 5 min. read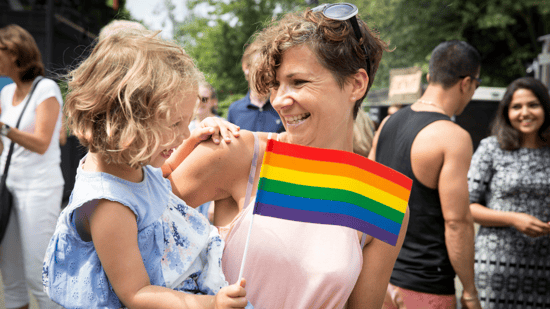 We are thrilled to announce the launch of our new website - a modernized, freshly designed virtual hub for LGBTQ+ fertility and family planning! So, what can you expect from our new site? Keep reading to find out!
Pssst... jump to the end to see what events we'll be at for 2023 Pride!
In this article:
A History of Family-Building Success
Founded in 2012, Gay Parents To Be strives to help LGBTQ+ patients explore and understand the various pathways to parenthood so they can achieve their biological family-building goals.
In addition, thanks to our partnership with award-winning fertility clinic Illume Fertility, we are able to provide a welcoming environment for every patient, exceptional care, and innovative treatment options, all under the guidance of eight board-certified reproductive endocrinologists.
After helping hopeful parents welcome over 10,000 babies since 2004, Illume Fertility remains a respected leader in the family-building space. Here at Gay Parents To Be, we are proud to partner with Illume to help LGBTQ+ individuals achieve their goals and dreams.
Did you know? All of our teams undergo required yearly LGBTQ+ training to ensure we are able to continue to provide the most inclusive fertility and family-building care to every patient who walks through our doors.
What's new on Gay Parents To Be?
Our new, completely redesigned website offers free, comprehensive guides for those pursuing fertility treatment, a diverse collection of patient experiences, information about affording treatment and navigating insurance, and other essential resources to support each LGBTQ+ parent-to-be on their own unique journey.
"As a physician and a father who has been through the surrogacy process twice in order to grow my own family, I want other hopeful parents in the LGBTQ+ community to know that they have options, and that all their hard work will pay off," said Dr. Mark Leondires.
"At times, navigating a family-building journey can feel completely overwhelming. This is why I originally founded Gay Parents To Be, and why we work to continually expand the resources, information, and treatment options we offer to LGBTQ+ families."
Our Free Family-Building Resources
If you're interested in exploring potential pathways to biological family building or want to learn more about foster-to-adopt or adoption, we've got you covered!
Through articles released weekly on our extensive Resource Center, free guides on topics such as surrogacy, IVF and donor conception, and a library of family-building stories to inspire and educate, we continue to work towards our goal of supporting all members of the LGBTQ+ community.
What is Gay Parents To Be?
If you're new to Gay Parents To Be, welcome! Here's a crash course on our history and mission:
We are the leading international fertility and family-building resource serving the LGBTQ+ community. In partnership with East Coast-based fertility practice Illume Fertility, Gay Parents To Be offers a full suite of family-building services and support to help LGBTQ+ patients explore their options and navigate their chosen pathway to parenthood.
Gay Parents To Be was founded in 2012 by Dr. Mark Leondires, a prominent advocate for the LGBTQ+ family-building community, and a gay dad through egg donation and surrogacy himself.
We serve as a single-source destination for education and information and have an extensive trusted partner network, including surrogacy agencies, egg donor banks, and reproductive attorneys.
Designated as an LGBTQ Healthcare Equality Leader by the Human Rights Campaign for the past six years, we remain committed to promoting inclusion and equity in reproductive care.
Have a suggestion for our site? Email us or reach out on social to get in touch.
Celebrate Pride & Meet Our Team
Want to learn more about family-building and connect with fellow LGBTQ+ families in person? Here are two great opportunities to do just that! Meet our team, grab some fun swag, and make new friends at the following 2023 Pride events:
6/4: Westport Pride

What to expect: Crafts, face painting, makeup, activities for kids, food trucks, vendors, local performers, and variety of speakers from the Westport LGBTQ+ and ally community. Click here for a lineup of speakers and performers, including our founder, Dr. Mark Leondires!

Date: June 4, 2023

Time: 12pm to 4pm

Location: Jesup Green, 20 Jesup Rd, Westport, CT

Admission: FREE

Parking: Taylor Parking Lot, closest to Jesup Green

For more information on Westport Pride, please visit their website.
6/10:

Pride in the Park

What to expect: Pride in the Park is Fairfield County's largest LGBTQ+ Pride festival. Offering family-friendly activities, a variety of food and gift vendors, and a program of nationally acclaimed entertainers, including some show-stopping headliners.

Date: June 10, 2023

Time: 12pm to 8pm

Location: Veterans Memorial Park, 42 Seaview, Norwalk, CT

Admission: FREE

Parking: Maritime (23 Marshall St.), The SoNo Collection Garage (100 N. Water St.), or Webster Street Municipal Parking Lot (55 Dr. Martin Luther King Jr. Drive)

For more information on Pride in the Park or other local Pride events, visit TCC's website.
Sierra Dehmler is the Content Marketing Manager for Gay Parents To Be and its partner clinic, Illume Fertility. She is also a fertility patient herself. Combining empathy gained on her personal journey with her professional experience in marketing and content creation, she aims to empower and support other hopeful parents by providing family-building resources that educate, inspire and encourage.