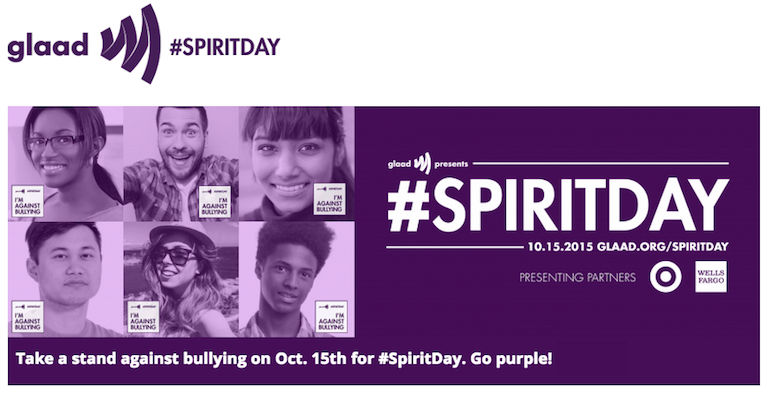 Supporting The LGBT Community Through The Color Purple
Today, Thursday, October 15, is a day where we come together, stand up and say no more bullying our LGBT youth. And we do more than say it. We do something about it. We can turn it purple and add our voices that way, thanks to GLADD and then? We can go even further. We can go into the schools and the workplaces. We can educate educators. We can educate students. We can educate employers and employees and work colleagues. Read an excerpt from the GLAAD press release earlier this month and learn how you can turn things purple today:"GLAAD, the world's lesbian, gay, bisexual, and transgender (LGBT) media advocacy organization, announced today the launch of the "Go Purple for #SpiritDay" app, powered by Toyota Financial Services. The free app allows users to take part in Spirit Day, the largest and most visible anti-bullying campaign in the world supporting LGBT youth, by making their social media photos purple. The app also offers anti-bullying resources for students, parents, and educators. "Go Purple for #SpiritDay" is available for Apple and Android devices and can be downloaded here."
GLADD's guest blogger, John Lake, LGBT Segment Manager, Enterprise Marketing, Wells Fargo, had this to say two days ago.
"Over the last year the LGBT community has made great strides toward equal rights in the United States, but for many, those strides only scratch the surface. Every single day LGBT youth are still bullied in our communities and schools. In fact, according to the latest National School Climate Survey conducted by Gay Lesbian & Straight Education Network (GLSEN), over 80% of LGBT students reported being verbally harassed due to their real or perceived sexual orientation or gender identity.
We're All In This Together
For us at Wells Fargo, this is simply unacceptable. Bullying can take many forms from workplace harassment to intimidation on the playground, and can lead to constant fear and a loss of hope. Wells Fargo is firmly committed to standing against bullying, and by addressing this issue, we hope to create an environment where all students can thrive and find opportunity."
Going purple on Thursday, October 15, is a great start. It says it out loud and in a bright, visible way that we support our children, our teenagers, our college students and our adults. And while maybe it can feel like just another gimmicky thing that we do that calls attention for only a short time, notice who is supporting this effort. Who is putting their money, time and names behind it?
Additionally, GLSEN (Gay, Lesbian & Straight Education Network) gives plenty of support for the idea that creating an infrastructure of awareness across sexual gender identity lines, across political party lines and going deep into the places that most reject our youth makes differences for our children.
So this effort must go further, it reaches deep into the schools with materials that make our youth feel included. And safer. And maybe even welcome. That's precisely what GLSEN has done with their Safe Space Kit (read more about that below). To make an impact on a day to day, and on a yearlong basis, this effort started with intensive research. The 2013 National School Climate Survey conducted by GLSEN headlines their survey with these words:
"LGBT Students Experience Pervasive Harassment and Discrimination, But School-Based Resources and Supports Are Making a Difference"
Here's a description of the materials that GLSEN has created for schools to announced that they are a LGBT friendly school where bullying will not be tolerated.
"The GLSEN Safe Space Kit was developed to build on the power of the iconic Safe Space Sticker by supporting educators who want to become informed and active allies to LGBT youth," said GLSEN Executive Director Dr. Eliza Byard. "It is encouraging to see that we have created a practical and useful resource that responds to educators' realities. Yet, there is still so much work to be done. In schools where educators perceived a negative school climate or resistance from administrators, arguably the schools where visible allies could make the most dramatic difference, educators were less likely to display the posters. The hopeful news is that educators in these hostile environments were no less likely to reach out and educate other members of the school community, sowing the seeds of much-needed change."
http://www.glsen.org/article/educators-report-glsen%E2%80%99s-safe-space-kit-helps-support-lgbt-youth-and-improve-school-climate
Matt Riley, Chief Operating Officer from the Jordan Porco Foundation (a not for profit organization dedicated to changing the conversation about mental health and suicide) specifically addressed how bullying can affect our children:
""People, and in particular, teenagers as they are learning how to be in the world, can be insensitive, critical and in some cases downright mean. With respect to the bullying that is directed towards members of the LGBTQ community; it can certainly be alienating and damaging, especially to a young person's self esteem, potentially causing extreme distress and sometimes leading to a disastrous outcome."
The Jordan Porco Foundation also had this to say to GayParentstoBe, regarding what we need to know about suicide as a possible result to bullying:
"We know that members of the LGBTQ community can be at greater risk for suicide. We also know that having allies and supportive communities act as protective factors against suicide. We need to encourage self-acceptance and acceptance of others for who they are. Everyone deserves and has a right to have their identity acknowledged, understood, and embraced."
Does that sound as good to you as it does to us? Simple. And direct.
We all deserve and have a right to have our identities acknowledged, understood, and embraced.
Wear purple, yes.
And then do even more.
Resources for LGBT parents, children and young adults:
http://www.thetrevorproject.org/
Founded in 1998 by the creators of the Academy Award®-winning short film TREVOR, The Trevor Project is the leading national organization providing crisis intervention and suicide prevention services to lesbian, gay, bisexual, transgender and questioning (LGBTQ) young people ages 13-24.
Gay-Straight Alliance Network (GSA Network) is a next-generation LGBTQ racial and gender justice organization that empowers and trains queer, trans and allied youth leaders to advocate, organize, and mobilize an intersectional movement for safer schools and healthier communities.
http://www.accreditedschoolsonline.org/resources/lgbtq-student-support/
According to the National School Climate Report, 86 percent of LGBTQ youth reported being harassed at school, compared to 27 percent of students overall. School years can be challenging for all students, yet those who identify as LGBTQ often face additional pressures or concerns. Within this guide, LGBTQ students can find resources and information about support systems available to help them navigate both high school and college environments.
Point Foundation empowers promisinglesbian, gay, bisexual, transgender, and queer students to achieve their full academic and leadership potential – despite the obstacles often put before them – to make a significant impact on society.
http://safeschoolscoalition.org/
Safe Schools Coalition, located in Washington State, is a public-private partnership, in support of gay, lesbian, bisexual and transgender, queer and questioning youth, working to help schools become safe places where every family can belong, where every educator can teach, and where every child can learn, regardless of gender, gender identity or sexual orientation.
http://www.itgetsbetter.org/pages/about-it-gets-better-project/
The It Gets Better Project's mission is to communicate to lesbian, gay, bisexual and transgender youth around the world that it gets better, and to create and inspire the changes needed to make it better for them.
GLSEN is the leading national education organization focused on ensuring safe and affirming schools for all students. Celebrating its 25th year, GLSEN envisions a world in which every child learns to respect and accept all people, regardless of sexual orientation or gender identity/expression. GLSEN seeks to develop school climates where difference is valued for the positive contribution it makes to creating a more vibrant and diverse community.