In Vitro Fertilization Success Rates
GayParentsToBe® works in partnership with the fertility clinic Reproductive Medicine Associates of Connecticut (RMACT) to provide IVF to its patients. Below are the clinic's success rates with IVF.
March 2015: Published pregnancy success rates as reported to the Society for Reproductive Technology (SART.org)
"Reproductive Medicine Associates of Connecticut Has Live Birth Rate 22% Higher Than the National Average,According to Society for Assisted Reproductive Technologies". Read more here.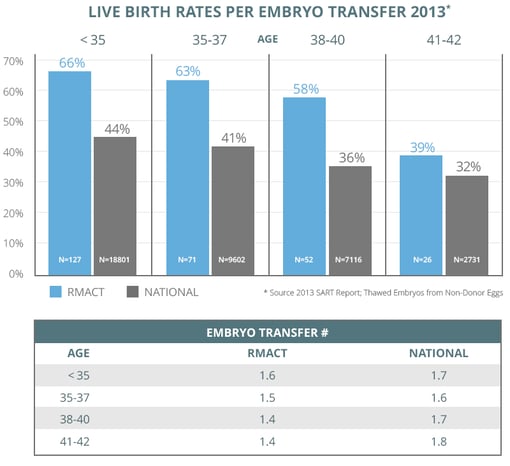 These statistics represent outcomes for patients who have undergone embryo transfer. The percentages are calculated by dividing the number of women who achieved a clinical pregnancy (numerator) by the total number who underwent a transfer (denominator) from January 1, 2013 to December 31, 2013. Please keep in mind that a variety of individual factors may increase or decrease your likelihood of having a baby.
A comparison of clinic success rates may not be meaningful because patient medical characteristics, treatment approaches and entrance criteria for ART may vary from clinic to clinic.