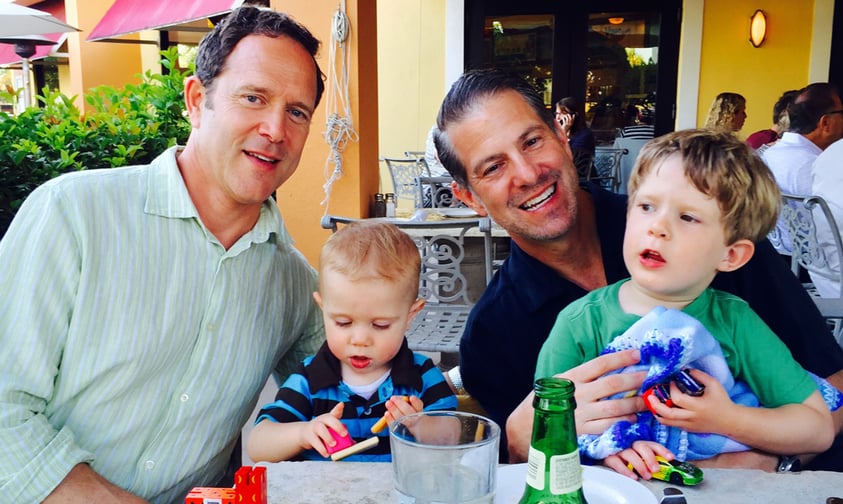 I was asked why I'm supporting this event at the Triangle Community Center on Biological Parenting and the LGBTQ community.
The real question to ask is why wouldn't I support this event?
With over 20 years in the medical field and as a board certified Reproductive Endocrinologist, helping children coming into being in people struggling with infertility, I've helped thousands of patients. About eight years ago, when I wanted to start my own family, I realized in a different way how challenging it was for members of our community. As the Medical Director of an in vitro fertilization (IVF) program, I was stymied by the legal, psychological, relational, and emotional aspects of working towards biological parenting as a gay man.
My Own Family Building Journey as a Gay Man
Having lived through three different parts of my own journey, (one of which unfortunately ended in miscarriage) my perspective has changed. Being on the patient side of the equation, the hurdles were more daunting, and also more manageable. My life events have enhanced my professional care for all those who choose biological parenting in the LGBTQ community as they go through this process. At this point in time, in my office, approximately 15% of our patient's are members of the LGBTQ community; lesbian couples, gay couples, single men, and women and trans men and women. Taking all this into account, they now are able to achieve something that we all felt we had to give up by coming out- having a biological child. Becoming a biological parent is possible, using either donor sperm or, for gay men, donor eggs and the help of wonderful surrogates. Making a decision to move forward on this journey can be daunting, but while the journey may be difficult, it will forever change your life and your heart in an amazing way.
The Past & Present of LGBTQ Parenthood
Historically the LGBTQ person had limited choices for parenthood - adoption, foster parenting to adopt, or pursuing a heterosexual relationship. All of those choices had the potential to be difficult, as they did not always allow us to be true to ourselves. It is natural for any organism to desire a genetic link to their children. It doesn't change how much we will love our children who came into our lives in these other ways, it is very simply, truly, a natural biologic desire. The door is now wide open for LGBTQ persons to achieve biological parenthood.
I think we all agree that it was very natural and common when we were children and as we grew up, to conceive of ourselves as parents. Moving beyond the fact that our pathway to parenthood is different than the majority of families, we are still no different than the heterosexual community, we desire as human beings to become parents. In the United States, there are established pathways that are very successful and available to the vast majority of men and women in the LGBTQ community. I encourage everybody who is interested in bringing a child into their life, to build their families, to look at all family building options– not only biological parenting but adoption and foster parenting to adopt as well. Thankfully, through the excellent legal work done by many groups within the LGBTQ equality movement, we now have expanded individual rights and rights as parents. New doors have truly opened for us in the past 5 years. Additionally, the good news based on the social science and studies that have been completed, is that we are good parents, in fact, excellent parents. It has been interesting to watch those who have chosen to side against us faced with a lack of data and support for their claims lose ground as we gain it.
Caring about the health and wellbeing of children is what any parent does naturally. In fact since all LGBTQ parents need to make a powerful and conscious effort to bring a child into the world (with all of the planning and extra expense), it is very clear that these children who come into our homes are very wanted and loved. While some heterosexual couples have pregnancies unintentionally, every child who comes into a LGBTQ person's family is with the specific intention and desire to have that child. Part of the reason for my participation in this event is to empower people who want to be parents to get past the real and complicated structure required to move forward as a parent in the LGBTQ community and to help them achieve their goals of parenthood utilizing options that are now available.
Each of us has our own dreams and aspirations when it comes to building our families. Each of our dreams deserves respect and consideration. All of our families matter.