A Two-Dad Father's Day | Thoughts on Family
June 20th, 2020 | 5 min. read
By Greg Zola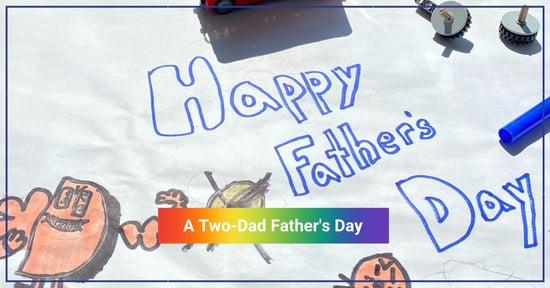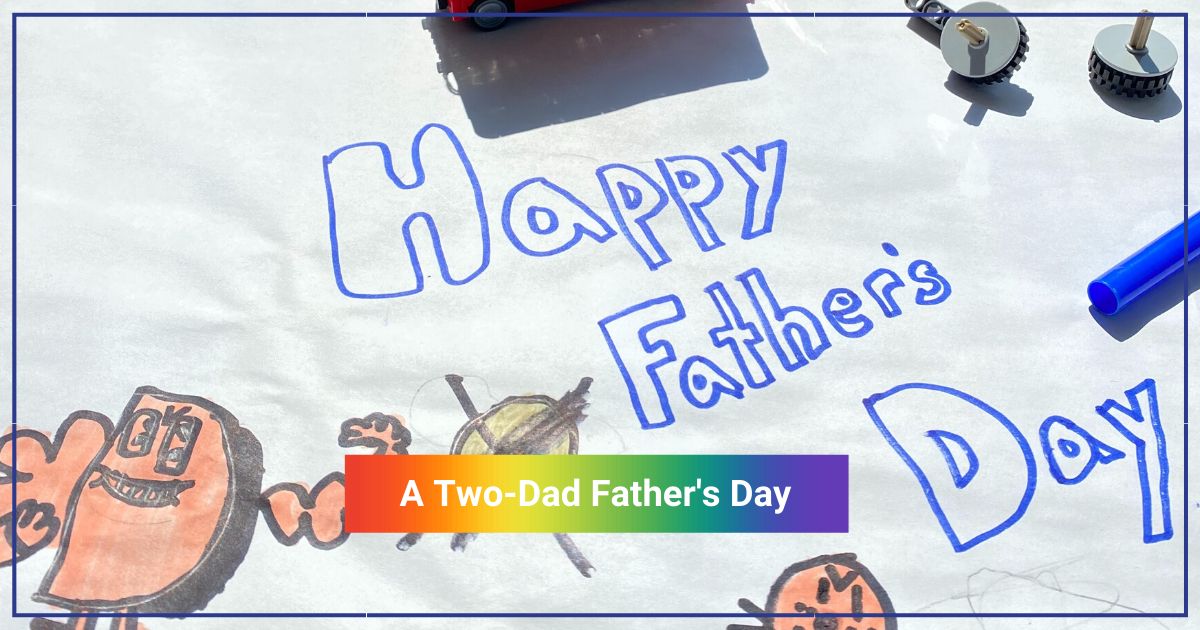 Generally speaking, LGBTQ persons who built their family via surrogacy, adoption or fostering put forth tremendous effort and expense to have their family. Yet, once that child arrives (whether that's as a baby or an older child) one's sense of responsibility for another life really becomes palpable. When I held my son Luke in my arms for the first time, I wondered, "Am I going to be able to help him thrive?" I didn't know how to change a diaper; the ratio of water to baby formula when I needed to feed him; how much milk he should get, would he get a diaper rash on my watch; and so on. But, as every parent realizes, you figure it out.
My husband Mark and I built our family with the gracious gift of surrogacy and a wonderful egg donor. There were so many decisions to make and so many people involved. While it takes a village to raise a child, it also seemed to take a village to bring these biologically-related kids of ours into the world. I was overwhelmed at times. And there have been plenty of times since that I've longed for an owner's manual issued at birth. What you come to realize is that once you figure one thing out, your children grow and change both physically and mentally, requiring you to grow and change as well. Being a parent keeps you on your toes and requires agility!
Fast-forward 8 years and here I am celebrating a two-dad Father's Day with my husband and two boys. As you read that Father's Day card, you get a chance to pause and string together all the memories from the past. Let me take you through what I would describe as a "typical" day in our lives.
My younger son jumps on my lap, leans in, elbow on my shoulder, eyes locked with mine, and he begins to tell me excitedly about the anthill he discovered between the cracks of our sidewalk. I smile in amazement at how new the world is to this little guy and what joy and wonder it brings him. He really wants to share this story with me, and I love hearing it. As the story wraps up, we chat a bit more about the thousands of other ants that are likely living under the sidewalk. He grows quiet, rests his head on my shoulder and as he relaxes, his full body weight presses against me. There he lies - still and content, as do I.
Flip to the opposite end of the emotional spectrum--that same child lies sprawled on the floor, crying (this is later the same day). He "doesn't like brothers and wishes he didn't have one" (even though they were just playing nicely a few minutes before). I listen to his angst, without trying to solve his problem, letting him process his feelings. I used to try to fix things right away, but I've learned they need to know they've been heard, really heard. I listen. Really listen. Sometimes that's the best thing a parent can do. Not two minutes later, he has recovered, and inspects a spider walking by as he leaves his worries behind.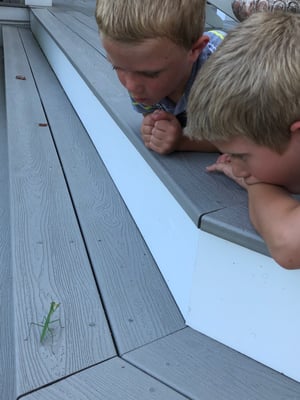 As a dad, you wear many hats - mediator, sounding board, and role model. At the same time, It's also one of our jobs to make sure that my husband and I are not our sons' only role models.
When Mother's Day rolled around this year, our son's teacher reached out to us to ask (since they hadn't had a two-dad family before) how we would like to handle it. We explained that our son has strong female role models, and that he could make a card for his Auntie Laurie or for Grandma. Our conversations with our kids started early about families coming in all shapes and sizes. Now, they don't hesitate when someone asks "Where is your mommy?" Our kids simply reply without prejudice or judgement that they have two dads. Interestingly, one of their friends asked his mother why can't he have two dads, too!
Showing up at school for Mystery Reader Day a little while ago, I was approached by kids simply as "Owen's Dad". As we all know, kids are innocent unless they're taught to hate. We have friends from a neighboring community who have gotten the cold shoulder from other parents, and I commend them for taking the high road and persevering, allowing other parents to get to know them. This helped enlighten others, and break up those stereotypes.
Does being a gay dad present issues? I think that it depends on your community, but ours has been accepting. We were worried initially about discrimination, either overtly or in 'stealth mode', but our experience has been nothing but positive. While most public schools know they need to promote an inclusive culture, we know biases may come into play, and it may not always be smooth sailing for same-sex parents. If you feel your family is being treated unfairly, Lambda Legal is a great resource for families looking for help.
One additional piece of good news is that the growth of LGBTQ families is on the rise. According to a recent family building study released by Family Equality, 3.8 million LGBTQ+ millennials are considering expanding their families in the coming years. As LGBTQ families and individuals continue to be accepted in our society, workplaces, and communities, hopefully this only leads to further inclusivity.
Getting back to my own family, in our newest phase of child development, Mark and I leave behind diapers, bottles, cooing and cuddly sweetness for slightly more complex matters. Things like finishing homework, getting to the bus on time (in a time when kids actually went to school), making sure teeth are brushed, helping resolve a conflict with a friend, and so on. There's also the pride that you feel when you watch your child master a skill, make new friends, share something with you that you never knew, take out the garbage without asking (ok well, we're not there yet, but one can hope). I guess my point is that if you sum up all the parts of our days, weeks, months, and years I have shared with my child(ren), it doesn't seem to add up to the love that fills my heart and makes me thankful that I got to be a dad to two precious souls.
Granted, not all days (or hours) are viewed through rose-colored glasses, but with the right perspective, you can make most days feel like Father's Day.
For those thinking about becoming dads, you should embrace a world over which you have little control (what an understatement), but at the same time brings you immeasurable joy and a feeling of connectedness that truly enriches your life.
To all the dads out there, Happy Father's Day.
---
If you're interested in learning more about the first steps of family building, check out the article below.
---
Greg Zola and his husband, Mark, are dads to two sons through egg donation and surrogacy. He is a champion for LGBTQ rights and families, and has worked with organizations like Gay Parents To Be and Gays With Kids for many years.