Queer Breast Cancer Awareness
October 30th, 2020 | 5 min. read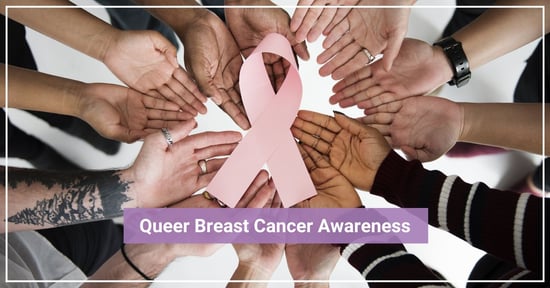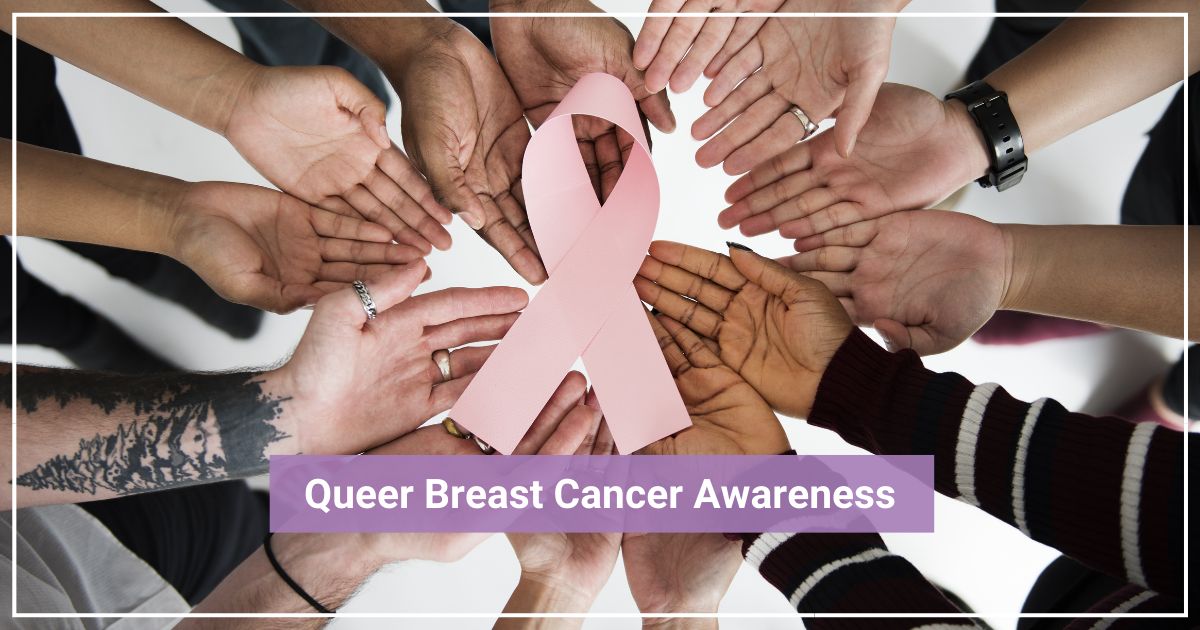 October is Breast Cancer Awareness month, and during this month, there's an associated outpouring of support for cisgender, heterosexual women – much of which focuses on encouraging people to get a breast exam with their doctor. If their doctor finds anything worrisome during this exam, they will recommend a mammogram, which is an ex-ray of the chest that can detect abnormalities that are too small to be found during a regular breast exam.
The American Cancer Society's statistics highlight the important of these screenings: They predict that over 275,000 new cases of breast cancer will be diagnosed in 2020 and report that the mortality rate for breast cancer is 1 in 38. Breast Cancer Awareness month's mission supports and encourages life-saving screenings.
Healthcare Accessibility for Queer Communities
But this support and encouragement comes with assumptions like:
Breast cancer is a risk only for "women"

All people with breasts feel comfortable with their doctor

All people with breasts have health insurance to pay for these screenings.
As a result, Breast Awareness month can miss the mark with queer communities. By not acknowledging these barriers, Breast Cancer Awareness month can feel prejudiced for those among us who don't trust their doctors and can't afford screenings.
Research Exclusions for the LGBTQ+ Community
These issues start at the top, in medical research. A study published in CA: The Cancer Journal for Clinicians found that, "approximately 0.1% of National Institutes of Health-funded research in 2012 focused on LGBTQ health-related research… for every $100 awarded by US foundations, only 24 cents went to LGBTQ issues." This doesn't mean that queer healthcare research requires less funding, but that bias is holding back medical advances for minority populations. In an article published in Asian-Pacific Journal of Oncology Nursing January 2020, authors Carolee Polek and Thomas Hardie explain, ""Expanding LGBT data in cancer registries and national surveys will provide much-needed information for quantitative analysis." We need more funding to collect more data to save more lives, and movements like Breast Cancer Awareness month (and others) could be more inclusive towards queer healthcare research and treatment in their mission.
Breast Cancer Screenings – Who should have them, and when?
Queer people have unique risks when it comes to breast cancer, but we're often left out of the conversation. Trans women have a dramatically higher likelihood of developing breast cancer than cis men, and trans men are equally more at risk when compared to cis women. Lesbian cisgender women have also reported more of the risk factors when it comes to developing breast cancers as well. There isn't enough research data, and there isn't enough inclusivity. But a queer person getting screened is just as important as a cis person.
Planned Parenthood recommends that any person with breasts should get a breast exam every 1-3 years from ages 25-39, and every year after you turn 40. In between, you also need to, "get to know what your breasts feel like, and let your doctor or nurse know if you find a lump or notice any changes." After you turn 40, you should be getting a mammogram ever year.
Finding a Doctor, Getting Screened
Finding a queer-friendly doctor can be a huge hurdle. The Healthcare Equality Index provided by the Human Rights Campaign can help. Their mission is to evaluate "healthcare facilities' policies and practices related to the equity and inclusion of their LGBTQ patients, visitors, and employees." You can use their search engine to help you find a physician without prejudice and with queer inclusion and experience. Breast cancer screenings should be something you can feel proactive about taking care of – not avoiding because you've been treated as "less than" by doctors in the past.
Be an Advocate for Yourself and Others
Without much research, and with so much prejudice, one of the greatest assets the queer community has in healthcare is the experience of other queer people. Talk about your breast cancer screening, whether it was a good experience, or you're warning others away from a bad one. If you have the bandwidth, write about it or be interviewed. Normalizing talking about how healthcare works for queer people can save lives by making these experiences transparent and allowing other queer patients to feel prepared to get healthcare, like breast cancer screenings.
---
Need help finding a LGBTQIA+ friendly doctor? Learn more about using the Health Equality Index here.
---
Molly Horton Booth (she/they) is a queer writer and editor. Her work can be found here on Gay Parents to Be, Wayfair.com, McSweeneys.net, etc. She's also an author of YA fiction, and her work has been featured on the American Library Association's Rainbow List. Her books include: SAVING HAMLET (2016), NOTHING HAPPENED (2018), and TWELFTH GRADE NIGHT (coming Fall 2022) all published by Disney Hyperion. Molly lives on a beach outside of Boston, MA, where she spends her free time with friends and family, obsessively crafting, and doting on her pets. Find her on Instagram @mollyhortonbooth or at mollyhortonbooth.com.