Proud and Out Parenting
October 11th, 2020 | 5 min. read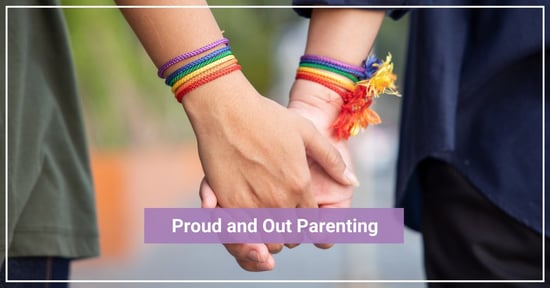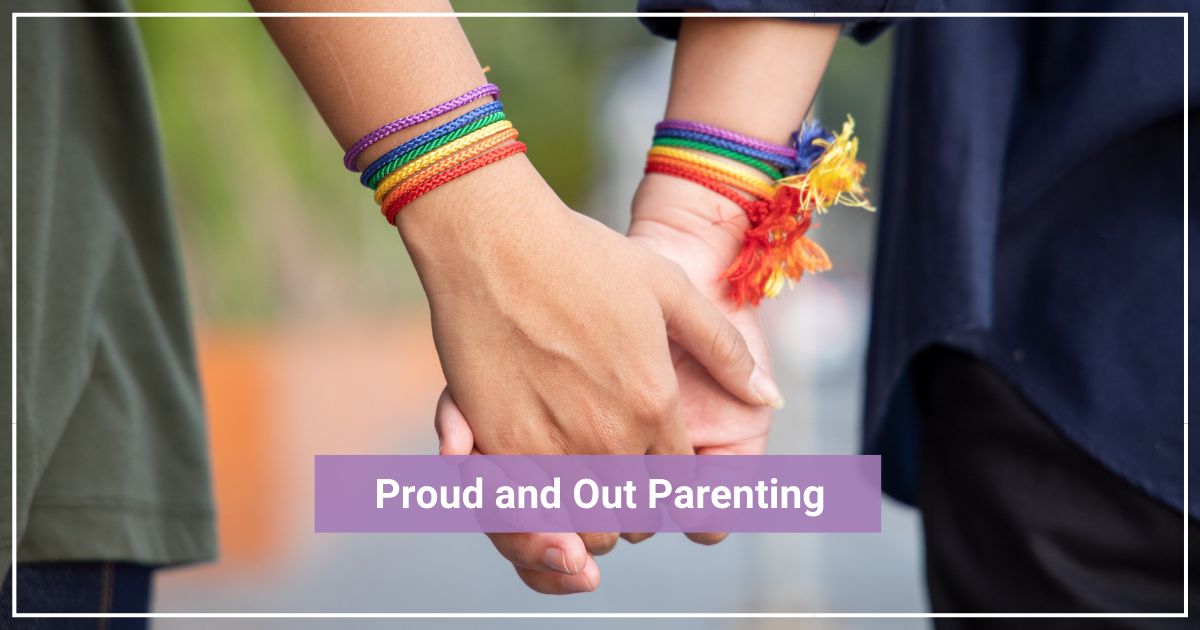 2020 has been, in many ways, a train wreck -- but somehow, our National Coming Out Day came just the same. We celebrate its 32nd anniversary today, October 11th, 2020. This date is an acknowledgement of the National March on Washington for Lesbian and Gay rights and reminds us that coming out can be a tool of power – although sometimes it feels like a burden. We still live in a society where these conversations are often necessary.
Coming out to someone in your personal life is one version of celebrating National Coming Out Day. But as an LGBTQ+ parent, you're also celebrating the resilience it takes to come out as a parent and a family, over and over. Straight, cis parents don't feel the same pressure to talk to their children, school, and parenting communities about their own gender, sexuality, and romantic orientations and expressions. But while queer parents are trying to sleep train their baby, or get their kiddo to the doctor, or homeschool (AHH) during COVID-19 quarantine, they're also constantly navigating a million different coming out scenarios, often in very public spaces.
Gay Parents to Be is here to help with experience and some tips to make this never-ending coming out process a little easier. If you're a prospective queer parent, we hope these pointers can offer insight into your future National (Parents) Coming Out Days.
Coming Out as a Parent
"Is your wife joining us?"
"Actually no, but my husband is."
What does the actual, moment-to-moment dialogue of coming out as a parent sound like? Greg Zola, husband and father of two young sons, explains that the three typical reactions he experiences when coming out to colleagues and/or a group of parents:
Embarrassment, because they made an assumption he was straight. While embarrassment in a social situation can be awkward, Zola tries not to let it rattle him. "This is actually a genuinely nice reaction," Zola explains. "Because that lets me know that they're open people."
A segue into a genuine conversation about their personal lives. "Oh, OK, great! How long have you two been together?" etc. Zola sees this as coming out becoming a way to connect with others and get to know them better.
Some kind of disapproval. Zola says he responds to this reaction matter-of-factly, but briefly. "I know I'm not going to win hearts and minds at that moment," Zola explains. "But if there is some familiarity with me prior, and they know I'm a good person, this now might make them reflect and questions things in good ways later."
Zola also now knows what to expect from coming out as a queer family in conversations with strangers. "Sometimes people don't really know what they're asking," he explains. Like, when on a walk with his sons, a stranger asks if he's, "giving the wife a day off?" and he replies that they're a "two-dad family." Sometimes this prompts people to ask a tactless questions about his kids: "Oh, then which one is yours?"
Essentially, that question is asking which son is created from which dad's sperm. That's an extremely personal question, and queer parents don't owe the answers to anyone, much less strangers. But when your family is built differently than the norm, it can take time for others to catch up with their own knee-jerk reactions. "One of the great ways you can respond to questions like that is 'why are you asking'?" Zola suggests. "If they think for a moment, they can figure it out on their own."
Coming Out in a School Community
"…LGBTQ+ families, whether they are children or adults, face particular challenges when entering the educational system," writes David Minerva Clover for The Washington Post. "As a visibly queer and transgender parent myself, when we began to look into schooling for our 4-year-old, I found myself overcome with anxiety."
Every parent with a kid entering a school system takes on added responsibility to be part of their child's new community. But queer parents must become volunteer educators and advocates, almost instantly. Clover says that even before starting school, often introducing a queer family includes, "a lot of emails to explain my family's names, pronouns and relationships, and I've had to staple extra sheets to documents when our information doesn't fit on the provided forms…" A coming out process that comes with a ton of paperwork - phew.
Knowledge is power. When your family is about to enter a new education system, equip yourself and your kids by researching about the laws and policies of that system. Because you're doing work that heterosexual, cisgender parents don't need to do, try to find a support group right away – How have other queer parents dealt with the coming out process in their school communities?
It's not too much to expect more than tolerance in a school system. Clover recommends that school teachers and administrators put themselves in the shoes of a queer family member, and walk around the school looking for problems – but also signs of support. It feels wildly different to come out to an administrator who has a pride flag on their desk to signal inclusivity or list their pronouns at the end of their emails. This is not too much to ask from your allies.
Coming Out Support
As a queer parent, you're going to come out over and over, which can be extremely draining. "Coming out can be stressful," Zola says. "But it's important work. And if you can make a teachable moment, that helps your whole community." You're a volunteer educator and advocate all wrapped into one, and you need to process these experiences. Finding queer family and parenting support through schools, community, social media, and organizations like Gay Parents to Be can make a huge difference in your emotional well-being.
National Coming Out Day means something different to every person, and if you're trying to find your way, the resources below can help, no matter who and where you are in your coming out journey.
Resource List
---
Advice and personal stories from real parents can be a huge help. Read more below.
---
Molly Horton Booth (she/they) is a queer writer and editor. Her work can be found here on Gay Parents to Be, Wayfair.com, McSweeneys.net, etc. She's also an author of YA fiction, and her work has been featured on the American Library Association's Rainbow List. Her books include: SAVING HAMLET (2016), NOTHING HAPPENED (2018), and TWELFTH GRADE NIGHT (coming Fall 2022) all published by Disney Hyperion. Molly lives on a beach outside of Boston, MA, where she spends her free time with friends and family, obsessively crafting, and doting on her pets. Find her on Instagram @mollyhortonbooth or at mollyhortonbooth.com.