LGBTQ Summer Vacation Ideas For The Whole Family
May 22nd, 2014 | 3 min. read
By Dan Woog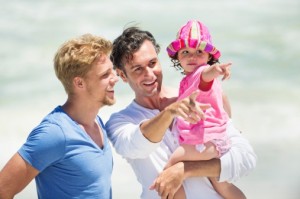 Celebrate The Summer With Family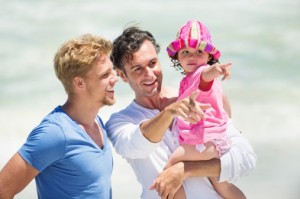 It's only May. Not quite summer. But after a long winter and cold spring, Martha and the Vandellas' advice is apt: The time is right for dancing in the street.
Or, if you're not down with that, at least plan to celebrate with some way cool LGBTQ family-friendly events.
June is Gay Pride Month. There's no better time to wear rainbow t-shirts, grab some sunscreen, and mix and mingle with the big, wide LGBTQ (and ally) community. Pride events feature plenty of entertainment, food and fun. You'll be amazed at the number of families "out" there.
---
Pride In The Park
On Saturday, June 14, "there" will be Norwalk's Mathews Park (295 West Avenue, 12-5 p.m.). That's the new site for the long-running Fairfield County Pride festival, sponsored by the Triangle Community Center [LINK: http://www.ctgay.org/events] It will be filled with vendors, non-profit resource tables, a picnic area and stage. If you think Fairfield County is no place for LGBTQ families, "Pride in the Park" can open your (and your kids') eyes wide.
---

Loft Pride
Westchester County's Pride event is set for Saturday, June 7 (7 p.m., The Loft,White Plains). Click here [LINK: http://www.loftgaycenter.org] for details.
---

NYC Pride
A much bigger Pride – the biggest on the planet, in fact – takes place in New York City the last weekend in June. [LINK: https://www.nycpride.org/] Sunday the 29th is a joyful, invigorating day. A jinormous parade winds down Fifth Avenue to Greenwich Village, followed by a dance party on the piers. Earlier, on Tuesday, June 24 (7:30 p.m., Hudson River Pier 46) there's a "Family Night" showing of "The Wizard of Oz." Bring a picnic – and the family!
---

Family Outfest
Further afield – and just a few days after June Pride – is "Family Outfest." Sponsored by the Family Equality Council (July 1-7, Orlando) [LINK: http://www.orlandogaytravel.com/about-family-outfest-2014], it's a celebration of LGBT families and fun. That means a week of theme parks, attractions, restaurants – and love.
---

Family Week: Provincetown, MA
A different Family Week takes place July 26-August 2 in Provincetown [LINK: http://www.familyequality.org/get_involved/events/annual_events/family_week]. Also sponsored by Family Equality Council, the 19th annual event offers a relaxing, low-key way to meet other LGBTQ families, in the gay vacation capital of the Northeast. There are tons of scheduled activities, along with plenty of time for just hanging out.
---

R Family Vacations
If you really want to get away from it all – but not leave the family behind – consider RFamily Vacation's "Family Cruise" (July 12-20 on the world's largest cruise ship, Allure of the Seas). [LINK: http://www.familyequality.org/get_involved/events/r_family_vacations_anniversary_cruise/] It's a regular cruise – just LGBTQ family-friendlier. There's even a Family Beach Day in Ft. Lauderdale, the day before setting sail.
---
There you have it: a fun-filled family summer. The time is definitely right for dancing in the street.
Or on the ocean.
Dan Woog is a writer, educator and LGBT activist. He has written 17 books. Subjects include LGBT issues in gay education and the workplace, gay male athletes, and the importance of straight allies. He is also a co-founder of OutSpoken, Fairfield County's support group for LGBT youth.