LGBTQ Pride Events For Families
June 4th, 2014 | 6 min. read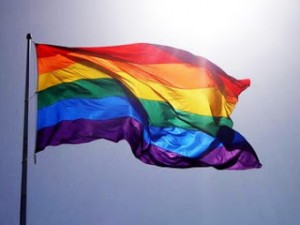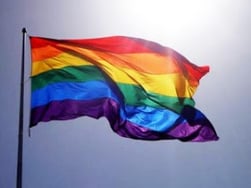 June is National Gay Pride Month
Gay pride or LGBTQ pride is a global movement and philosophy asserting that lesbian, gay, bisexual, and transgender individuals should be proud of their sexual orientation and embrace their gender identity. June is now the month of acceptance and the month to welcome diversity in communities regardless of sexual orientation. Check out some exciting events happening across the country that are great for your entire family!
---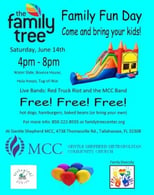 Family Fun Day
WHEN: June 14, 2014, 4:00 -8:00 pm
WHERE: 4837 Thomasville Rd. Tallahassee, FL 32308
The Family Tree is planning a Family Fun Day for Saturday, June 14 at the Gentle Shepherd Metropolitan Community Church from 4pm until 8pm. The event will include free hot dogs, hamburgers and sides, a bounce house, lots of games for kids of all ages, and some great live music to have a fantastic time with the extended "family." This is a free event! Come join The Family Tree, Gentle Shepherd MCC, Family Diversity Inc. and Ecological Babies, for our first annual LGBT Family Fun Day!
For more information, check out the Family Fun Day's Facebook page.
---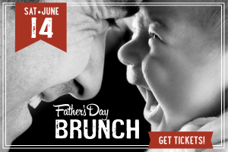 Father's Day Brunch
WHEN: June 14, 2014, 11:00am-1:00pm
WHERE: Gusto Italian Kitchen and Wine Bar, 4800 Burnet Rd, Austin, TX 78756
We invite all families (gay, straight or fathers-to-be) to join us as we celebrate fatherhood! Your ticket purchase includes a buffet brunch, coffee or juice, and peach bellini, mimosa, barcelona sunrise or italian michelada. Complimentary family photographs will also be taken by acclaimed photographer Michael Thad Carter. Fathers and fathers-to-be will receive a boutonniere to celebrate all that you do!
Proceeds benefit The Handsome Father's mission to connect, equip and inspire gay fathers and fathers-to-be.
For more information, please visit The Handsome Father's website.
---

Minneapolis Fundraiser For Family Equality
WHEN: June 17, 2014, 5:30-7:30 pm
HOSTS: Tim Meyer and Mark Funk
WHERE: 5129 Thomas Ave South, Minneapolis, MN 55410
Join us at the home of Family Equality Council Board Member, Tim Meyer, and his partner Mark Funk on Tuesday, June 17th for a chance to connect with fellow supporters from the Minneapolis area.
Come relax, mix, and mingle with old friends and new while enjoying some food and drinks. The evening will be a perfect opportunity to hear from Family Equality Council's new Executive Director, Gabriel Blau, and learn about the organization's ground-breaking work in 2014 and why now is such a critical time for supporting LBGTQ family equality.Family Equality Council is the nation's leading advocate for moms and dads who are lesbian, gay, bisexual, and transgender (LGBT) and their families. Family Equality Council is changing attitudes and policies to ensure that all families are respected, loved, and celebrated.
For more information, please visit Family Equality Council's website.
---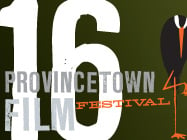 Provincetown International Film Festival
WHEN: June 18-22, 2014
WHERE: Provincetown, Massachusetts
The 16th annual Provincetown International Film Festival (PIFF) offers adventurous programming that will appeal to all ages. Adults won't want to miss "Love Is Strange," the much-buzzed-about latest feature from Ira Sachs ("Keep the Lights On") who will attend the screening on June 21 at Town Hall. A multi-generational story of love and marriage, it's about Manhattanites Ben (John Lithgow) and George (Alfred Molina) who finally tie the knot after four decades together. But when coming out gets George fired from his job and they can't afford to remain in New York, the couple is forced to move in, separately, with various family members. Besides the pain of separation, George and Ben must deal with unexpected lessons about the meaning of family.
Also notable on the schedule the new documentary "Compared to What: The Improbable Journey of Barney Frank," about Massachusetts' own firebrand and the first openly gay congressman in the United States. The intimate portrait covers Frank's 40 years in office and his 2012 marriage to Jim Ready. Frank and filmmakers Sheila Canavan and Michael Chandor will attend the June 20 screening at Town Hall.
For the entire family, the PIFF offers "A Night at the Drive In" on June 18 featuring a double bill of two classics: the Beatles' "A Hard Day's Night" and Steven Spielberg's "Jaws." It takes place at the Wellfleet Drive-In, the only drive-in left on Cape Cod. It's a great place to introduce the kids to two great films on the big screen and the lost pleasure of watching movies from lawn chairs under the stars or while nestled in the backseat of the car.
The PIFF aims to engage and cultivate new film audiences, so it has programmed a high-quality family adventure movie from Spain, along with an animated short from Australia. "Zip & Zap and the Marble Gang," directed by Óskar Santos, is about twin brothers Zip and Zap who are caught stealing the answers to their final exams and must spend the summer at a boarding school run by a no-nonsense headmaster. Recommended for ages 9 and up, the film is in Spanish with English subtitles. It screens June 22 at 11:30 a.m. along with the animated short "Little Big Hero."
For more information, please visit: http://www.ptownfilmfest.org/
---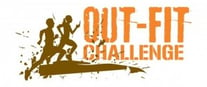 Out-Fit Challenge
WHEN: June 21, 2014
WHERE: Tuxedo Ridge Ski Resort, 581 Route 17A West, Tuxedo, Ny 10987
Family Equality Council is proud to once again partner with Out-Fit Challenge as their national beneficiary organization. Out-Fit Challenge is the first ever national LGBTQ Mud Run. It's a 5K cross-country trail run, dotted by 10-15 military-style obstacles including mud, water, ice & fire. Walk, run, or crawl the entire course; it's completely up to you.
Have fun, be healthy, and support our work all in one day!
For more information, please visit the Out-Fit Challenge website.
---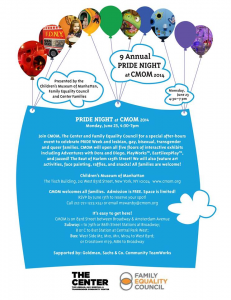 Pride Night at CMOM
WHEN: June 23, 4:30-7pm
WHERE: Children's Museum of Manhattan, Tisch Building
212 West 83rd Street, New York, NY 10024
This event is presented by the Children's Museum of Manhattan, The Center, and Family Equality Council. CMOM welcomes all families to this FREE event to celebrate Pride Week. There will be interactive exhibits and fun activities for the whole family. Please RSVP by June 13 to mswanby@cmom.org or by calling 203-956-2266 ext. 241
For more information, please visit: http://on.fb.me/1kDj3g8