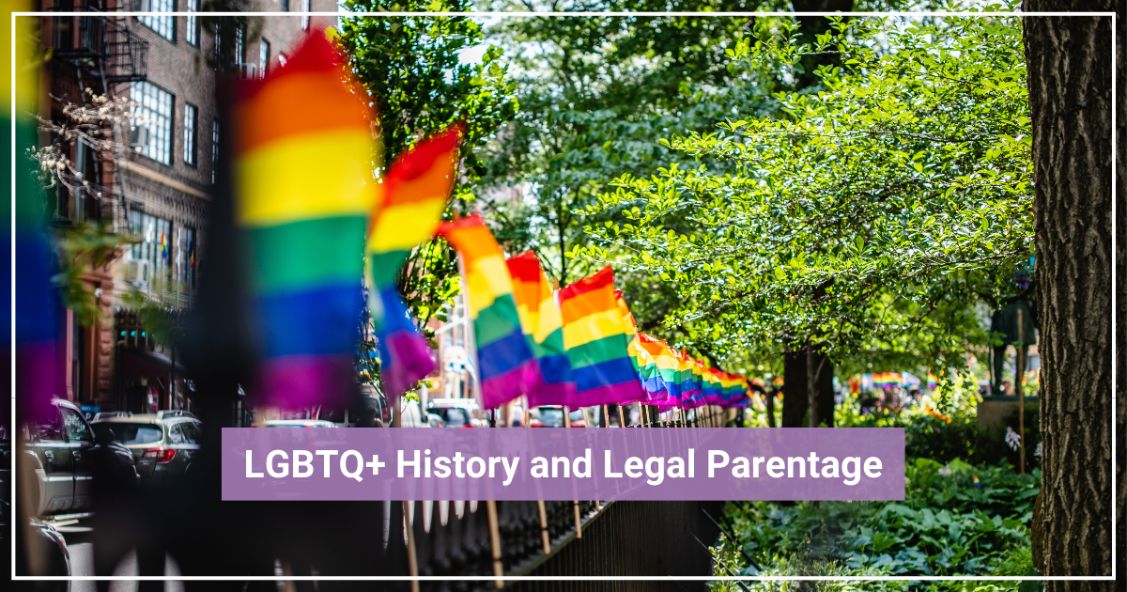 In recognition of LGBTQ+ History month, it is important to acknowledge the historical milestones made and what they mean for LGBTQ+ parents. While we are lucky enough to live in a country where there has been much progress made with respect to the rights of LGBTQ+ parents over the past 70 years, there is still much to be accomplished. For LGBTQ+ families, the future is bright – but to better understand it, we must dive into the past.
What does the history of LGBTQ+ parentage look like?
As many people know, the Stonewall Riots are one of the milestones that we celebrate during Pride month and LGBTQ History Month – they were a catalyst for the LGBTQ+ rights movement that blossomed through the second half of the 21st century. This uprising took place in the summer of 1969, and led the way for new decades of movement towards inclusivity for all families.
However, it wasn't always an easy path to get to where we are today. As early as the 1970s, certain state courts were upholding custody rights for LGBTQ+ parents who were getting divorced from their different sex spouses. This sounds like a positive, but it was unfortunately often paired with a restriction that those parents could not live with a same-sex partner.
In addition, LGBTQ+ individuals had an uphill battle to adopt. Until only recently, many adoption applicants were rejected solely because of their sexual orientation. Most LGBTQ+ couples submitting a joint application were flat-out denied the opportunity to adopt, in turn denying many children the chance to live with a loving, stable family. Only at the end of the 1990s did same-sex adoption start to become legal on a state-by-state basis. New Jersey was the first state to permit same-sex couples to adopt, in 1997.
How did legalizing same-sex marriage change the family landscape?
Fast forward to 2015 – the world had changed, and LGBTQ+ couples and families had become even more accepted by our society. LGBTQ+ representation in mainstream media had finally started to increase, and the U.S. was primed for a change – same-sex marriage needs to be legalized across all fifty states. And it happened, with the monumental SCOTUS ruling of Obergefell v. Hodges, 576 U.S. 644 (2015). Looking back, many of us remember where we were or what we were doing when that decision was announced, as it felt like a giant step towards needed LGBTQ+ equity and legal protection.
There is no doubt that Obergefell v. Hodges, 576 U.S. 644 (2015) was a monumental decision, and that the constitutional right to marry a person of the same sex opened the door towards more comfort and assurance for LGBTQ+ couples starting families. However, it did not resolve the legal issues related to same-sex parentage.
To this day, each state has varying parentage laws. Some states automatically recognize a non-biological parent as the legal parent of the child if the couple is married, called a "marital presumption." Other states have recognized an unmarried non-biological partner as the "presumed parent" based on that person's acknowledgement, participation, and consent in raising the children. Some states do not recognize a presumed parent or a marital presumption at all, and in this case the non-biological parent must take steps to adopt their own child.
What is a second-parent adoption?
A couple who does not have a marriage or civil union can both become legal parents of a child through a process, called a "second-parent adoption," whereby one partner adopts or gives birth to the child, and then the second partner adopts.
See Conn. Gen. Stat. sec. 45a-724(a)(3).
How are a non-biological LGBTQ+ parent's rights protected?
Of course, many same-sex couples have a child who is biologically related to one parent and not the other. Even though same-sex marriage is now legal after Obergefell, it does not mean that the non-biological parent is automatically deemed the legal parent of the child. Therefore, in Connecticut, a non-biological LGBTQ+ parent's rights are protected by going through a formal adoption process to adopt their child – the second parent adoption mentioned above. It is also recommended that both the non-biological and biological parent have their last will and testament in place before the birth or adoption of their child.
What does the future of LGBTQ+ families look like?
The future of LGBTQ+ families is promising – and we look to the future with hope. In Connecticut, there is an intention to reintroduce the Connecticut Parentage Act in the next legislative session, on which Lisa Rosenthal, RMA's patient advocate, has been working diligently. If passed, the Connecticut Parentage Act will ensure that all children have equal access to the security of a legal parent-child relationship regardless of the circumstances of their birth, or the marital status, gender, or sexual orientation of their parents. If passed, this legislation would obviate the need for a non-biological LGBTQ+ parent to go through the burdensome and costly process of adopting their own child.
Here in Connecticut, we also hope for the day when the parent-child relationship is protected by a universal parentage act across state lines. Where second parent adoptions and the worries about legal parentage, for any parent, are things of the past.
---
Want to learn more about parentage and legal protections for the LGBTQ+ community? Three legal experts weigh in in this article