LGBTQ Family Virtual Pride Guide 2020
May 29th, 2020 | 7 min. read
By Emma Lott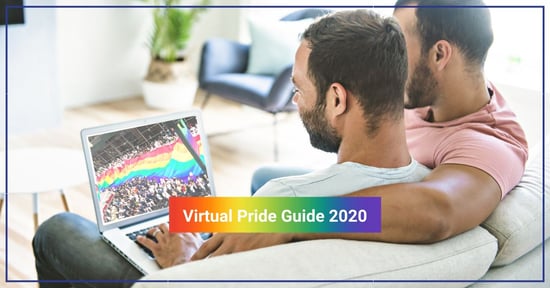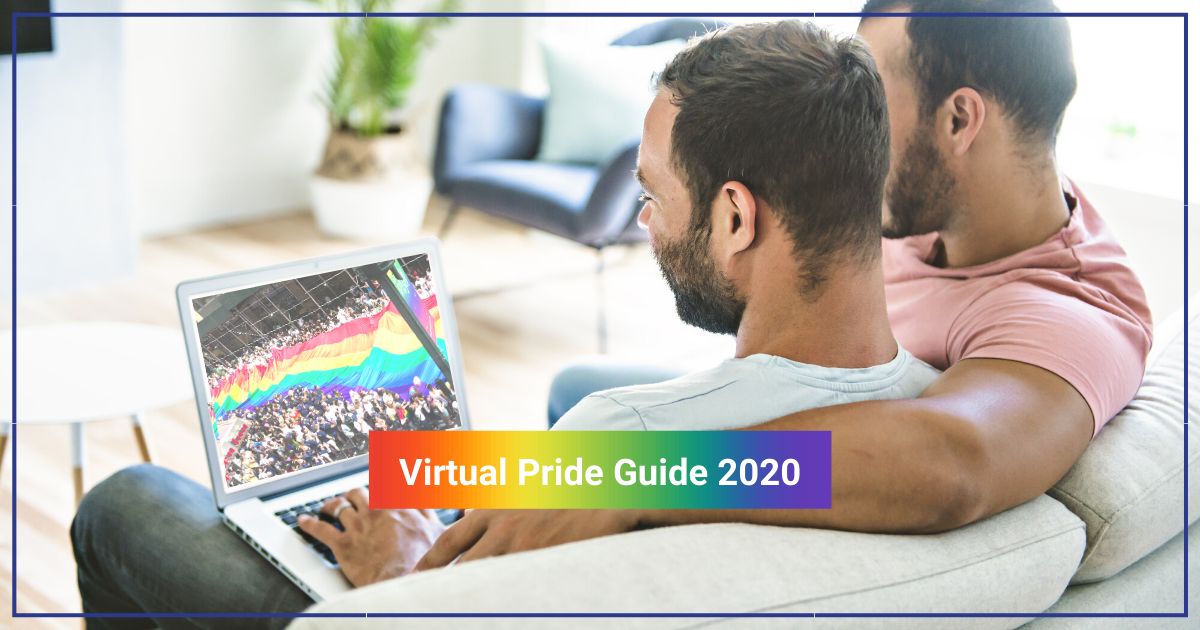 If I had to use one word to describe the month long observance that is Pride (other than "pride" itself), I would say "connection." Over the last 50 years, Pride has blossomed into an awesome shared celebration of the LGBTQ community. As we celebrate LGBTQ individuals in our own lives and mainstream media, this month allows us to raise awareness of the changes that are still to come as we work towards greater equity and inclusion. More than anything, though, Pride is an opportunity to gather together as a family. To march, to parade, to dance, to hold hands, and to revel in the spirit of the LGBTQ community.
Which is why, when these unprecedented times caused many cities to cancel in-person Pride celebrations, I knew we would still find a way to connect. This year, we're taking Pride online - and I think it could be just what we need to take our community to the next level. Organizations that are hosting virtual LGBTQ chat rooms, discussions, support groups, and even live concerts are leading by example, one that will hopefully lead to further LGBTQ inclusion in our lives and workplaces.
Online events allow people to join who don't have the opportunity to attend a local pride, or maybe would not otherwise feel comfortable doing so. They allow flexibility in terms of scheduling, resources, and audience participation. Here at Gay Parents To Be, its allowing us to schedule virtual webinars, online story hours, and even Zoom support groups for LGBTQ parents and parents-to-be. And, as this Forbes article points out, virtual Pride allows people who are not yet out or in a safe environment to engage with the community, and feel supported.
Below, we've pulled together a list of virtual pride events and celebrations with a focus on LGBTQ families. We'll be updating this list throughout the month, so be sure to check back and bookmark our Virtual Pride Hub - we'll keep you in the loop when new family events are announced.
I can't deny, it is disappointing to not get to dance in the streets and walk in a parade with my friends and colleagues. I will miss the warmth (both figurative and literal) of in-person celebration, and being able to connect with prospective parents face-to-face rather than screen-to-screen. But, the fact that virtual Pride will allow people around the globe to connect and support our community warms my heart, and I'm excited to experience this month of celebration. Plus, just think how much fun we'll have the next year we can all gather together in person for Pride!
If you're wondering about other ways to get involved or stay in the know about pride, check out our virtual pride guide! Keep scrolling for the full events calendar.
Virtual Pride Events Calendar
LGBTQ+ Parents Meet Up 6/1 4:30pm EST
Family Equality is one of our favorite organizations championing the cause of LGBTQ equality, especially when it comes to family building. Join this live group to connect and chat with LGBTQ parents and their families from all over the country.
#LGBTQFamilies Day Live Concert 6/1 6:30pm EST
Family Equality presents a concert for children and their families in celebration of pride and LGBTQ families. Tune in at 6:30pm for the live show!
Family Equality has also pulled together a family corner, a "Neighborhood" for LGBTQ families during this time. They offer fun performances, support groups, as well as other activities like yoga for the whole family. Check out their page for more events all month long.
Pride Talks 6/1 7pm EST
Part of Washington D.C.'s online pride celebration, this first of their online discussions will discuss how the LGBTQ community can recover and move forward after COVID-19. **Registration required/suggested**
Where Do We Go From Here? - 6/3 12pm EST
In response to the cancellation of many global Pride events this year, Out Leadership (the oldest global LGBT+ Business network created PROUDLY | RESILIENT to celebrate the LGBTQ identity all pride month long. For the first time, they're making all events free and open to the public.Check out their full schedule of events here.
This particular discussion is part of the PROUDLY|RESILIENT Pride celebration. The conversation will focus on the future of LGBTQ activism and community in our post-marriage equality world. **Registration required/suggested**
LGBTQ Family Building | Becoming a Dad through IVF & Surrogacy 6/3 6pm EST
Interested in learning how surrogacy and IVF can help grow YOUR family? Join experts from Gay Parents To Be® and Circle Surrogacy & Egg Donation at our free information session. Hear from experts in fertility and surrogacy, as well as dads who built their own families through IVF and surrogacy.
Being Queer Through the Years - 6/4 11am EST
Part of the PROUDLY|RESILIENT Pride celebration, this discussion will highlight the role companies play in the current LGBTQ landscape, and how LGBTQ inclusion is an important priority in the workplace.
Beyond the Shelter Pride Kickoff Party - 6/4 8pm EST
Watch a virtual show featuring performances by Broadway, TV, film, and dance stars to raise money for LGBTQ+ and homeless youth.
NYC PRIDE and GLAAD present DragFest - 6/19 - 21 6:30pm EST
GLAAD and NYC Pride come together to present Pride 2020 Dragfest. The virtual performances will run each day from 6:30-8pm EST beginning on Friday, June 19 and through Sunday, June 21, 2020. The video events will stream on NYC Pride and GLAAD's Facebook pages.
LGBTQ Garden Party - 6/22 6pm EST
Join The LGBT Center for performances, stories, special guests and more at this free virtual garden party to kick off your Pride celebration, including a curated food & cocktail menu and playlist suggestions.
5 Years of Marriage Equality 6/23 12pm EST
Part of the PROUDLY|RESILIENT Pride celebration. A discussion of the 5 year anniversary of the Obergefell v. Hodges Case with none other than Jim Obergefell as well as a panel of special guests. **Registration required/suggested**
NYC Pride - Virtual Rally 6/26 Time TBD
Join community activists, organizers, politicians, and more for this unprecedented moment in our history. Take a stand, show up in force, and make your voice heard in this re-imagined Rally experience. Stay tuned for more information.
Kinky Boots Special Event 6/27 8pm EST
Part of the PROUDLY|RESILIENT Pride celebration. A discussion with the creators of Broadway's Kinky Boots, with potential guest appearances by current cast members. **Registration required/suggested**
Global Pride June 27th - 24 hour celebration
A virtual celebration of WORLD PRIDE, with the 2020 theme "Exist. Persist. Resist." More details to follow.
City-Wide Prides to Follow
San Francisco Pride Online - 6/27-28th
San Francisco's online celebration will feature live & pre-recorded performances, from LGBTQ+ community members, officials, and celebrities, as well as dance, drag and musical performances.
Boston Pride - June 2020
Boston is taking Pride online! Check out their site for a mix of fun & informational programming to celebrate the LGBTQ community.
Denver Pride - June 2020
Another city takes pride virtually! Their celebration will feature performances from LGBTQ+ entertainers, drag personalities, and more, as well as a family-friendly virtual parade.
Capital Pride #StillWe Pride - June 2020
Washington D.C. takes their pride online as well, including beloved events like the sunset pride dance party, as well as informative chats and a live stream of a PrideMobile as it travels across the city.
Want more information on virtual pride initiatives, good news, and way to give back to the LGBTQ community? Check out our virtual pride guide.
As the Brand Specialist, Emma is the marketing lead for Gay Parents To Be, helping to build awareness of the brand not only as a direct path to parenthood, but also as a general resource for fertility information in the LGBTQ community. She loves the chance to attend conferences on LGBTQ health and family building, and meet prospective patients.