LGBTQ+ Celebrities & Surrogacy: Why Representation Matters
July 13th, 2021 | 5 min. read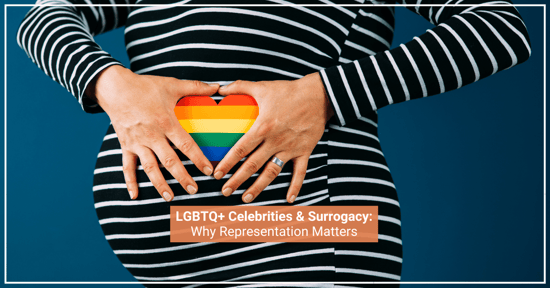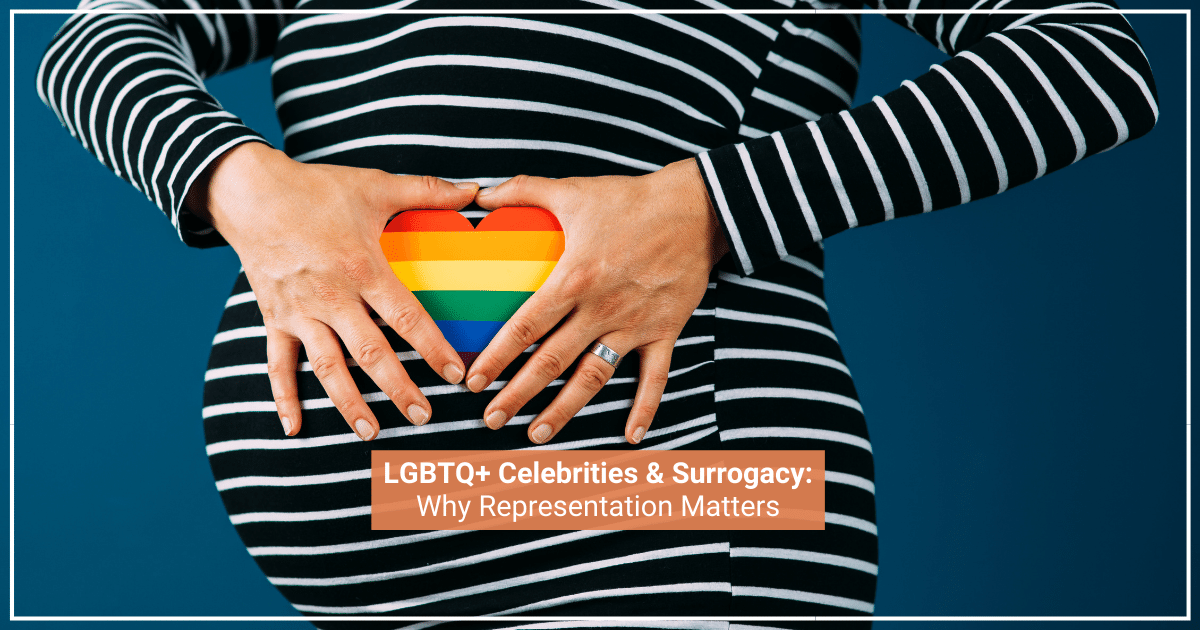 While images of "traditional" pregnancy are always just a scroll away on social media, we're still working on making LGBTQIA+ family building (in all its forms) visible and normalized. The more we see different experiences of family building on our feeds, the more that queer people will feel encouraged to pursue the path to parenthood that best works for them. Surrogacy is one of those important family-building options for the queer community.
If you search the hashtag #pregnancy on Instagram, over 17 million photos pop up. Almost a million if you search #pregnancyannnouncement. Thousands and thousands of women smiling and holding their bellies with their husband or boyfriend beaming at them. We're living in the age of Insta-influencers and celebrities who document (and often monetize) every moment and milestone of their "traditional" pregnancies for anyone to see.
But social media can also be a great tool to make less traditional processes for family building visible, which can be particularly empowering for people who are outside of the "normal" conception bubble.
The Power of LGBTQIA+ Celebrity Voices
Tan France is the fashion and style expert from Netflix's wildly successful reboot, Queer Eye. He and a team of queer people rush to the aid of people badly in need of a makeover. He is the king of the "French Tuck" trend and has gone on to write a book, host the fashion design competition Next in Fashion, and teach his own virtual MasterClass.
On April 13, 2021, Tan and his husband Rob announced on Instagram that they were pregnant. They even chose a "traditional" pregnancy pose photo – in the image, Tan is proudly holding his belly, with a photo of a sonogram photoshopped onto his stomach. The caption reads:
"…No, I'm not pregnant, despite this VERY realistic pic. With the greatest gift/help of the most wonderful surrogate, Rob and I are lucky enough to be on our way to being parents this summer."
A few weeks later, France posted a photo of him and his husband from May 2020: "The day we started our Baby Journey, on this day, last year." In the photo, Tan and Rob are in a doctor's exam room, both sporting medical gowns and COVID-19 masks. The photo immediately reminds us of the millions of photos many couples take at their check-ups throughout pregnancy. While neither Tan or Rob are biologically pregnant, this photo makes it clear that their participation in this process is just as important.
---
Want to read more real surrogacy stories?
---
Why is visibility so important?
Fans of France and Queer Eye are getting to see a process that they themselves may be looking forward to. 63% of LGBTQIA+ millennials are considering having children, many of whom plan on using assisted reproductive technology (ART) to conceive. By posting these fun twists on more typical #pregnancyannouncements on Instagram, the Frances are contributing to the necessary evolution of what we as a society expect a family-building journey to look like.
Back in 2010, we saw the huge impact of celebrities sharing their surrogacy stories when actor Neil Patrick Harris and his husband David Burtka made headlines with their twins, Harper and Gideon, who were born via a surrogate. By being open about their experience, which included an egg donor and a gestational carrier, Harris and Burtka publicly normalized surrogacy in a way that hadn't been done before.
What is surrogacy?
Surrogacy is when another person becomes pregnant and carries a baby for a different intended parent or parents. Typically, this involves creating an embryo through in-vitro fertilization (IVF) to implant into a surrogate/gestational carrier. This often means an intended parent uses either their own sperm or egg and completes the IVF process with a sperm or egg donor - depending on their needs.
Surrogacy helps an intended parent's dream of being a biological parent come true. For queer people with biologically male bodies, this means choosing an egg donor and a gestational carrier to carry their child. For couples, there's often also a choice when it comes to who is biologically linked to the child.
Surrogacy has come a long way in becoming a safe, legal process, and there are now routine steps to assure both the gestational carrier and intended parent(s) have the best experience possible.
---
How do I get started with surrogacy?
---
The Financial Barriers to Surrogacy
Though our ideas of how families are created are moving forward, we're still waiting for health insurance companies to catch up. There needs to be a massive shift that does away with out-of-date homophobic and transphobic practices that bar families from claiming IVF and other costs on their insurance. Family building for queer people can't be normalized until everyone can afford to build their family.
If paying out of pocket isn't an option for you, there are a growing number of ways to get financial assistance for the surrogacy process. Buying into a third-party health policy is an option some choose, and there are some wonderful organizations like Men Having Babies, RESOLVE, and BabyQuest who offer financial grants or other resources to LGBTQIA+ people looking to grow their families.
Getting baseline fertility testing done at the end of the year and doing thorough research on open enrollment and other deadlines can help you take advantage of any insurance coverage you do have. We're hoping to one day see a future where there's equity in health insurance policies and family-building coverage. Democratizing health care of all kinds is an issue we still face as in the United States, which will only improve with time and dedicated activism.
The Gift of Sharing Your Story
Tan and Rob France have every right to keep their pregnancy journey to themselves. But by generously sharing it, they're using their pregnancy in a way unlike other celebrity influencers: They're using their own experience to increase representation and encourage change. They're telling millions of young LGBTQIA+ people around the world that surrogacy is a normal, beautiful option for creating a family. And we applaud them for that.
Are you interested in finding out more about the process of surrogacy? Gay Parents to Be would love to help – it's our specialty! Contact us to schedule a consultation with our team today.
Molly Horton Booth (she/they) is a queer writer and editor. Her work can be found here on Gay Parents to Be, Wayfair.com, McSweeneys.net, etc. She's also an author of YA fiction, and her work has been featured on the American Library Association's Rainbow List. Her books include: SAVING HAMLET (2016), NOTHING HAPPENED (2018), and TWELFTH GRADE NIGHT (coming Fall 2022) all published by Disney Hyperion. Molly lives on a beach outside of Boston, MA, where she spends her free time with friends and family, obsessively crafting, and doting on her pets. Find her on Instagram @mollyhortonbooth or at mollyhortonbooth.com.