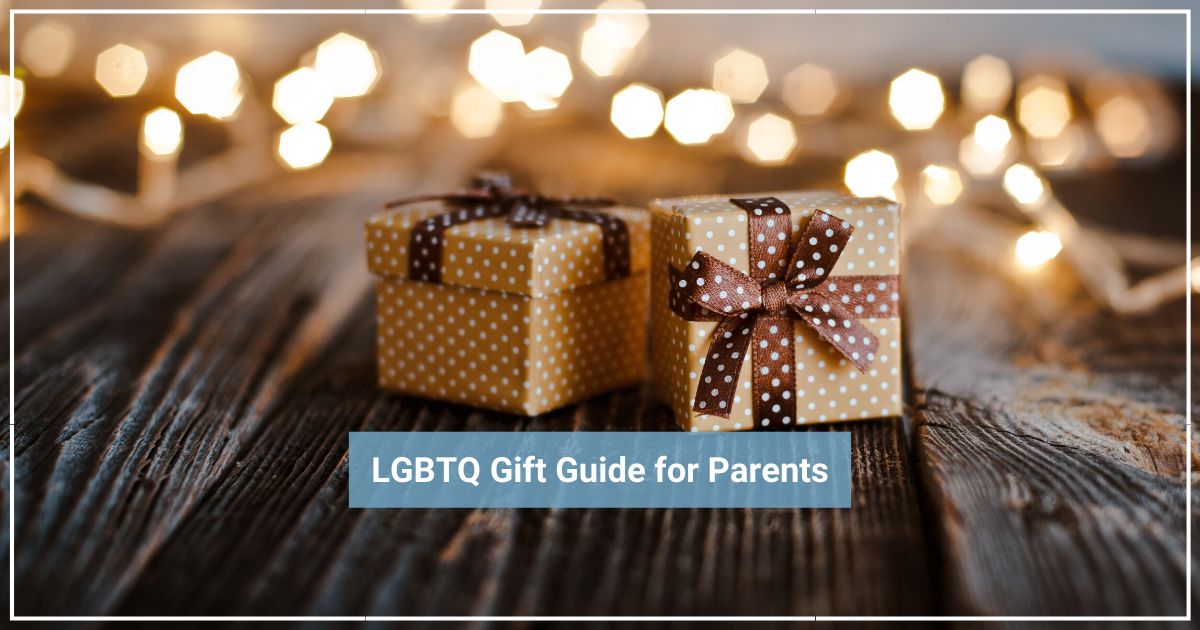 Do you have a LGBTQ friend who's expecting? Are you and your partner starting to think of building a family? Are you a new parent and don't have much time to shop? Here at Gay Parents To Be we have more than a few years of experience celebrating new parents and the holidays, so we've pulled together our ultimate gift guide for new LGBTQ parents.
Here are our suggestions for the top LGBTQ-friendly gifts for parents or parents to be.
LGBT-Friendly Gifts for the Parents on Your List
Books
My Lifebook will tell the story of how your child was born in your heart and finally arrived in your home. Children love hearing about how they came into the world and the Lifebook can help them feel connected to their beginnings.
Does This Baby Make Me Look Straight?: Confessions of a Gay Dad by Dan Bucatinsky
Dan Bucatinsky, star of ABC's hit show Scandal, shares his own journey in this book. Follow Dan's parenting adventures with his partner Dan Roos as they journey from adoption into fatherhood. You won't get through a page without laughing at Bucatinsky's humorous stories, but the honest and soul-bearing moments capture what it really means to be a parent.
The Fan-Favorite Cheesy T-Shirt
Whether you're shopping for a single parent or parents in a same-sex relationship, we firmly believe that most parents really are superheros. So - why not buy a reminder that their little one can wear with pride?
👕Buy My Dads are Superheroes Shirt
👕Buy My Moms are Superheroes Shirt
Memorabilia & Keepsakes
Little Pickle Crafts Baby Books
This company, Little Pickle Crafting, is owned by a same sex couple who started creating their own baby books after being gifted ones that were specifically for straight coules. They now sell books for couples, single parents, adoptive parents, and all other families. The books range from "Bump to Birthday" to a growing up book. Shop their Etsy shop for a gift tailored for the special family in your life.
Welcome to the World Baby Book
This Baby Memory Book is another keepsake geared towards all families. It provides an adaptable outline for single moms, single dads, LGBTQ parents, adoptive parents, guardians, grandparents, traditional families, and all others to record memorable moments of their baby's early years. We recognize that no two families look alike, and this allows the special people in your life to tell their baby's story in a way that's true to them.
Caffeine
For any parent with a newborn (or anyone who knows a new parent) you know that coffee is a true friend indeed. So if you're going to give the gift of caffeine this holiday, why not make it a LGBTQ-friendly cup of joe? We love that Starbucks is among a list of companies that offers coverage for LGBTQ fertility & family building just about as much as we love our caffeine habit.
Gifts that You Might Buy for Any Other New Parent!
Around the holidays, it is easy to get caught up in buying "the perfect present," but it can also be stressful for new parents (or expecting parents). Whether it's a delivery service with convenient meals, a bottle or diaper warmer, or just some time spent watching their child while they shower and enjoy a cup of coffee, many parents will appreciate these gifts of time and thoughtfulness over something material.
LGBTQ parents and parents to be are just like every other parent - unified by the newness, excitement, and exhaustion of it all. During this holiday time, remember that sometimes the greatest gifts also come in the form of friendship and good advice - and those are free!
If you're still checking names off your "Nice List", check out our gift guide for surrogates and donors or this one, for the children of LGBTQ parents.