LGBT Center's Annual Visionary Party | Community Service Honorees
October 28th, 2013 | 4 min. read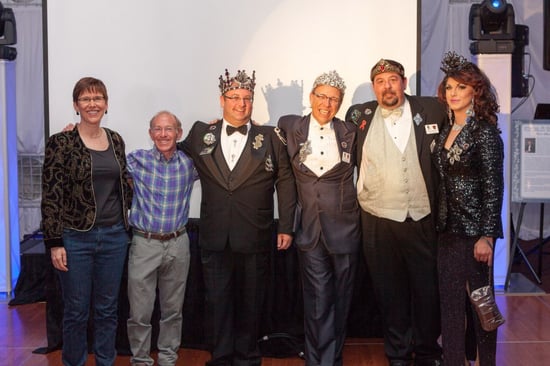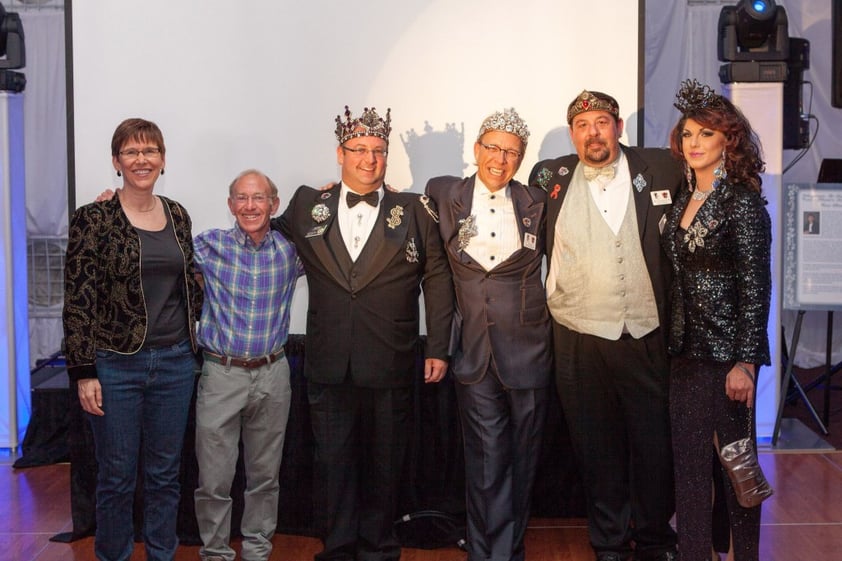 On October 5, Norwalk's Triangle Community Center (TCC) held its seventh annual Visionary Party celebrating the LGBT community and its influential leaders. This year's "Denim & Diamonds" theme brought out a multitude of cowboy hats and bedazzled outfits. Along with being an evening of dining and dancing, the night was also a fundraiser for the TCC to support its mission of serving the LGBT community in Fairfield County, CT. In addition to the silent auction, the TCC presented three honorees with Commitment to Service Awards.
Commitment to Service Award Nominees:
Among the honorees at the Visionary Party, was Dan Woog , presented with a well-earned Commitment to Service Award. Dan Woog is a Brown University graduate, journalist, educator, soccer coach and gay activist. His articles and essays have appeared in the New York Times, Sports Illustrated and USA Today. His LGBT sports column, "The OutField," is distributed nationally by Q Syndicate. He is known for his trademark smart, crisp writing style. Dan has spent more than 30 years at Staples High School in Westport, Conn. He is the varsity soccer coach there, yearbook advisor, and a founder of the Gay/Straight Alliance, the first such organization at a public school in the state of Connecticut. Dan is also a founder and co-facilitator of OutSpoken, a county-wide support group for LGBTQ youth. He is also the author of 16 books, many with gay themes.
What some may not know about Dan is a treasure of a blog he created back in 1986 and which has been going strong ever since - "06880" – Where Westport Meets the World. Need tough issues and news presented in a forthright, balanced manner with the benefit of historical perspective? Dan, a lifelong Westport resident, handles those challenges with aplomb. The issues many American towns face regarding schools, communities, businesses and government– he covers. And, there are the heartbreaking and/or triumphant stories that grace the blog as well, written with a warmth and respect that truly defines him.
Here at Gay Parents to Be, we are excited to congratulate Dan on his award, and also proud to have him as a contributor to the GayParentsTobe.com blog.
Other honorees included Anne Stanback, founding executive director of Love Makes a Family, and the Imperial Sovereign Court of All of Connecticut, which has raised hundreds of thousands of dollars for local LGBT organizations.
Anne Stanback was the founding Executive Director of Love Makes A Family (LMF), the lead organization that successfully fought for the freedom to marry in Connecticut. She has spent nearly 30 years working for lesbian, gay, bisexual and transgender civil rights. She served as the statewide Co-Director of the Connecticut Coalition for Lesbian and Gay Civil Rights during the passage of the state's "gay rights law" in 1991, which prohibited discrimination in employment, housing, credit and public accommodations on the basis of sexual orientation. She lives in Avon, Connecticut with her partner—now wife—of 29 years, Charlotte Kinlock.
For the past 13 years, the Imperial Sovereign Court of All Connecticut has vigorously worked to raise tens of thousands of dollars for organizations in our community, and for promoting equality. Part of the International Court System, the Imperial Sovereign Court of All Connecticut's ("ISCoAC") primary purpose is to provide a social union that secures equality, liberty and justice and to promote positive morale and pride throughout the community. Through the years the Court has raised money for True Colors, The Connecticut Pride Center, Hartford Community Center, Mid-Fairfield AIDS Project, and many more.
The TCC sponsors many educational events and support groups every week for the LGBT community in Fairfield County. They are hoping to develop a regular peer-to-peer support group for same sex parents in January 2014. If you are interested in learning more about the TCC and their programs, you can contact Executive Director Anthony Crisci at anthony@ctgay.org.