Happy Mommy & Mamas Day | An LGBTQ+ Mother's Day
May 6th, 2022 | 5 min. read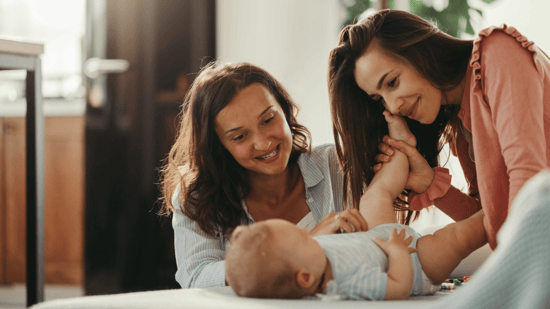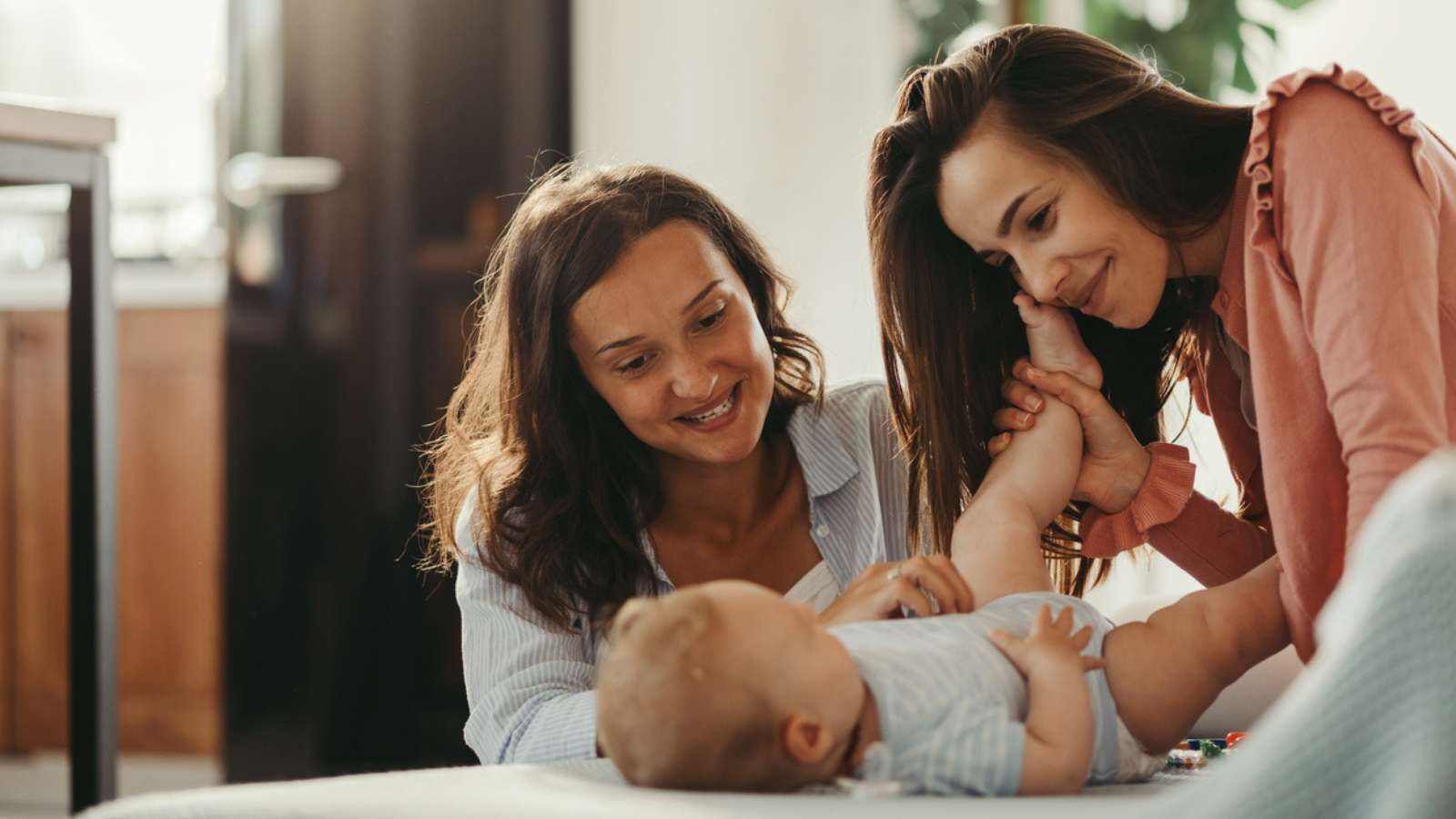 What is it like to shift from hoping to be a mother to going through fertility treatment to finally, being a mother? And what is it like being one of two mothers in a family unit? This Mother's Day, we want to recognize the experience of LGBTQ+ moms by sharing a story from one of our families.
We are so thrilled to be able to share Kix's story. She is a former Illume Fertility patient who is now happily enjoying life with her three children and her wife. Below, Kix shares her personal journey toward celebrating Mother's Day with her wife and children.
Our Family-Building Journey
My wife and I knew right from the start that we wanted to have kids someday – I think I casually slipped the question into conversation on our third date to see how she would react. Thankfully, she gave the right answer or we wouldn't be here today, because I knew without a doubt that I wanted kids and anything else would have been a dealbreaker for me.
We started the journey toward motherhood (and anyone reading this story knows it's a journey, not a quick trip) about a year and a half after we started dating. Immediately, we were overwhelmed by the huge number of decisions we had to make, and how little we knew about the choices beforehand.
Did we want to use an anonymous or known donor? (There are pros and cons on both sides; we ended up choosing anonymous.)
How on earth would we narrow down the donor pool? (Setting selection criteria almost feels like going grocery shopping for a child – would you prefer brown or green eyes?)
Who should carry the baby? (This one was easy; I wanted to carry and my wife didn't.)
Were we willing to use fertility medication to conceive? (We tried twice without; then went with medications we were comfortable with.)
Were we willing to do IVF

? (We tried IUI 3 times first, then did IVF.)
There were just so many decisions to make, down to the most basic – what would our child call us? We settled on mommy and mama!
---
Want a refresher on the female reproductive system?
---
The Roller Coaster of Fertility Treatment
The "assisted reproduction" process is long and arduous and is called a roller coaster for a very good reason – you feel the highest highs and the lowest lows along the way. Not only does the process become all-consuming and the Most Important Thing In Your Life – but you are also at the mercy of an insane amount of hormones while you're in it, which completely diminishes your capability to cope with those highs and lows in a rational manner.
Ask my wife about the time I had a meltdown and was in a puddle of tears because I was craving soup and could not think where to get it. Soup, the most exotic and hard-to-find food. We laugh about it now, but it sure wasn't funny then! It's a crazy road, and anyone who is on it gets my full sympathy and encouragement.
It took us about a year to conceive (about four months after we began working with Illume Fertility). We ended up switching from IUI to IVF, transferred two embryos, and lo and behold, they both took! This was both a high and a low on the roller coaster, as I was absolutely not mentally prepared for twins and it took me three months to stop hyperventilating.
Another low on the roller coaster came when I had some complications and had to deliver at 31 weeks. However, the high – the highest high of them all – was that we had two gorgeous, beautiful, healthy, amazing girls! And two years later, we did it all again – with my wife's egg and the same donor, though I insisted on only one embryo this time – and had a gorgeous, beautiful, healthy, amazing boy.
So, now we're a family of 5. Five. I still can't quite believe it. Our kids are growing so quickly, and I count my blessings every single day. They are happy, healthy, smart, fun, beautiful, loving – and of course also frequently exhausting, demanding, noisy and a pain-in-the-butt – but there's not even a question about which side of the scale things come out on.
---
Read another LGBTQ+ family-building story:
---
Our Experience as LGBTQ+ Parents
Funnily enough, the whole gay parent thing has been completely painless. We've certainly run into a number of instances where having two same-sex parents has required some workarounds – for example, our kids were the first ones born at Stamford Hospital after civil unions became legal, so it took a few extra days to get the birth certificates because they had to get the new forms from Hartford.
I'm forever crossing out 'father' on forms and writing 'mother' or 'parent' and we've had to explain it to many kids, parents, teachers, coaches and strangers that our children don't have a daddy, but two mommies instead – but we have not had one single bad or homophobic experience. Not one! I never would have believed that would be possible.
Shockingly, our kids have never even been teased about it (at least not yet). And all my fears that the kids would feel different in a bad way because they don't have a father also have been for naught (at least so far) – my kids just think that they're special. And so do their classmates – one time when I visited my kid's classroom, one little boy exclaimed "She has TWO mommies? She's so lucky!"
Yes, she is, and so are we. I will spare you the mushiness that results when I describe my kids and their impact on my life, and instead, just tell you that the roller coaster journey really is worth it. We know how incredibly lucky we are to have these three little perfect human beings in our family, and we tell them so every day. (We really do, every day.)
It is my highest wish that anyone who really wants to be a parent gets to be one. So in that spirit, I wish all of you, whether you have a child yet or not, a very, very Happy Mother's Day.
Resources for Moms-to-Be
Working with Gay Parents To Be and our partner fertility clinic, Illume Fertility, as a dedicated Patient Advocate gives Lisa Rosenthal an opportunity to expand her passion and commitment to reproductive health and family building. Lisa is committed to supporting all families in having the families that they desire, in the ways that work best for them.