How the 2023 Barbie Movie Missed the Mark on LGBTQ+ Inclusivity
While Barbie's motto is you can be anything, Gerwig's movie maintains that "anything" doesn't reach outside the gender binary.
August 11th, 2023 | 7 min. read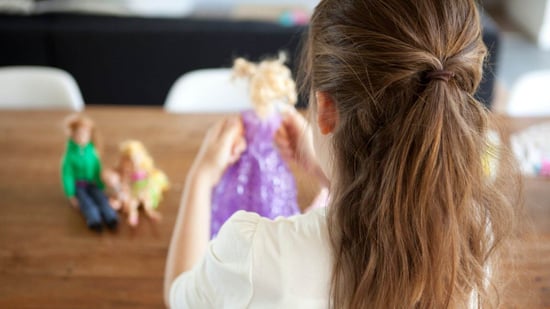 Director Greta Gerwig's 2023 Barbie may have good intentions when it comes to inclusivity, but it fails to push the boundaries when it comes to gender binary and LGBTQ+ characters. We explore why it falls short in this discussion of the popular movie - from a queer perspective.
In this article:
Welcome to the World of Barbie
The Barbie movie opens by mirroring 2001 A Space Odyssey, with a group of young girls playing with baby dolls. Our narrator, Helen Mirren, explains that for a long time, the only option young girls had were playing with baby dolls and pretending to be mothers.
In 1959, they got to trade in their baby dolls for Barbie – a doll who changed everything.
For girls only.
While Barbie's motto is you can be anything, Gerwig's movie seems to say that "anything" doesn't reach outside of the gender binary. Which is disappointing, because, in so many ways, this film is a progressive triumph. We see Barbies of all different ethnicities, skin tones, and body types. But notably, these inclusive Barbies in Barbie Land are still for girls only.
Throughout the movie, we never see a person who isn't a cis girl or woman playing with Barbies, which actively excludes both kids and parents who may exist outside of the binary gender construct.
And, if not at the beginning of the movie, why didn't we at least reach a conclusion that explained that Barbie is for everyone? Why didn't the montages include moms, dads, parents of all kinds playing Barbies with their kids?
My Childhood Experience with Barbie
I grew up playing with Barbies. I was obsessed.
I played with Barbies far into middle school – me and a few friends in 8th grade secretly making Barbie movies on the weekends. I was the quintessential Barbie girl. Except - I'm not a girl. Like many others who played with Barbies and grew up and into a different gender expression.
As I was watching a movie, I realized it was directed only at that past version of myself who thought being a girl was my only option.
All Parents Who Play With Barbies Are Cis Women
Not only are Barbies said (explicitly) in this movie to be for girls, the one close-up example we see of real-life people enjoying Barbies is strictly a cis mother and cis daughter relationship, with a cis father somewhere in the background, largely absent from the movie and completely absent from family flashbacks of playing Barbies together.
And I'm not saying that isn't a lot of people's experience with this toy – but this far-reaching, billion dollar movie had the potential to acknowledge that this wasn't the only experience. It could've easily been done by including kids and parents of different genders in the many Barbie montages throughout the movie.
Why Inclusivity is a Game-Changer
Young kids in families with queer and trans parents don't see themselves even alluded to as people who play with Barbies. The kids who grew up expressing and trying out their non-cis-gender through playing with Barbies.
The kids who grew up thrilled they could make two Barbies or two Kens kiss.
The boy who grew up loving Barbie despite it being labeled "for girls."
The girl who grew up loving Barbie until she realized that a Barbie-esque feminine expectation and sexuality was also projected onto her by society.
And all the kids are currently doing the same thing.
The Binary Is Simple
In fact, a huge Barbie movie plot point is that Ryan Gosling's Ken takes the concept of the misogynistic patriarchy back from the Real World to Barbie Land. He and the other Kens brainwash the Barbies into staying on the sidelines, constantly ready to hand one of them a cold "brewski."
Why do they do this? Well, at the beginning of the movie, it's established that Margot Robbie's Barbie isn't attracted to Gosling's Ken in the same way he's attracted to her.

He's hurt!
He and the other Kens have to steal the Barbies' houses, rob them of their positions of power, and treat them terribly. Bitter, Friend-Zoned Ken comes with a faux mink and a song that jokes about domestic abuse.
At the end of the movie, the Barbies regain control of Barbie Land once again, and Barbie apologizes to Ken for taking him for granted. And then our narrator, Mirren, explains "and the Kens grew to have as much power as women do in the real world."
Surprisingly, while Gerwig's movie doesn't explore or acknowledge a Real World or Barbie Land with more than two genders, Mattel actually does.
Gender Inclusivity in the Barbie Collection
In 2019, Barbie creators released a line of gender-neutral Barbie dolls. So even though Mattel's modern Barbie universe technically includes nonbinary and agender dolls, Gerwig and her team chose to exclude them in favor of an easier way to (falsely) compare binaries between worlds.
Gender is wildly more complicated, and if the real Barbie Land can acknowledge that, why couldn't the movie? By doing so, it also failed to look at the very real ways in which queer and trans people experience the patriarchy.
Queer References Aren't Representation
The 2023 Barbie movie is still interested in claiming queer cred without doing the actual work.
Gerwig claims some form of queerness for the film through a series of references to queer culture, including showcasing The Indigo Girls, a Birkenstock shoe, and a gender-bending song by non-binary pop icon Sam Smith.
These elements make up some sort of queerness in the movie that never takes center stage and is never actually acknowledged.
Except for one doll – let's talk about Allan, played by Michael Cera. The single character coded as queer is mocked throughout the entire movie.
The Implicit Queerness of Allan
For example, in the beginning of the film, Ryan Gosling's Ken argues with Simu Liu's Ken, which escalates into them threatening each other, "I'll beach you off." The phrase "beach you off" is excessively repeated to emphasize that it's a joke about the Kens mistakenly implying that they're going to engage in a sexual act together.
Right in the middle of this interaction, we cut to Allan, who looks enraptured with the conversation – insinuating that Allan is gay and captivated by a conversation about the two men unintended sexual innuendo. There's no other reason to cut to Allan here; he's not involved with the conversation otherwise.
Later in the film, Allan is the only Ken-like doll who sides with the Barbies, earning him a following on social media for being an ally to women. But Allan's own relationships with the other Kens is never explored or referenced, which is ignoring a huge part of the patriarchy – while men benefit from the patriarchy, LGBTQ+ men are oppressed within it (albeit differently than women).
While the movie is given credit for including a gay character, he's largely made fun of and glossed over as an accessory to the Barbies.
With a lack of queer people in the "real world" of this movie, families with two queer dads seeing this movie only have Allan – a character largely joked about – as a portrayal. And kids in those families don't get to see their queer parents fully represented in the shiny new Barbie universe.
Imagining a More Inclusive Barbie
If Barbie Land reflects the real world…what would a movie that's more inclusive of queer and trans Barbie characters look like? Would it have been so different from the final product that we couldn't even attempt it? What if Barbie discovered that along with the complexity of deeply feeling, that being human might also mean stepping outside of the binary?
My younger, Barbie Girl self would've loved seeing a film that included kids of all kinds playing with Barbies of all kinds, all treated with respect and validity. Even though I loved dolls, I still always felt a little shameful enjoying "girly" things – I wasn't a "cool girl" who only liked race cars.
It would have blown my mind to know that so many kids loved Barbie dolls and that it was great to be someone who loved them. And that a Barbie doll could be queer and trans, like so many people are who played with the dolls growing up.
Why It Matters
That's the real tragedy behind these issues in the Barbie movie. Because this movie is reaching such a wide audience, it's even more of a shame that Gerwig's messages about emotions and humanity don't include everyone, when her previous work has been hailed as feminist and gender progressive.
We could've had a billion-dollar Barbie movie that focused less on a false allegory of "Kens" as women, opting instead for a message that affirms: Barbies can be anybody, and anybody can have fun using their imagination and playing with them.
Molly Horton Booth (she/they) is a queer writer and editor. Her work can be found here on Gay Parents to Be, Wayfair.com, McSweeneys.net, etc. She's also an author of YA fiction, and her work has been featured on the American Library Association's Rainbow List. Her books include: SAVING HAMLET (2016), NOTHING HAPPENED (2018), and TWELFTH GRADE NIGHT (coming Fall 2022) all published by Disney Hyperion. Molly lives on a beach outside of Boston, MA, where she spends her free time with friends and family, obsessively crafting, and doting on her pets. Find her on Instagram @mollyhortonbooth or at mollyhortonbooth.com.