Honoring Pride in 2020
June 5th, 2020 | 3 min. read
By Emma Lott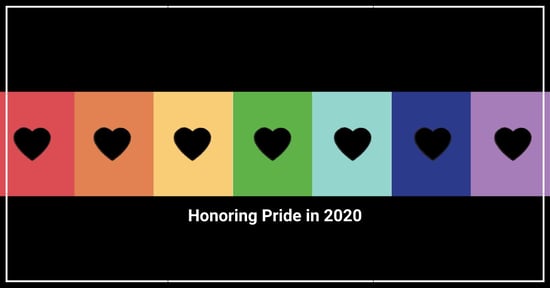 I think we can all agree that there's a lot going on in the world right now. Over the past few months, many people have been sheltering in place, watching as countries and communities are affected by COVID-19. Others have been on the front lines as medical professionals or other essential workers, putting themselves at risk by doing their jobs, helping those around them. And over the past week, protesters around our country and the world have come together in support and solidarity to highlight injustice, showing just how much change still needs to be made.
In short, this is a time of unavoidable global crises. It is also a time of individual anxiety and grief. Of shared frustration over systemic racism and injustice. Of worry and financial stress. Of bereavement for the loss of loved ones and lives lost to violence. And of uncertainty about what the future will look like, and what we will do to shape a better tomorrow.
All told, it feels really difficult to be excited about a celebration right now - in fact, a celebration seems inappropriate. Celebrations like Pride, which many of us know as a colorful, glittery, joyous parade in support of the LGBTQ community, just don't feel the same in this moment.
As we try to figure out how to commemorate the 50th anniversary of Pride during this time of protest and isolation, I think it is important to remember that what we now know as Pride itself started with the Stonewall Riots. (In fact, you might notice that many LGBTQ organizations are including the hashtag #PrideWasARiot in their posts this year). The month we now celebrate with parades and flags began with LGBTQ+ individuals standing up to injustice, inequality, violence, and brutality.
Yes, we are fortunate to live in a country where many communities now openly celebrate pride with flags, parades, parties, and oh so many rainbows. But, rather than being disappointed that Pride can't be outside this year, let us recognize the ways that virtual Pride can deepen our connection with each other.
Because virtual Pride is important for so many more reasons than just a rainbow background on a screen. Let's let virtual Pride open the many doors that may have once been closed. Like for those who live in a location too remote to join a Pride celebration in person, or families with children who are too young to march together. For those who have only shared their LGBTQ status with a few friends, or those who aren't yet "out" at all. For those who don't feel safe because of their LGBTQ status. For those who are now able to join corporate webinars expanded to the public. For all those who want to learn more about our community, virtual Pride is here for you!
There are many ways to honor pride this year without throwing a party.
More than anything, we can honor Pride this year by recognizing the need for empathy and change. This year, let's put in the intellectual, physical, financial, emotional, and societal work. Let's do that and call it Pride. Rather than focusing on one specific cause, let us recognize that our collective effort can do wonders to support not just our LGBTQ community, but our global community, justice, and inclusivity. This month, and moving forward, let's stand together to honor our past, this present moment, and to create a better, brighter, more prideful future.
For more information about virtual Pride events, family gatherings, and more, check out our Pride Guide.
As the Brand Specialist, Emma is the marketing lead for Gay Parents To Be, helping to build awareness of the brand not only as a direct path to parenthood, but also as a general resource for fertility information in the LGBTQ community. She loves the chance to attend conferences on LGBTQ health and family building, and meet prospective patients.