Brussels Gay Family Building Conference Attendance Grows
October 1st, 2017 | 2 min. read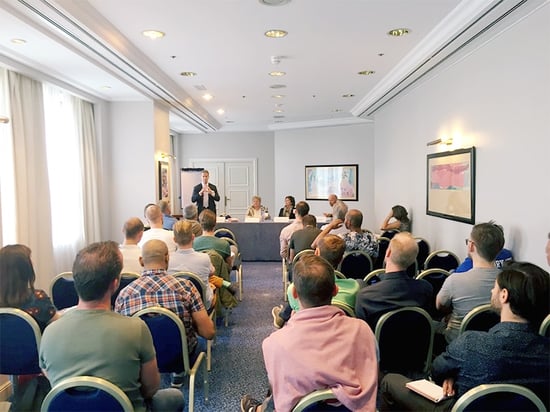 Men Having Babies held it's Family Building Conference in Brussels last week. This conference is designed to address the medical and emotional options for gay men who are looking to build their own families. Attendees are given the opportunity to learn about new treatments, talk directly to doctors and specialists, explore parenting options and network with others who are at a similar stage of the journey.
Why Consider Attending a Family Building Conference?
"This event was inspiring to me. In spite of the many obstacles to family building in place for male couples, there were more than 200 men there. In fact, the event was completely sold out," James Speer, Genetic Counselor at RMACT shared.
MHB offers this conference as foundation to access information on the best ethical practices for egg donation and surrogacy. Attendees are able to hear about developments from other countries that may open the door to less restrictive policies on surrogacy and adoption for gay men and inspire future laws or regulations on the subject.
In attending a family building conference you are gaining information that is rapid and new, allowing the scope of how families are built to broaden because the knowledge is more easily accessible.
"We all deserve to know the most up to date information as possible, giving everyone a chance to achieve the dream they've always wanted. The message that being both a gay man and a dad is possible allows us to be our true selves: caring and loving people," Speer said.
How Can I Get Involved?
The annual conference offers you a chance to tap into resources for surrogacy and egg donation from medical professionals from all around the would. Gay Parents to Be attended the conference and joined in the conversation to provide their own helpful information on resources for family building options by speaker from our own practice. If you missed this event, don't fret! Dr. Mark Leondires, Reproductive Endocrinologist at GPTB & gay dad of two, recaps part of the event on our Facebook live video consult called "5 Things to Get You on the Path to Becoming a Gay Dad."
GPTB additionally offers numerous live Facebook events similar to this throughout the year in areas such at New York City, Dallas, Texas and Atlanta, Georgia. To find out more about these family building seminars you can visit our Events page to see what's coming up in the near future!