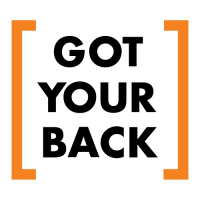 GayParentsToBe in partnership with Reproductive Medicine Associates of Connecticut (RMACT) has signed the #GotYourBack pledge.
GayParentsToBe's entire practice is dedicated to providing excellent fertility treatment and cutting edge assisted reproductive technology to same-sex couples looking to start a family. Our philosophy is to provide a supportive, compassionate, and encouraging environment for patients undergoing this process.
We support our patients and the LGBT community as a whole. We've #GotYourBack!
Read more about the importance of the #GotYourBack campaign. Here is a description from GLAAD's website:
"A third of non-LGBT Americans say that just seeing a same-sex couple holding hands makes them uncomfortable. This includes 13% who say it makes them very uncomfortable. While the public is increasingly embracing LGBT equality under the law, many are still uncomfortable with having LGBT people in their families and the communities where they live.
When LGBT people and allies speak out, hearts and minds open. Your voice is critical to increasing the acceptance of LGBT people. Speak out now and show the world the importance of LGBT acceptance."
Take the pledge here!
GayParentsToBe & RMACT team members show up to sign pledge, have their pictures taken and posted to support our LGBT community. Thanks GLAAD for giving us a voice.