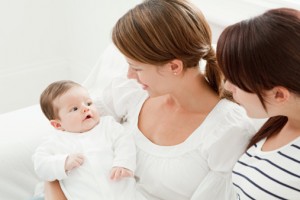 For LGBT parents-to-be, very exciting developments lie ahead. Here are five new developments in the medical world that are aiding many same-sex couples and singles by choice to build the family of their dreams.
1. Less Anonymity for Egg & Sperm Donors
A developing trend for women or men using donor sperm and/or using donor eggs is to move away from complete anonymity. "This is driven out of a desire to provide future progeny with information about their genetic donor, including medical history, additional family history, and information on the health and well being of half-siblings, " says Dr. Mark P. Leondires, Medical Director at Reproductive Medicine Associates of Connecticut and GayParentsToBe. As donor-conceived children become teenagers and young adults, a significant amount of them become very interested in this information.
Intended parents are now choosing donors that are willing to have their personal information held, to meet the intended parents, and perhaps even develop a relationship with the intended parents.
Moving towards less anonymity can potentially create complex psychological issues for the child, and legal issues of parenting and financial responsibility for the donor. It is still strongly recommended that intended parents work through an agency to maintain proper legal paperwork so their parentage and legal protection for their children is documented prior to conception.
2. The More Accessible Services Become, the Cost Will Go Down
As more members of the LGBTQ community choose to build families through third-party reproduction, the cost will go down and access to care should improve.
Reproductive Medicine Associates of Connecticut has introduced a Surrogacy Opportunity Plan for men choosing to use an egg donor and a gestational carrier that provides three embryo transfers at a separate cost to allow intended parents to budget appropriately. When we consider that men choosing to reproduce need both an egg donor and a gestational carrier and the cost for the screening, laboratory series, medical services, and reimbursement of the egg donor and gestational carrier (which can range from $60,000-$120,000) it is important for intended parents to have access to good financial counseling to better understand their financial risks.
It is an unfortunate reality at this point in time that lesbian couples cannot access their fertility benefit because the laws and plans are written requiring twelve months of unprotected intercourse prior to accessing her fertility treatment. RMACT actively appeals insurance companies not to discriminate against lesbian couples in this regard. Currently, it is not uncommon for lesbian couples to have to pay for intrauterine insemination (IUI) cycles out-of-pocket as her insurance company refuses to use their fertility benefit because they do not have a male partner. "With the current trend towards acceptance to LGBTQ family building the expectation is that these exclusions will dissipate over the years," Dr. Leondires said.
3. Moving Towards Single Embryo Transfers
There are many advances in embryology techniques, causing a move toward single embryo transfers and frozen embryo transfers. Most intended parents are not aware that twin pregnancies carry significantly higher risks than a single pregnancy. Through advances in the In Vitro Fertilization (IVF) laboratory, the ability to cryopreserve embryos without harming them, to grow embryos to the blastocyst stage, and the ability to test embryos for chromosome abnormalities provides more intended parents with comfort transferring only a single embryo.
Infants in multiple births are often born earlier than singletons, have lower birth weight, and experience more adverse health outcomes. Women who carry multiple fetuses also have higher risks to their own health.
4. LGBTQ Couples Move to Suburbs to Build Their Families
As more and more states are legalizing marriages between same-sex couples, the number of LGBTQ couples planning their families continues to grow. In particular, Connecticut's Fairfield County has become a destination for same-sex couples looking to build their families because of conducive laws and its renown quality of life.
Former Upper West Sider and current sales agent with Halstead Property Westport, Mark Gilrain and his partner moved from New York City to Fairfield County. "When we realized we wanted to explore our options, we started our search in Fairfield County and never looked back, " he said. "We loved the feel as we drove around country roads and then urban downtown centers."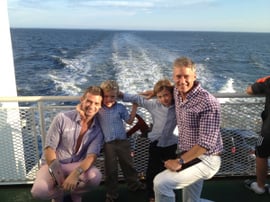 "We hated the idea of leaving the city parks and playground but we saw the promise in town beaches and playgrounds on the coast supplemented with canoeing or sailboating, backyards, and the ability to let our two sons explore the world around us unattended in a way city living would never allow."
With same-sex couples settling down in Fairfield County, the local LGBTQ center is expanding it's programs to fit the growing community. The Triangle Community Center, located at 618 West Avenue in Norwalk, has a new office, a new team, and new programs. It's a very exciting time in Fairfield County.
5. Options & Resources Make Family Building More Accessible
On April 5 from 12 p.m. – 2 p.m. the Triangle Community Center (TCC) of Fairfield County, CT and GayParentsToBe.com will host "Getting Started: A Lunch & Learn on LGBTQ Family Planning." During the event, a panel of experts will discuss starting a family in the LGBTQ community. Learn more about the LGBTQ Family Building Event.
The desire to have a family makes all hurdles surmountable. And, it helps to have a supportive community, expert medical attention, and legal assistance in the process. We at Gay Parents To Be are proud to help. Call us at 203-956-2266 to set-up an appointment or to simply start asking questions.