Gay Parenting: A Future So Bright We Gotta Wear Shades
November 1st, 2019 | 5 min. read
By Will Pollock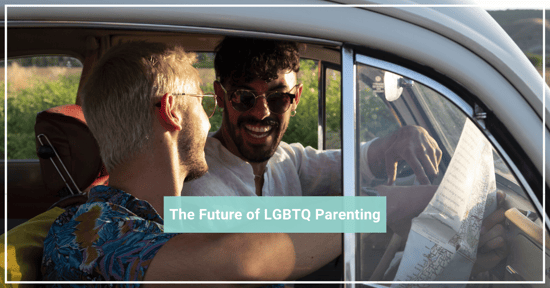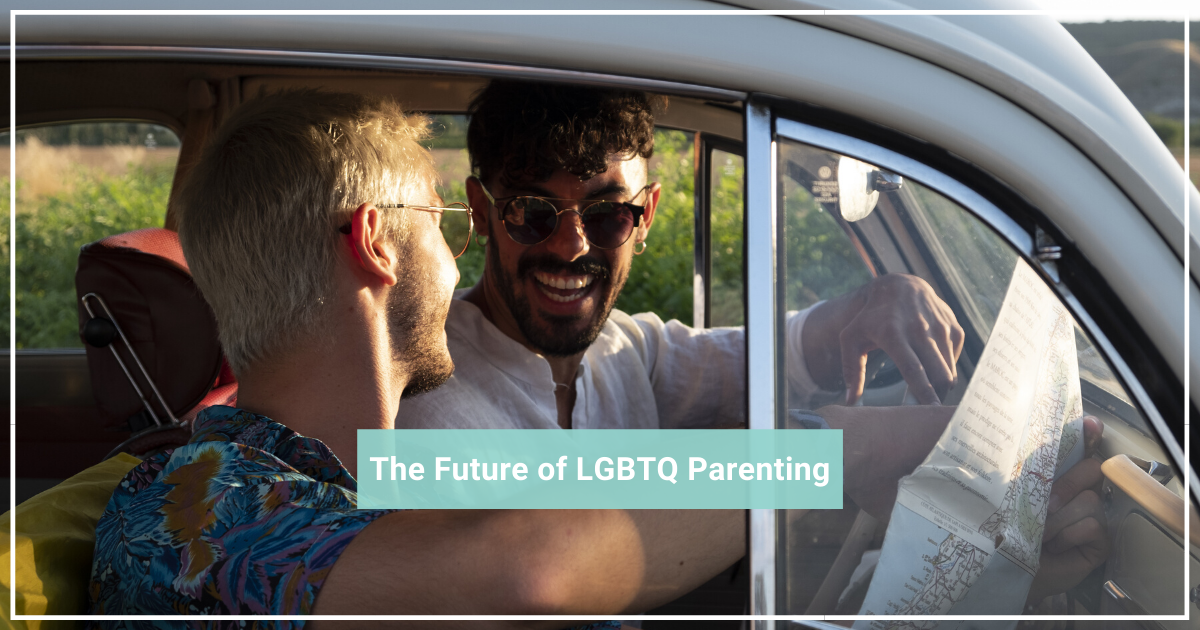 You've got your spectator chair, visor and travel-cocktail ready. As your city's Pride parade starts to roll down your town's main street, palpable excitement and celebration are in the air.
After a few festive drag-queen floats sashay by and some tossed beads graze you gently on the forehead, you spot PFLAG—Parents and Friends of Lesbians & Gays—marching with a banner held by a lumberjack tough-guy wearing his "proud of my gay son" t-shirt.
Back in the day, PFLAG was a literally *the biggest* deal for LGBT folks (and still is) because acceptance and pride didn't always accompany growing up gay in families of origin. For every child whose coming out was welcomed there were another 20 met with hostility. According to PFLAG's own statistics, fully 50% of gay males received negative coming-out reactions; and in more than a quarter of those cases, youths were forced to leave. Those sad situations were models of how not to bring up children.
LGBTQ Parents Stand on Broad Shoulders - Gay Parenting History
LGBTQ adults' own upbringing greatly inform their own parenting plans—that much is certain. PFLAG's message of parents' acceptance is an apt precursor to gay parenting: we're in fact walking a road of stepping stones laid by PFLAG and so many other groups who worked their asses off to ensure our community was seen and heard.
Spoiler alert: instilling dignity and love and self-respect is indeed a powerful force. I'll never forget Justice Kennedy's ruling when the Marriage Equality ruling came down—SCOTUS officially recognized the U.S. Constitution grants "equal dignity in the eyes of the law." (Since then Justice Kennedy's retirement from SCOTUS needs explaining, but I digress.)
SCOTUS' Obergefell v. Hodges Marriage Equality ruling in June 2015 was, of course, a seismic shift in legal recognition, but public support for same-sex unions had already been rising. By 2018 support had surged to 68 percent.

Given the rapid pace of LGBTQ+ acceptance, it should be no surprise that our community is beginning to look at the logical next step: family expansion.
Statistics in that realm point to a very bright future. According to FamilyEquality.org "77% of LGBTQ 'Millennials' (aged 18-35) are either already parents or are considering having children—a 44% increase over their elders." The non-profit also reports a similarly large figure for adults 36-54, with 63% of respondents indicating they already have children and want more, or are considering having children.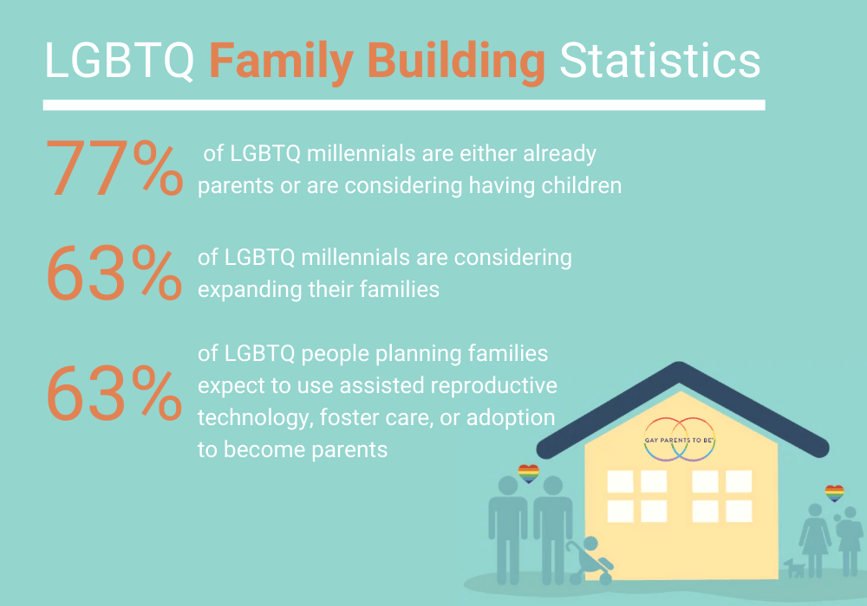 Families 'Of Choice' Indeed - Options for LGBTQ Parenting
The LGBTQ community has a myriad of family-building options to explore. For legacy reasons and just personal preference, I opted for surrogacy. Many folks choose to go the adoption route, which is noble and amazing in and of itself; make sure to check your state's laws because they vary widely.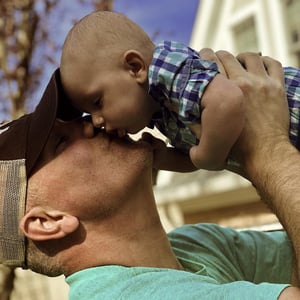 Full disclosure: I am a Gay Parents To Be & RMA of Connecticut client, and I've never been more proud of that decision. Dr. Leondires and his entire team made me and my amazing surrogate, Lyndsey, feel at ease, seen and valued during this transformational process. Lyndsey even agreed to sit for a video interview with me for my blog—joking about, among other things, how Cam in-utero pressed so hard against her belly it looked like a scene from "Aliens."
Cut to today and Cam is a happy, healthy 10-month-old who can't stop laughing at his big sister, Triscuit, a 14-year-old Rat Terrier. I literally can't tell sometimes who's entertaining who in that equation. He's a blessing, a joy and, as some have called him "The Miracle of Midtown."
If you're considering adoption or surrogacy, please keep some of these points in mind:
Support-network & community. Successful family-expansion depends on the support you can count on from your family of origin; a network of friends; and even neighbors and co-workers. Also, do your homework in terms of how schools welcome kids of single or LGBTQ parents. I'm in Atlanta and there is a significant population of gay parents here. But it could be different in your region.


Employers & Insurance. Your employer is another factor to consider. JP Morgan and MassMutual, for example, have expanded IVF and fertility coverage, while The New York Times reports that "44 percent of employers with more than 20,000 workers offered some sort of IVF benefit in 2018, compared with 37 percent in 2017." If you get insurance as a single-payer through the Affordable Care Act as I do, you'll likely be out-of-pocket for at least a portion of your surrogacy journey. Some say universal IVF and related LGBTQ+ family-planning coverage is around the corner, which brings me to my final bullet...


Get active. If you want continued support and advocacy for LGBTQ+ families I strongly suggest you hold your representatives' feet to the fire or run for something yourself. "I wasn't a political blogger… but I am now" is what I often tell people who ask (and some who don't). Getting active is the only way to maintain momentum and preserve gains we've made. Human dignity and family planning shouldn't be a left-or-right issue; it's just common sense.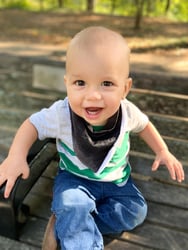 I wake up every day grateful that my son Cam—born on-time and healthy as a horse nearly a year ago—is here, after waiting for the right moment to pull the trigger. As my pal and longtime progressive radio-show host Michelangelo Signorile puts in his book "It's Not Over," 2015's Marriage Equality isn't the end of the fight and we should "puncture the illusion that victory is inevitable." Never take gains for granted.
A million small acts of courage got us here, and the next million acts need to be just as bold and strong.
You can bet the farm that I'll be marching in a parade someday wearing "my son is Cam-azing" t-shirt—and I'll have all those powerful forces to thank for it.
Will Pollock is a freelance multimedia journalist, author, blogger, humorist and producer based in Midtown Atlanta. He's about to celebrate 4 years writing CrankyYank.com, a pop-culture and politics blog. Visit the site to check your voter registration and he urges you to get politically active. He welcomes any feedback or questions on this post via comment or social media!