Amid Good News, Gay Parenting Still a Challenge
March 10th, 2014 | 2 min. read
By Dan Woog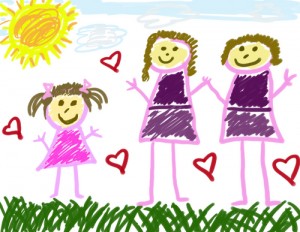 Amid good news, gay parenting is still a challenge.
Uganda. Russia. Arizona.
News from around the world – even right here in the United States – can make men and women exploring gay parenting options pause, perhaps even reconsider their decisions.
The recent Sochi Olympics were overshadowed by stories of Russia's harsh LGBT laws. Last year the country made it illegal to suggest that gay relationships are equal to straight ones – or even to distribute material on LGBT rights, marriages or gay parenting. Same-sex marriages (and civil unions) are illegal in Russia, where the number of hate crimes motivated by homophobia rose after anti-gay laws were enacted.
Uganda gained worldwide notoriety when President Yoweri Museveni signed an "Anti-Homosexuality Act." The bill makes homosexual acts punishable by life in prison. (A previous version of the bill mandated death.) It is also a crime to not report such "acts."
Gay Parenting Rights Waver
The United States is not immune from anti-gay legislation. Last month, the Arizona legislature passed a bill allowing business owners with "deeply held" religious beliefs to deny service to gay and lesbian customers. For example, florists would be allowed to not deliver flowers to a gay wedding. (Which would not have happened anyway; same-sex marriages are illegal in Arizona.)
All of which may lead lesbians and gay men to wonder: Why go through all the trouble and expense of conceiving a child – or adopting one – when there is so much anti-gay animosity in the world?
There are many reasons that gay parenting continues to flourish.
International condemnation of countries with repressive policies shows that intolerant attitudes are far from universal. The UN, European Parliament and other organizations have condemned Russia; so have countless politicians, entertainers and other public figures. The European Court of Human Rights fined the country for infringements on LGBT rights.
The usually apolitical World Bank postponed a $90 million loan to Uganda, after passage of that country's law.
And tremendous outrage – from everyone from Jon Stewart to Republican Senator John McCain – plus opposition from large organizations like Delta Airlines and the National Football League (which threated to move next year's Super Bowl from Arizona) caused Governor Jan Brewer to veto the bill.
So there is plenty of good news among the anti-gay bad. In the words of Martin Luther King,
"The arc of the moral universe is long, but it bends towards justice."
Gay Parenting Studies Show Support
In addition, time and numbers are on the side of gay parents. Every survey shows that support for LGBT issues – including marriage and parenting – rises with each younger age group. By the time the children born today to gay and lesbian parents are themselves ready to have kids, this will be a non-issue.
But the most important reason is this: It's the right thing to do. Parenthood is many things. It is demanding, exhausting, stressful – and wonderful, beautiful and powerful. Gay men and lesbians have many gifts to offer children. Those kids – boys and girls who are wanted, loved, conceived and delivered despite daunting challenges – thrive. They are the future.
The bigots are the past.
Dan Woog is a writer, educator and LGBT activist. He has written 17 books. Subjects include LGBT issues in gay education and the workplace, gay male athletes, and the importance of straight allies. He is also a co-founder of OutSpoken, Fairfield County's support group for LGBT youth.