5 Ways Family-Building Providers Can Make Practices More LGBTQ Inclusive
August 31st, 2020 | 4 min. read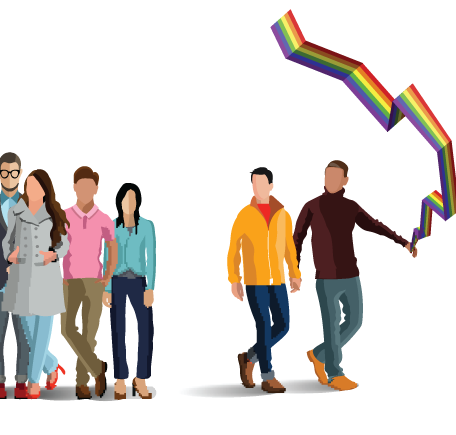 Recently, the Family Equality Council (FEC) published a comprehensive research study designed to help us better understand the landscape of family-building for lesbian, gay, bisexual, transgender, and queer (LGBTQ) adults in America today. The report included some inspiring statistics – all of which point to the fact that the number of LGBTQ families in the United States is set to grow dramatically in the coming years. In fact, the report states 77% of LGBTQ millennials (ages 18-35) are already parents or are considering having children – a 44% increase over previous generations. This is significant.
With the number of LGBTQ families set to rise at historic rates in the near future, the time is now for family-building providers to make their practices more inclusive and welcoming to the specific needs of the community. Creating an inclusive practice for the LGBTQ community requires time and intention. A very focused effort could yield a designation with the Healthcare Equality Index.
The Human Rights Campaign Foundation awards HEI status to policies and practices that meet the highest standard of LGBTQ inclusion and equality, a status that must be earned each year, and one that our practice has been recently awarded for 2020, marking our fourth consecutive year of receiving this distinction. While gaining momentum to garner HEI status, here are five ways providers can make their practices more inclusive immediately:
1.) Staff training is the bedrock of change. Infertility practices have been focused on opposite-sex couples for 40+ years and now they need to adjust their language. Words do matter. From the person who answers the phone, to the billing people, and the clinical providers, everyone in the practice needs to retrain and rephrase all patient interaction out of the male-female vernacular to inclusive language. When a woman is on the phone asking about an appointment or a bill, the inquiry should be about her "partner", not her husband. This can be accomplished by a practice committing to staff training and ongoing quality improvement in LGBTQ cultural competency. There are a few organizations, with online programs to complete this education including the Human Rights Campaign and the Family Equality Council.
2.) Change Your Collateral. Websites, paperwork and all forms need to be reviewed and oftentimes rewritten to be inclusive. Gone are the days of husband and wife. In fact, so many opposite-sex couples are not married the language should refer to patients and partner. People need to be able to register as non-binary. A complete audit also includes asking for feedback from your LGBTQ patients. There are always old forms and web pages lingering in every practice.
3.) Physical signage needs to change. All physical signage within a practice needs to be inclusive. This includes the patient bill of rights posted prominently in the waiting room explaining that all are welcome regardless of race, religion, national origin, disability or handicap, gender, sexual orientation, gender identity or expression, age, or military service. Even the bathroom signage needs to be inclusive of all genders. Imagery should be updated across the board to reflect all types of families. Waiting rooms should have a mixture of magazines and literature so everyone in the building recognizes that all are welcome. On the website and on your entrance doors should be a rainbow sticker acknowledging your inclusive practice. Additionally, there should be some recognition of pride month in June.
4.) Embrace a different attitude. Fertility practitioners need to embrace the differing attitudes of LGBTQ individuals who do NOT have infertility. For example, they need to recognize that the majority of these individuals will either be using a sperm or egg donor. LGBTQ individuals often have a strong desire to know their donors and to have an ongoing or future relationship with them. This represents a paradigm shift for most medical practices. They need to have robust mental health support to educate and counsel the parents-to-be on their best options. The American Society for Reproductive Medicine recommends psycho-educational counseling for all patients choosing to use donor gametes.
5.) Embrace the Desire to Become a Parent (which is separate from sexuality). Historically to be LGBTQ meant you would not have children if you chose a same-sex partner. Not only can our community build families, but based on the FEC report, there is a strong desire to become parents. LGBTQ parents come to this choice with more barriers; social, financial and medical, but they do not have the disease of infertility. They have a great deal of optimism and hope. Fertility practitioners need to adjust their treatment policies and procedures for those without infertility and to embrace the joy of this community who want to become parents.
The Family Equality Council data is more support for what I've seen in my practice. The stigma for LGBTQ people to have a family is going away. LGBTQ singles and couples coming in to discuss family-building are younger. They feel safe within their communities and they are simply ready to become parents. The next big step towards greater acceptance for our expanded LGBTQ community is for us to be family-forward and family-facing, and for our children to be out there in the community. These families will be integrated into the fabric of our society, which will only lead to more acceptance. If family-building providers are ready to meet the parenting desires of the LGBTQ community, together, a more inclusive society awaits us.
Dr. Mark P. Leondires is the Founder and Medical Director of Illume Fertility, an inclusive, award-winning fertility clinic with five locations in Connecticut and New York. Dr. Leondires is board-certified in both Obstetrics and Gynecology and Reproductive Endocrinology and Infertility. Dr. Leondires is also the Founder of Gay Parents To Be, a leading family-building resource for the LGBTQ+ community - a passion project created after undergoing his own journey to parenthood as a gay dad.