2020 Vision: Points of Pride in a Crazy Year
November 25th, 2020 | 12 min. read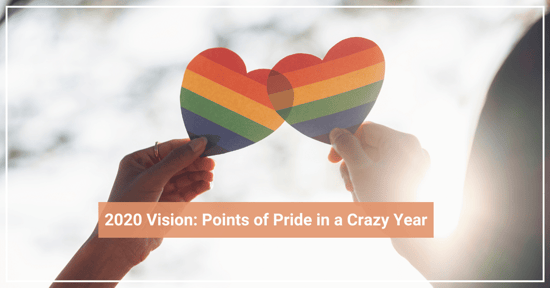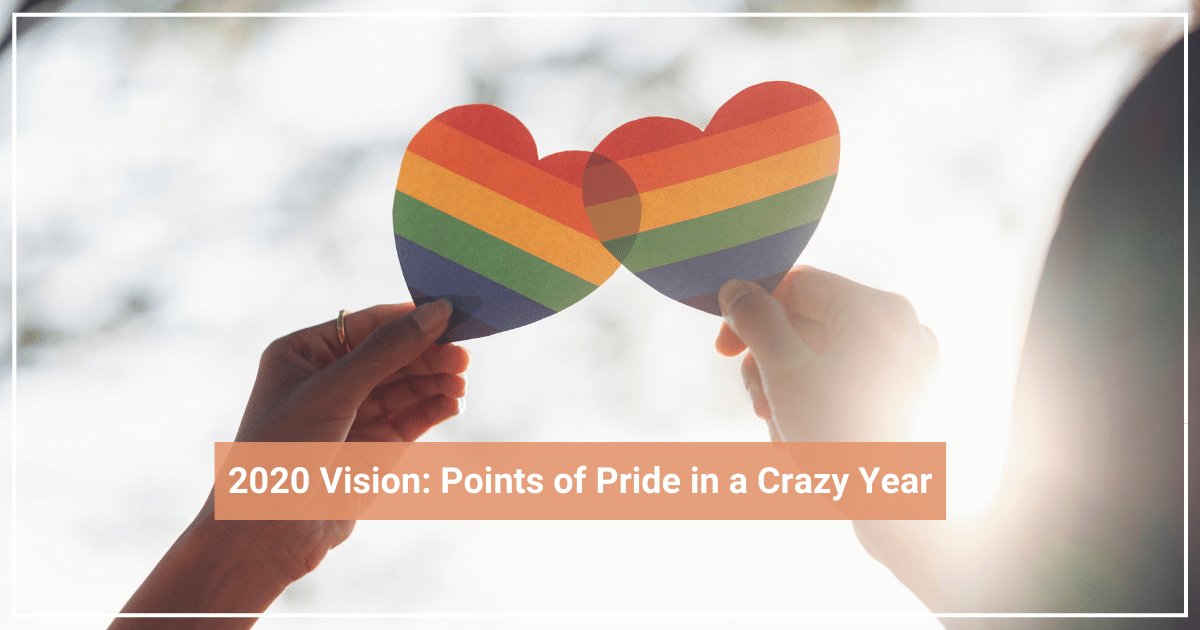 Gratitude is not just an attitude, it's a choice – a choice about where to focus our attention. It doesn't mean ignoring the injustices and misery in the world, for gratitude isn't emotional or mental amnesia. What gratitude offers is the time to shift our attention to what is surviving, thriving and staying healthy – something that feels especially important this year.
What Went Our Way in 2020
In the courtrooms, in the election booths, and in the arts, the LGBTQIA+ community has celebrated some major wins, standing alongside of misrepresentation and discrimination. As we honor what went right in 2020, we'll begin with the arts.
Celebrating LGBTQ+ Wins
Many firsts in the arts this year
Despite the pandemic, general divisiveness, and very unsubtle chaos in the United States, there were also many bright spots for the LGBTQIA+ community. In fact, Pride this year was celebrated and honored in many ways and places never seen before (read more about that below!)
Representation counts. A non-binary version of the Flash is joining the Justice League, as Kid Quick. DC Comics will be showing us an "alternative universe". Write Ivan Cohen says to NBC News, "In the DC superhero universe we've got a super-fast character, Kid Flash. And I thought about how 'Kid' can really be any gender. There are all these choices we can make — why don't we do something besides what we would have made up if it was 1965? This is particularly cool as it's not considered a major plot point, but is just blended in as a normal part of an alternative universe. (Is there such a thing as a normal part of an alternative universe?)
Meanwhile, AARP (yes, that AARP, American Association of Retired People) celebrated 12 top LGBTQIA+ movies that were streaming during June, Pride Month. Check out this incredible list of movies that were more visible than usual in June. The Hollywood Reporter also came out with its first, inaugural Pride issue, highlighting "The 50 Most Powerful LGBTQ Players in Hollywood".
The first line in the article says this, "LGBTQ representation in Hollywood is at an all-time high" – now that's news we love to hear. All told, virtual Pride this year allowed us to connect across geographical boundaries, and reach those who might not be able to celebrate in person. That's something to be grateful for as we anticipate our next in person Pride.
This holiday season, there are a few bright spots and first to be thankful for, including a Hallmark movie featuring gay dads and - just as importantly- starring gay dads. As recently as late 2019, Hallmark was known for LGBTQIA+ insensitivity, and a lack of representation. What a turnaround, in such a short time span, and on such a mainstream channel – signaling changing times in Hollywood. Thanks to Gays With Kids for the review.
Legal LGBTQ+ Wins - Federal, statewide and in local courts
Big news in the courts: "The 9th Circuit Court of Appeals upholds a ruling that the state of Idaho must provide gender confirmation surgery for Adree Edmo, an inmate in the custody of the Idaho Department of Correction." This case will be seen and used in setting precedent for other states to follow. Let's call this one courageous, humane, and about time!
As of June 15, 2020, in a 6-3 decision passed down by the Supreme Court, a federal civil rights law protects gay, lesbian and transgender workers. This was both a solid and historic win that ensures that "an employer who fires an individual for being homosexual or transgender fires that person for traits or actions it would not have questioned in members of a different sex. Sex plays a necessary and undisguisable role in the decision, exactly what Title VII forbids."
Another significant federal court win for the transgender, non-binary, and gender non-conforming community includes a decision handed down on a case that has been years in the making – one over restroom policies in schools. Gavin Grimm, the student who filed the case, said, "It is an incredible affirmation for not just me, but for trans youth around the country. All transgender students should have what I was denied: the opportunity to be seen for who we are by our schools and our government." This victory signified a double win for Grimm - in addition to the Supreme Court ruling, a federal judge in Virginia also ruled that Grimm be recognized as a male.
LGBTQIA+ Legislative Highlights
According to the

LGBTQ Victory Fund

,

there were approximately 312 LGBTQIA+ candidates across state, local, judicial, federal, statewide, mayoral and tribal elections this year.
Delaware voted in a historic first, electing Sarah McBride as state senator - the highest ranking trans person elected to office.
All of the above are solid wins, a highlight reel, if you will. In what GLAAD has described as a "Rainbow Wave", one more worth mentioning is Mauree Turner, newly elected in Oklahoma, as the first state lawmaker who identifies as non-binary, and the first elected Muslim in OK.
Thanksgiving Gratitude- Beyond the Turkey
What are you grateful for this year? This is a year that may feel exceedingly difficult, with so much illness, so much conflict, and so much chaos. Despite, or even because of that, it might be the perfect time to shift perspective to the things in life that are stable and provide happiness, that we often take a bit for granted. Think about slowing down. Think about mindfulness and observing those things that are right in front of your eyes.
A few examples of what we can feel grateful for:
A job or a business surviving

Your health. Your family's health.

A home. Heat. Food.
None of these things are small when we don't have them, but they are sometimes overlooked when we're focusing on gratitude in times of abundance. This year, we all hold them a little bit nearer and dearer.
Who are you thankful for?
It's a simple but big question. Create or find a quiet moment, close your eyes and let the images of those you're thankful for float up. You may be surprised at a few of them!
Then, decide to thank them!

Send an email, a text, a photo. Make a phone call. Sit down at your desk and write them an actual letter.
If it's someone who's no longer alive, acknowledge them at your Thanksgiving or holiday gathering – even if that's virtual this year.
Thanking or showing appreciation for a loved one is a simple, easy-on-the-wallet way to say, "I love you." And what a joy it is to hear.
Family Building in the New Year
Finally, 2020 or 2021 may be the year that you decide to move ahead in expanding your family, taking the first or the next step in having a child or making a choice about how to grow your family. It may be by fostering a child, finding a sperm donor, starting adoption procedures, or deciding on egg donation and gestational surrogacy.
In all stages of family building, there is appropriate help available to make the process as smooth as possible.
A family expands because of love. If 2020 and 2021 is the time for you, congratulations! There's a lot of support, help, and education out there, including all of us here at Gay Parents to Be.
And please know that we're so thankful for you.
Working with Gay Parents To Be and our partner fertility clinic, Illume Fertility, as a dedicated Patient Advocate gives Lisa Rosenthal an opportunity to expand her passion and commitment to reproductive health and family building. Lisa is committed to supporting all families in having the families that they desire, in the ways that work best for them.